Subscribe Now
Keep up with the latest news with our magazine and e-newsletter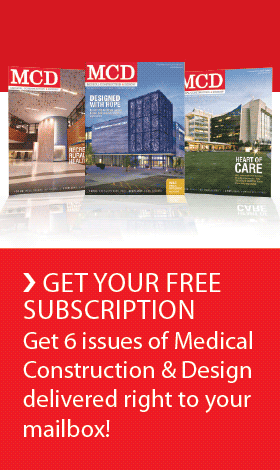 Subscribe to our E‑Newsletter
BURLINGTON, Vt. – Dartmouth-Hitchcock, and E4H Environments for Health Architecture, recently celebrated the completion and dedication of the new Jack Byrne Center for Palliative & Hospice Care. The state-of-the-art 30,000-square-foot facility incorporates many innovative amenities designed to increase support for patients' and families' physical, emotional and spiritual comfort.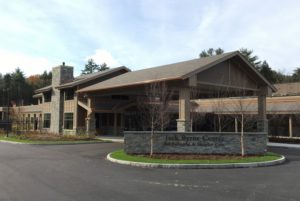 Located on the Dartmouth-Hitchcock Medical Center campus in Lebanon, New Hampshire, the Jack Byrne Center's design addresses a fundamental objective of palliative care: to improve the quality of life of patients and their families when faced with challenges associated with long-term and terminal illnesses.
Some of the distinctive elements of the planning and design:
Each of the Jack Byrne Center's 12 large, single-occupancy patient rooms can accommodate up to three family members for overnight visits in a home-like setting, with private bathrooms and balconies overlooking beautiful woodlands.
The center has several warm, welcoming spaces where patients and families can gather to reflect and find comfort, including a chapel for meditation and reflection, sunroom, massage room, art and music therapy rooms, spa and family library.
Additional therapeutic spaces include an exercise room, playroom for children and media room designed for young adults.
In addition to a commercial kitchen for staff-prepared patient meals, a residential-style kitchen and dining room provide families the opportunity to prepare and host meals for or with their loved ones.
Multiple telehealth videoconferencing connections give patients access to a full range of expert consultations, supporting the consistent delivery of clinically excellent healthcare.
The building incorporates a geothermal heating and cooling system, LED lighting technology and high-efficiency mechanical and electrical systems. Where possible, products and finishes are locally sourced and made from natural or recycled products. The center was designed to accommodate six future additional patient rooms to serve anticipated growth.
The Jack Byrne Center will also serve as an educational and training resource for end-of-life caregivers throughout New England. The resource program was developed and will be administered by Dartmouth-Hitchcock's Palliative Care Program in collaboration with hospice and community partners.
Construction on the facility by PC Construction began in June 2016. Led by a $10-million commitment from the Jack and Dorothy Byrne Foundation in 2014, philanthropic support has covered 75 percent of the center's construction cost.
Posted November 10, 2017
More Articles: