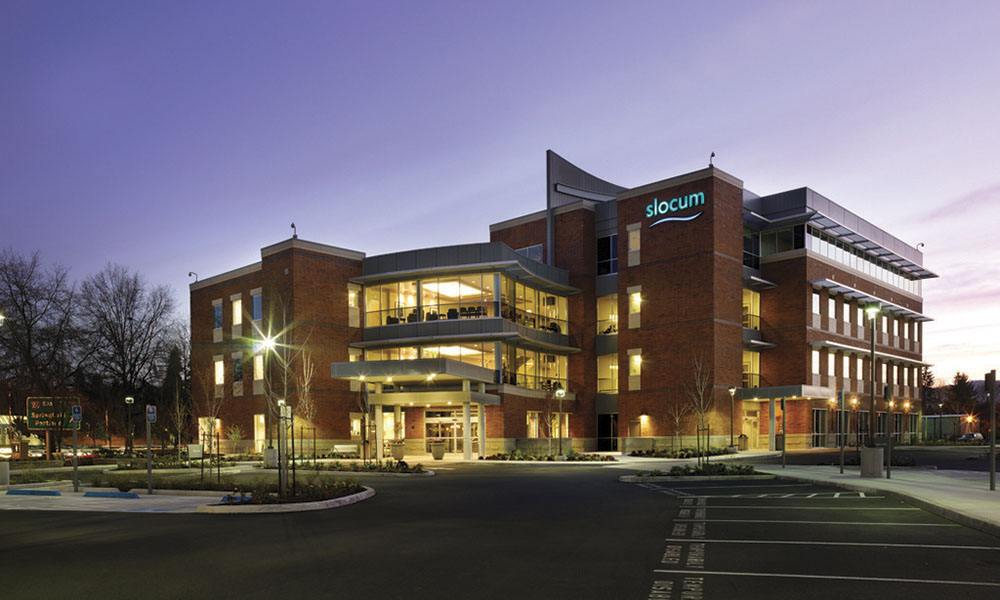 The Slocum Center for Orthopedics and Sports Medicine located in Eugene, Oregon is one of the first orthopedic centers in the nation to receive LEED Gold certification. Photo: Ed LaCasse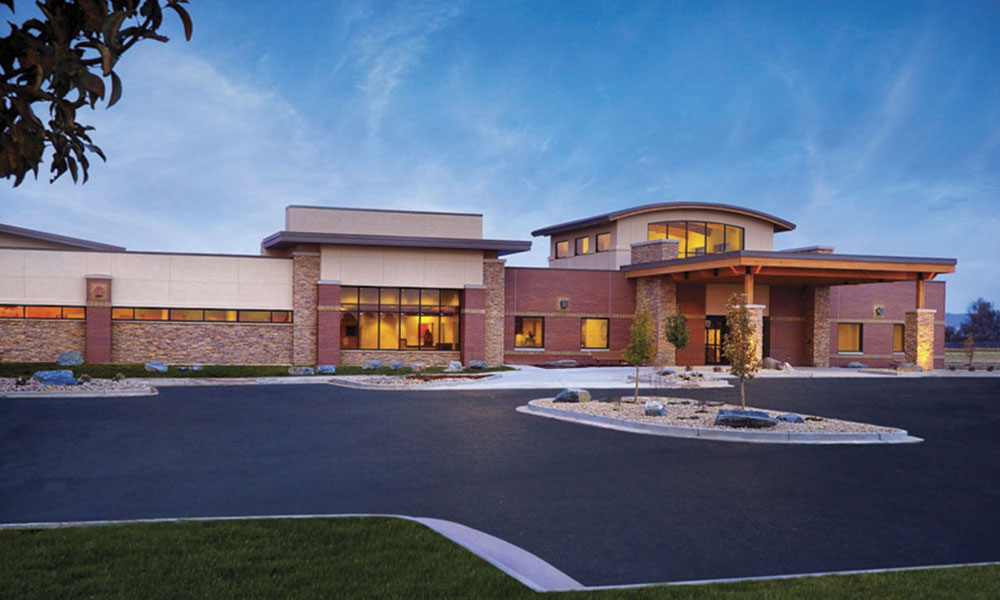 he Neenan Company designed and built the 36,200-square-foot Orthopaedic and Spine Center of the Rockies, located in Loveland, Colorado. > 2. The Slocum Center for Orthopedics and Sports Medicine located in Eugene, Oregon is one of the first orthopedic centers in the nation to receive LEED Gold certification. Photo: Tim O'Hara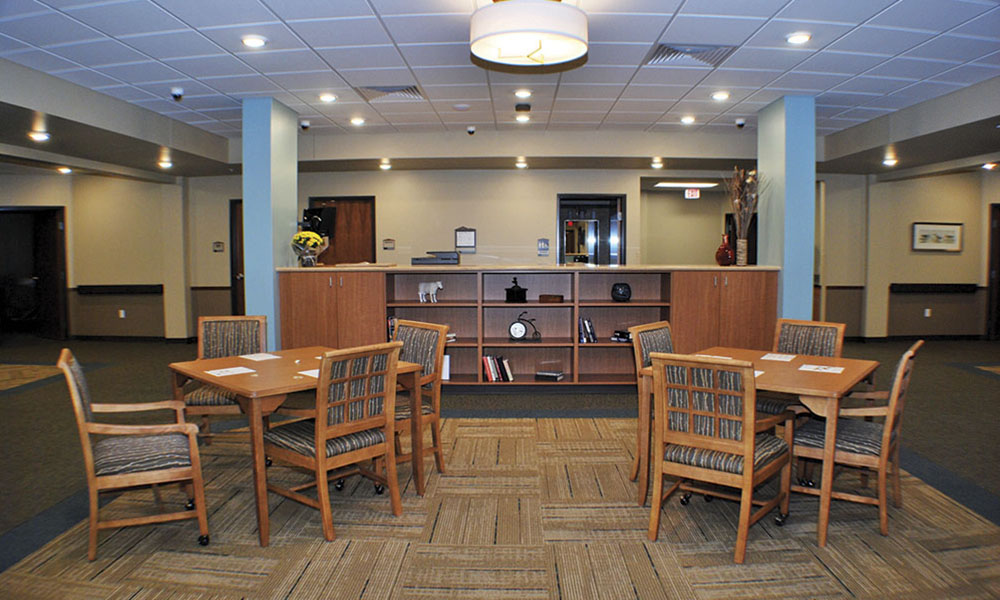 Located in the Louisville, Colorado area, Flatirons Health and Rehabilitation is a 44,000-square-foot, two-story skilled in-patient rehabilitation facility. It features 45 private patient rooms, lounges, two dining rooms, in-house therapy, a chapel and an administration area. Photo: Neenan Company
◀
▶
Subscribe Now
Keep up with the latest news with our magazine and e-newsletter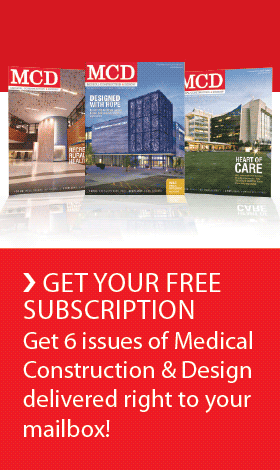 Subscribe to our E‑Newsletter
By Whitney Churchill
In the medical field, one of the only constants that can be counted on is … change. Between medical advancements, progressive technology, legislative updates and population shifts, adaptation is key for those who work in or support the medical field. Two of the fastest-growing specialty markets in healthcare — orthopedics and skilled rehabilitation — have significantly altered their standards of practice in response to these growing demands. Following the healthcare law, there has been a noticeable increase in patients flowing from orthopedic centers into skilled rehabilitation facilities. Updated services come with this shift to better accommodate the ways in which these specialty medical centers care for patients.

With a focus on wellness and affordability, one of the mandates resulting from the healthcare law's reimbursement structure is for patients to undergo physical therapy prior to surgery as a first step to helping resolve health concerns. Coinciding with the legislative mandates, orthopedic centers are also seeing an increased demand as baby boomers continue to age and medical technology advances.
Not only is there an uptick in the number of patients in need of orthopedic care, but also as new methods are developed, surgeons are able to provide more procedures — which are also less invasive — than those that have been offered in the past. These trends are leading to a larger volume of surgeries with shorter recovery time for patients.
Shifting models, shifting infrastructure trends
These significant shifts have far-reaching implications, which have changed the design and construction of orthopedic centers. Many of the latest facilities are designed with more space for pre-surgery physical therapy care and less space for patient recovery. The medical centers are also being designed with more operating rooms on a larger scale.
While orthopedic centers generally house four to six operating rooms, they are now generally developed with approximately 10-12, and the operating rooms' sizes have increased from about 400 square feet to 600 square feet. The additional space improves efficiency as larger medical equipment can be housed in the operating rooms, rather than being transferred from the hallways, and medical teams have more room to work during procedures.
The effort by the healthcare law to drive down costs while prioritizing wellness and patient-centric care has led to patients transitioning out of orthopedic centers the same day as their procedures, providing reimbursement instead for alternative patient-centric recovery options. While orthopedic procedures have become less invasive, in turn reducing the patient's recovery time, there are still many patients that require assistance as they recover. The transition back into everyday life can oftentimes be more intensive than the care that a spouse, family member or friend is able to provide. As a result, skilled rehabilitation facilities have found a niche providing 24-hour care to patients outside of the hospital or nursing home setting. More of these healthcare facilities are being developed in response to the increased demand from the healthcare law, as well as the increase in the total number of patients as baby boomers continue to age.
Hospitality focus eases transitions
With hospitality as a key focus, skilled rehabilitation facilities are designed to create a more relaxed environment that is residential and familiar, modeled after hotels. This differs from the institutional setting of a hospital where patients may feel a rush to leave, or a nursing home where patients often feel "stuck" with the fear of never leaving. At skilled rehabilitation centers, the patient stay is temporary and the atmosphere is conducive to recovery, which encourages independent living both during and following a patient's stay. Receiving quality care that combines the comfort of home with professional assistance and service creates an atmosphere that is more advantageous to both short- and long-term recovery.
Many features help create residential comfort in these facilities, starting with community areas where families can visit and residents can socialize. Other common features include dining rooms, kitchens, physical therapy suites, salons, laundry facilities and walkable outdoor campuses, as well as private bathrooms attached to each patient bedroom. Such amenities are designed to help ease the patient's transition back into everyday activities, as they reflect the common elements of a home and assist with the patient renegotiating his day-to-day life. The placement of the amenities is also an important consideration within the facility design, as traveling to and utilizing these services can function as part of the rehabilitative care, helping patients to re-learn everyday activities.
Keep flexibility top of mind
Another important design consideration for skilled rehabilitation centers is flexibility. These medical facilities must accept patients with all conditions, not just orthopedic recovery issues. For this reason, the facilities must be designed to accommodate patients with varying needs. With memory care patients requiring an increased level of security for safety purposes, wander control and access control are crucial considerations in the design.
To accommodate all patients — those encouraged to travel throughout the facilities for physical therapy purposes, as well as those who should remain in secure areas for safety purposes — technology such as wander-control bracelets synced with specifically designed areas of the facility can play a key role in delivering a space that is safe and healing for all.
While orthopedic care and skilled rehabilitation are two separate specialty practices, the increasing flow of patients from one center to the other highlights a significant trend — as the healthcare industry moves in the direction of wellness and patient-centric care, it is likely there will be an interconnectedness among specialty practices as doctors aim to heal the whole patient and not just "the parts."
Similarly, the Integrated Design-Build methodology provides detailed information through bringing various partners together early in the design process, which supports the medical practitioners as they transform and evolve their practices to focus on how their specialties can contribute to patients' overall wellness goals.
Author: Whitney Churchill
Whitney Churchill is a senior healthcare architect at The Neenan Company.
Posted August 11, 2017
More Articles: