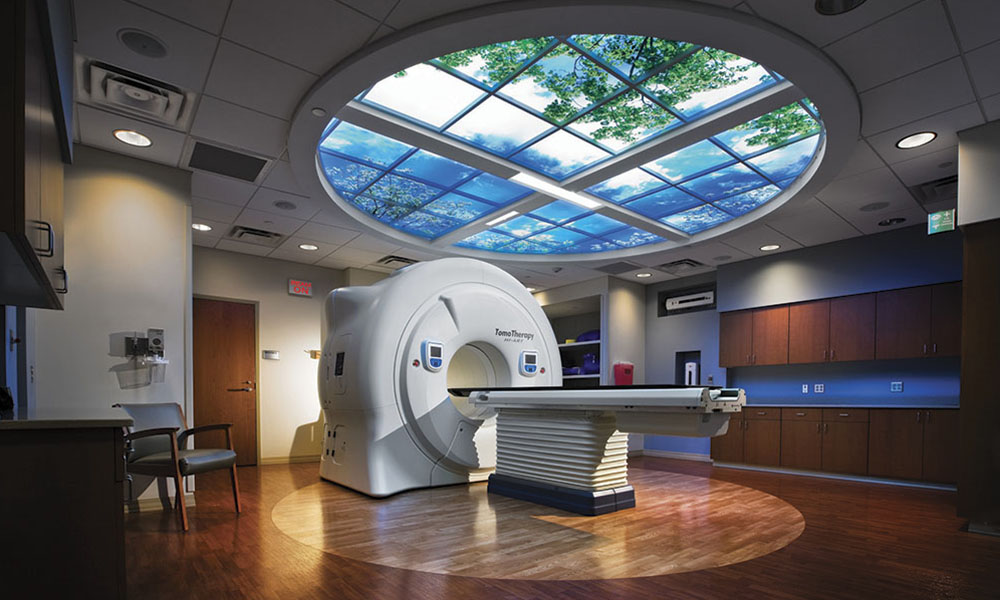 Providing positive distractions in treatment areas at Lancaster General Health Center radiation oncology center in Lancaster, Pennsylvania. Photo: Blake Marvin/HKS, Inc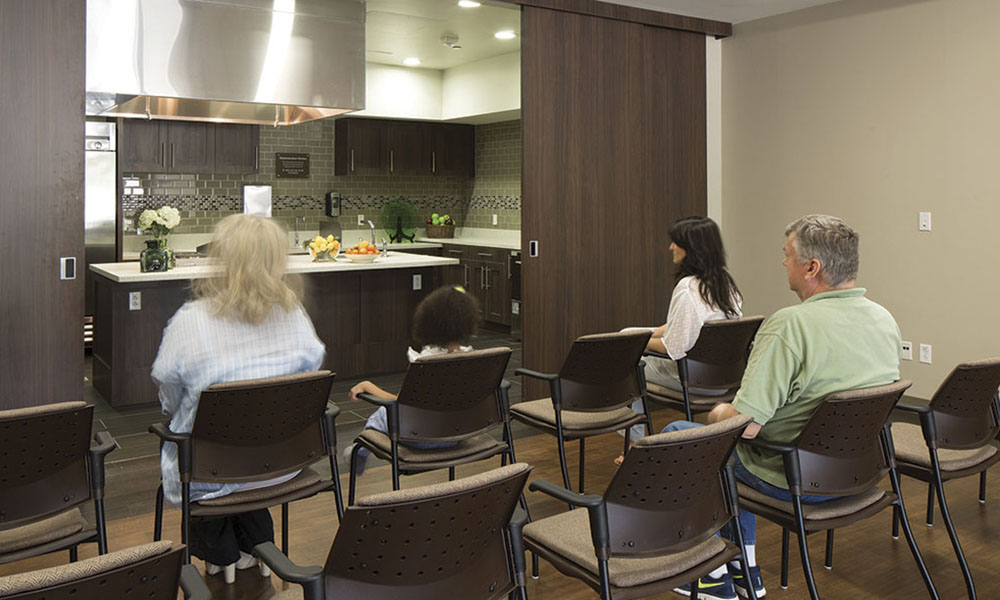 The Cancer Support Community North Texas — at the Texas Health Presbyterian Hospital Cancer Center — offers free emotional support services in the Dr. Bob & Jean Smith Foundation Community Room. Photo: Daryl Shields/ HKS, Inc.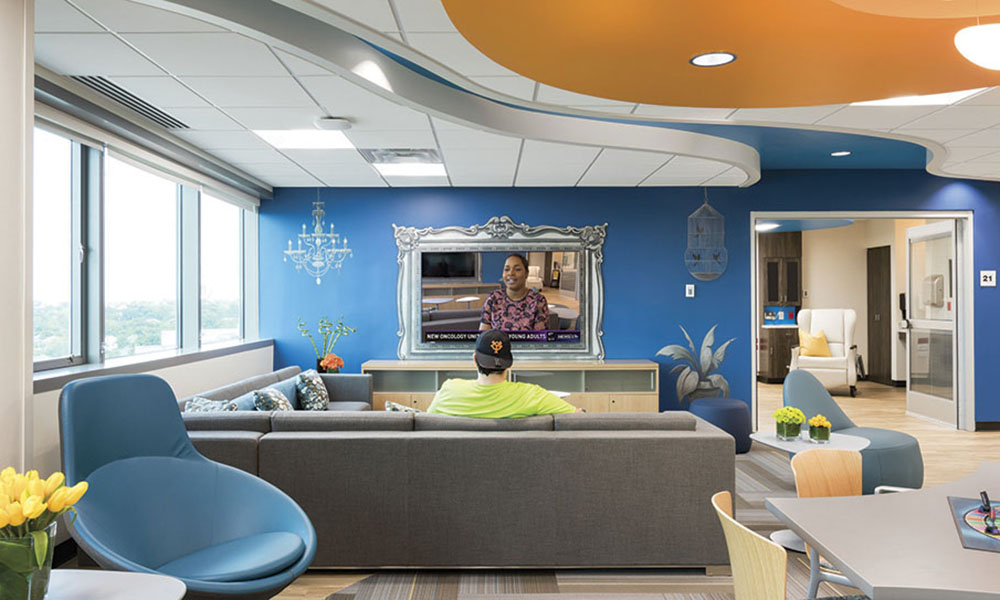 A living room with comfortable furniture for relaxing is designed to welcome a patient's family and friends. The unit helps patients be at ease because they know their family and friends are taken care of when they are here. Photo: Daryl Shields/HKS, Inc.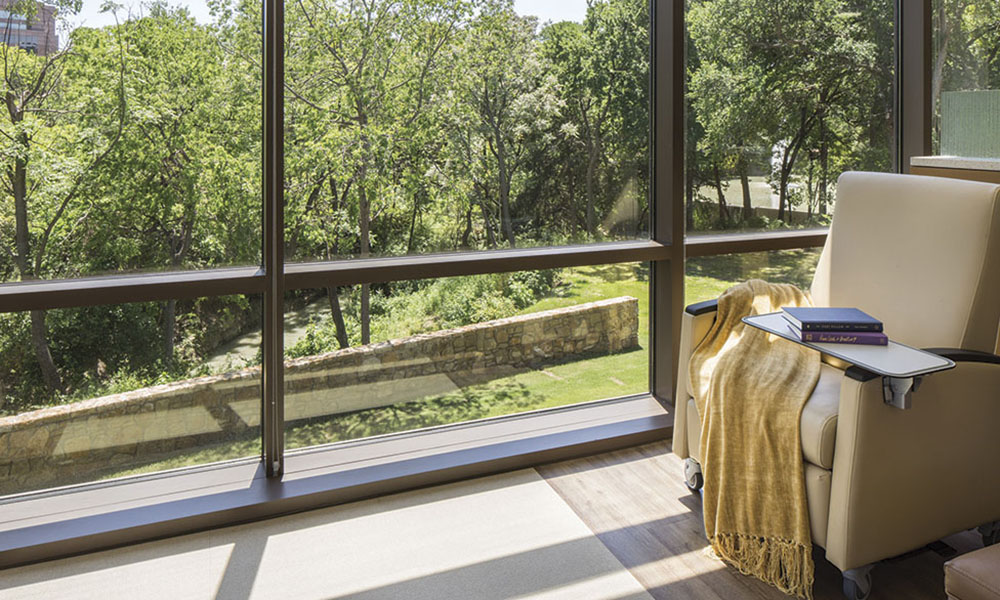 The infusion and blood draw areas at Texas Health Presbyterian Hospital Cancer Center host outdoor views. Photo: Daryl Shields/HKS, Inc.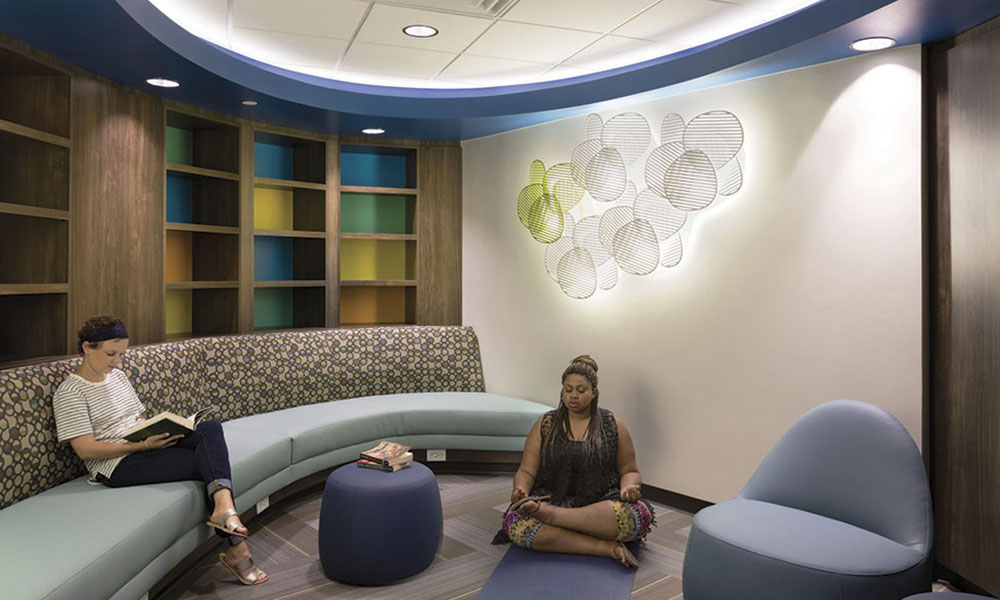 he Cocoon Room at the Fort Worth Adolescent and Young Adult Oncology Coalition Unit is a dedicated space for patients to retreat to when they want to get out of their rooms and away from the common area. Photo: Daryl Shields/HKS, Inc.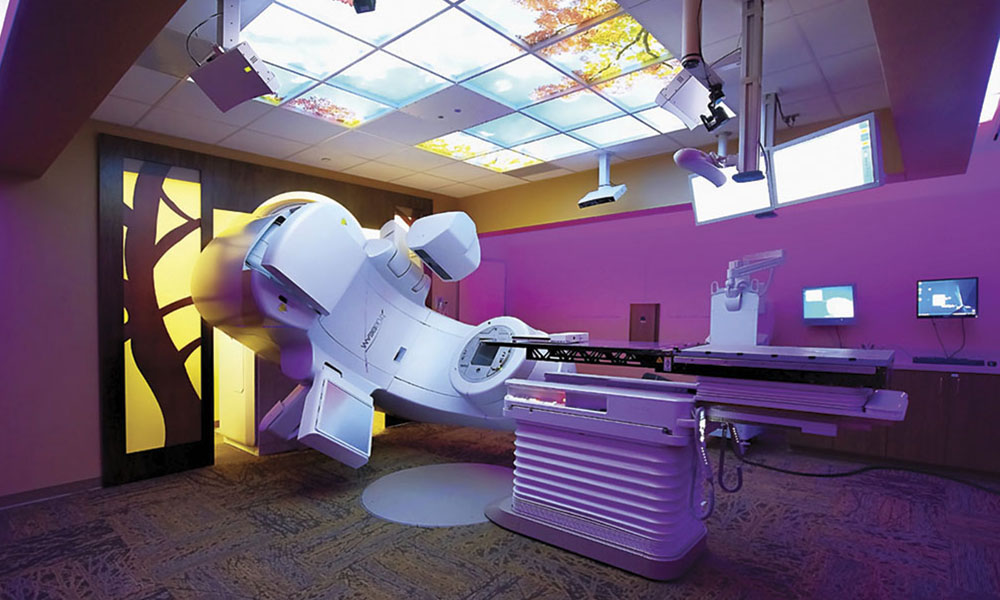 Distracting and calming light that can be controlled by the patient at Banner North Colorado Medical Center Cancer Center expansion in Greeley, Colorado. The artificial lighting can be tunable to mimic Circadian rhythms. Photo: James W. Jenson
◀
▶
Subscribe Now
Keep up with the latest news with our magazine and e-newsletter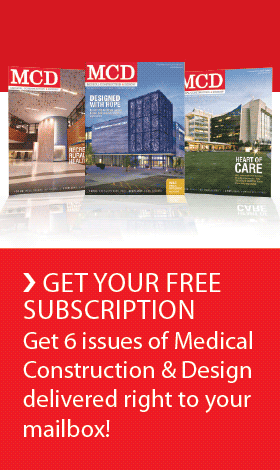 Subscribe to our E‑Newsletter
By Jason Schroer
According to the National Cancer Institute, 15.5 million children and adults with a history of cancer were living in the U.S. on Jan. 1, 2016. The NCI reports that by Jan. 1, 2026, the population of cancer survivors in the U.S. will rise to an estimated 20.3 million. Due to the prevalence and unique characteristics of this disease, specialty buildings are being created to address the needs of cancer patients and their caregivers.
To design facilities responsive to these needs, it is important to realize how the disease affects those whose lives it touches and how the physical environment can support effective cancer care.
Operational considerations
The NCI recognizes three types of cancer centers: comprehensive cancer centers, cancer centers and basic laboratory cancer centers. According to the NCI, there are 69 NCI-designated centers in the U.S. — 45 comprehensive cancer centers, 17 cancer centers and 7 basic laboratory cancer centers.
A typical cancer center program covers three main treatment areas: surgical, medical and radiological services. In addition, cancer centers often provide support services, such as nutrition or alternative therapies. The services being delivered at a center determine the programming and operational flow of its design.
Surgical cancer care is centered on the identification and removal of tumors. The programmatic design challenge is the majority of freestanding cancer centers do not include surgery suites. Because many tumor identification and removal procedures are considered inpatient services, cancer centers must be associated with or connected in some way to a hospital. If the surgical platform is not physically connected with the cancer center facility, connectivity through telemedicine or other means of team care coordination is important so that surgeons can contribute to patients' follow-up care.
Medical oncology involves clinical space and treatment space for infusion services, as well as laboratory and pharmacy space. The location of the laboratory is influenced by operational considerations. Providers are split about 50/50 on the optimal placement of the laboratory. Some providers want the laboratory in a central location where most if not all blood draws take place. In this design, the location is related to the patient journey — typically very near the entrance or, in a multistory cancer center, near the elevators, so patients can go to the laboratory and then proceed directly to their clinic visit or treatment area. Other providers want to perform blood draws at the point of care, whether that's the clinic, infusion area or radiation oncology department. In this design, the laboratory can be located away from patient circulation routes.
Radiology services include linear accelerators and high-density radiation rooms. These services are almost always located on the ground floor of a cancer center, due to the heavy shielding required for radiation rooms. This location is good for patients; people receiving radiation often must come to the cancer center for weekly or monthly treatments, so easy access to these rooms is important.
Support services can be critical elements of a cancer center, tying together all other services. For example, multi-use spaces or teaching kitchens for group nutrition classes are becoming more common in cancer centers, and dieticians are frequently part of the care team.
Team care is vital to cancer treatment. Cancer center designs must include huddle space, or rooms near clinic spaces where physicians, nurses and allied health professionals can collaborate with one another or consult with patients and their families about care plans. At facilities with robust inpatient programs, huddle space for care teams may be located in patient units.
Walking distances are another key factor in cancer center design. Cancer patients are typically immunosuppressed or lack the energy to walk long distances. Minimizing the "walk and wait" phenomenon, whereby patients walk to a destination, wait, receive a service, walk to the next destination, wait again, and so on, is critical to cancer center design.
One area of debate is how cancer screening patients are addressed. Some providers are comfortable with mammograms and other aspects of primarily women's services taking place at the cancer center. Other providers prefer to maintain a separation between well patients and sick patients; they don't want a well patient visit to take place where there may be visual interaction with people who are sick, to avoid discomfort among both patient populations. In this case, providers may decide to conduct screenings outside the cancer treatment area or designated cancer center building. A middle-ground solution can be to provide a separate entrance and waiting area for screening patients, with staff and equipment shared by cancer treatment services. This can be more efficient and reduce the need to replicate services or equipment elsewhere. The decision on how to handle screenings is often physician-driven.
To accommodate the technological infrastructure needed for cancer treatment, the floor-to-floor heights of a cancer center must be high enough to allow the space above the ceiling to house certain technology components and the framework necessary to support technology systems. Because technology is continually advancing, flexible designs that can adapt to next-generation equipment are critical to cancer center design.
Mindful design
There are a number of cancer center design features that provide valuable intangible benefits for patients and caregivers. Spaces that allow people to gain some distance from the realities of cancer treatment are decidedly important. Providers often raise special funding in order to include outdoor gardens at cancer centers for this purpose. Depending on the religious affiliation of a center, this type of space may have a spiritual aspect. Chapels or nondenominational meditation areas or similar quiet spaces can be valuable areas of respite.
Research has demonstrated the benefits of nature and natural light in healthcare spaces. Cancer centers include some treatment areas, particularly for radiation oncology, that cannot have windows and do not always have outdoor access. There are a number of interesting and creative ways design can bring daylight and views into these environments, such as special lighting and photo-realistic ceiling treatments. Due to the nature of radiation treatment, patients must be alone in radiation vaults. To increase the accuracy and effectiveness of radiation, patients often need to be fixated in order to remain perfectly still during the treatment process, an experience that has been shown to cause the highest levels of anxiety for cancer patients. Introducing elements of daylight and nature imagery into the design can help lessen this anxiety.
Infusion therapy can take up to several hours to complete. Large windows for outdoor views can be especially important in these areas, given the length of treatment. Some cancer center designs even provide outdoor spaces where patients can receive infusion services. Group treatment spaces for infusion therapy allow patients to benefit from social interaction and the opportunity to build rapport with other people undergoing treatment. Providers are also beginning to offer private spaces for infusion therapy, such as individual rooms or cubicles. Giving patients a choice of treatment environments is becoming an important aspect of cancer center design.
It's also important to create spaces with inspirational qualities that eliminate, as much as possible, the harshness of the clinical environment. This can be accomplished through selecting materials that have softer characteristics; for example, choosing wood and wood-look finishes instead of metal, or avoiding generic vinyls that are considered institutional. A serene, uncluttered atmosphere can help people feel special and well cared for during a difficult time.
Mindful use of materials that don't contain carcinogens can enhance the care environment, as well. People dealing with cancer are often well educated about healthy materials, and knowing the facility was thoughtfully designed with material health in mind can help them feel more at ease in the building. Since many cancer patients' immune systems are compromised by their treatment, providing durable, cleanable materials and surfaces that can help prevent the spread of infection is another critical design factor.
Best possible experience
As the number of people living with cancer in the U.S. increases, healthcare providers have identified the value of providing services specific to cancer in facilities created expressly for this purpose. Cancer center design is an opportunity to respond to the unique needs of cancer patients and caregivers in order to support the best possible experience for people coping with this disease.
Author: Jason Schroer
Jason Schroer, AIA, ACHA, LEED AP, is a principal and Houston, Texas office director at HKS, Inc.
Posted August 11, 2017
More Articles: