Subscribe Now
Keep up with the latest news with our magazine and e-newsletter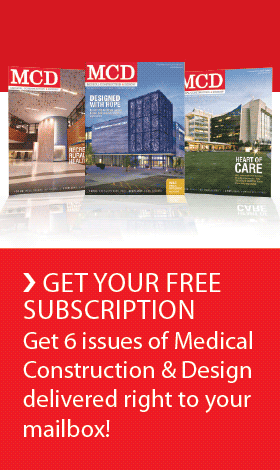 Subscribe to our E‑Newsletter
By Michelle Ossmann
Accommodating communication, participation in the patient room
The therapeutic benefit of physical, emotional and cognitive support for the hospitalized person is undeniable. In treating the whole person, clinicians recognize the tremendous role of families during an inpatient stay and beyond. However, new observations and insights from Steelcase Health reveal many hospital rooms are not designed to afford family member involvement in a loved one's care.
An aging population, the complexity of chronic disease and a continued transition to home care contribute to the elevated importance of family members. Clinical literature confirms that appropriate family and friend involvement can reduce patient stress, contribute to safety by helping the staff know the patient and share in discharge and follow-up planning. Certainly, most health system policies support the notion of families at the bedside. Notions must be put into practice, however, with people and the physical environment. Would a nurse expect to visualize a patient with no windows or doors to the room or a doctor maintain hand hygiene with no wash stations? Similarly, layout and family accommodations are policy implementation tools, supporting clinical staff needs and family needs alike.
Understanding family involvement
The research team sought to understand how families experience the inpatient admission and explore how the environment impacts family involvement. The researchers observed clinicians, patients and family members in maternity and pediatric settings and interviewed healthcare executives, nursing, facilities and environmental services staff responsible for inpatient adult care across several service lines, including intensive care. The team also appraised peer-reviewed research, industry trend data and case studies about family involvement in patient care.
The research team found hospital rooms often lack support for family members' underlying needs. Needs that, when met, can form the backbone of patient- and family centered policy and experience. Five key factors can affect family involvement during a hospital stay, which include:
Family members blocked from critical communications. Family members "docked" in a corner or across the room may not be able to actively participate with the clinician and patient. They may have a hard time hearing or be blocked from medical information exchange. Effective and inclusive communication allows family members to share medical information, take notes and review test results. Informed patient advocates can also help patients follow discharge instructions, helping to prevent readmission.
Difficult sleeping conditions. Do family members feel as if they can spend the night, and can they do so comfortably? The research team found family members improvising and adjusting their own "beds" using chairs, duffel bags and pillows. Comfortable overnight stay accommodations allow families to maintain self-care, support the patient with their presence, participate in evening activities and be available for early morning physician rounds.
No place to share a meal. Meal sharing should be a time of camaraderie and welcome distraction. Often family members choose to eat with the patient instead of in the cafeteria. The researchers observed people trying to improvise a place to share a meal in the patient room. Mealtime was not only inconvenient, but it also caused people to move items needed by clinicians and the patient.
Uncomfortable hospitality environment. Limited seating and storage makes it hard to host visitors. People end up piling coats on a chair, placing bags on the patient's bed or lingering at the footwall. Besides being frustrating, crowding can block access to medical equipment and impede clinical staff's ability to do their job.
Nowhere to plug in. Families supporting a patient in the hospital often try to maintain some routines, including work. Researchers saw people struggle to create ad hoc workspaces – with a lack of access to power, light and surfaces – while their loved ones slept.
Hospitals and health systems realize the intrinsic value and financial implications of patient-experience measures, and are vested in reducing unplanned readmissions. However, reaping the benefits of patient- and family centered care requires efforts across multiple fronts – culture, policy, training and environment. How then, can health systems harness the built environment as a tool to support family involvement?
Create a welcoming environment
The research findings reveal a disconnect between a patient- and family centered experience and the typical inpatient family accommodation, but the opportunity for improvement is straightforward. Family needs for presence, communication, teaching and learning and care participation can be expressed in the built environment and are a physical extension of a hospital's brand and policy.
Accommodate frequent and inclusive communication: Provide a dedicated space to share and display information. The environment should accommodate multimodal communication between the patient, clinician and family member that allows for the display of digital health records and information, the capturing of questions or notes and quick visualizations.
Facilitate activities of daily living: Create activity affordances. A small table for a laptop or work material, access to power, control over lighting and areas for storage give family members a sense of control, reduce stress and minimize clutter.
Offer choice and control for physical postures. Provide furnishings for a variety of postures for work, socializing, rejuvenation and rest. Is there a recliner that adjusts to a fully recumbent position? A sofa that becomes a comfortable sleeper? Letting family members choose the posture that supports them best throughout the day provides for their basic needs, whether to reply to work emails or curl up with a book.
Optimize spatial efficiency and cleanliness. Provide storage that minimizes clutter yet allows frequently used items to stay easily within reach. The environment should be flexible enough that it can reconfigure as space and technology needs evolve. Choose furnishings and finishes that are easily maintained and allow environmental services staff to care for the room.
Support clinician requirements. Family members can be supported without sacrificing the needs of clinicians. Accommodations that remain within their footprint ensure healthcare providers have access to the patient and medical equipment they need. Additionally, adequate floor space allows for mobile bedside charting, procedures and testing.
Although hospitals and health systems differ by geography, patient population and brand, the continuity of human behavior persists, found in basic physiologic needs as well as desires for privacy, choice and control, territoriality and prospect and refuge. The insights from the research team suggest principles to optimize family involvement in patient rooms by accommodating these underlying needs. Whole person care can be creatively implemented to various degrees and with different tactics, but health systems that use the built environment as a communication and policy tool move beyond mere messaging to a living, breathing patient- and family centered experience.
Photos courtesy of Steelcase Health.
Author: Michelle Ossmann
Michelle Ossmann, Ph.D., MSN, is director of healthcare environments for Steelcase Health.
Tags: Architecture, family centered, Patient-centered, Replacement Hospital
Posted July 14, 2017
More Articles: