Subscribe Now
Keep up with the latest news with our magazine and e-newsletter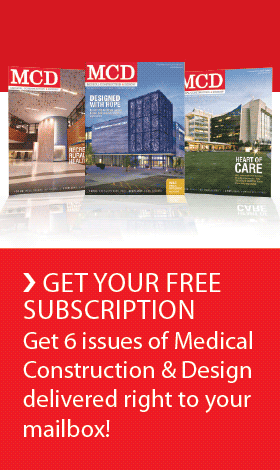 Subscribe to our E‑Newsletter
Ochsner Health System officials recently announced a more than $100-million expansion to the Baton Rouge, Louisiana region. This project includes the newly completed comprehensive cancer center, development of a new medical office building, micro-hospital and surgical center along the I-10 Bluebonnet/Siegen Corridor, as well as the expansion of several new clinics across multiple parishes. Anticipated completion date for the new MOB, micro-hospital and surgical center is scheduled for 2019.
Opening today, the Ochsner Baton Rouge Cancer Center will increase capacity to offer convenient access to fully integrated cancer care to the people of East Baton Rouge Parish and surrounding areas.
The Ochsner Baton Rouge Cancer Center will offer a hematology/oncology outpatient clinic with both chemotherapy infusion and radiation oncology. With 30 care providers, this new facility will double the space to include more than 20,000 square feet – including 15 personalized and semi-private patient chemo infusion stations – to serve more patients in a relaxing and compassionate atmosphere.
The hematology/oncology clinic will consist of eight exam rooms, including radiation oncology with two exam rooms and a radiation vault with a state-of-the-art linear accelerator. The new space will include access to a robust clinical cancer research program with a comprehensive range of clinical studies for all cancer types, including cutting-edge drugs and anti-cancer agents and early-phase clinical trials previously unavailable in the state.
This is the only cancer program in Baton Rouge utilizing a fully integrated electronic medical record – allowing all physicians to have access to patients' health information so they can deliver individualized, patient-centered care. The Ochsner Cancer Network has a five-year survival rate for cancer above the national average in specialties such as lung, colon, prostate and breast cancers.
Ochsner will expand its presence along the I-10 Bluebonnet/Siegen Corridor and will begin with a new clinic on approximately 25 acres of property as part of the High Grove development planned between the Mall of Louisiana and I-10.
This will include a five-story, 155,000-square-foot MOB, which will offer imaging such as X-ray, MRI and CT scan capabilities as well as lab, pharmacy and retail food services onsite. More than 85 providers will work at this facility to support primary care, urgent care and multi-specialty clinics.
Attached to the MOB will be a 30,000-square-foot, 10-bed micro-hospital – a smaller inpatient unit offering robust services as a more intimate healthcare option – and Surgical Center that will include:
4 state-of-the art operating rooms
2 gastrointestinal procedure suites
2 pain management procedure rooms
Ability to perform general, ENT, orthopedic, gynecology and urology surgeries
Increase of specialty care at this location will include thoracic surgery, neurosurgery, pediatric subspecialties and other surgical specialties.
Ochsner has 13 health centers and clinics across the Baton Rouge region and plans to expand at least two current clinic locations to add physicians and providers and increase access to care; open additional new clinics, including the new location along the I-10 Bluebonnet/Siegen Corridor and identify additional parishes that will benefit from clinic access, high-end imaging and lab services.
Posted June 15, 2017
More Articles: