Subscribe Now
Keep up with the latest news with our magazine and e-newsletter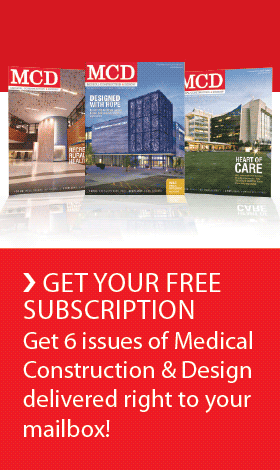 Subscribe to our E‑Newsletter
Baltimore, M.D. – Designed by The S/L/A/M Collaborative (SLAM), the Simulation Center at The Johns Hopkins Hospital has reached completion. Jeffrey Brown Contracting served as the general contractor on the project.
The new 13,000-square-foot Simulation Center is located on the seventh floor of the Blalock building of The Johns Hopkins Hospital on the East Baltimore, Maryland medical campus. As the first phase of a multi-phased project, the Simulation Center incorporates patient rooms, labor delivery rooms, operating
rooms, trauma/ICU rooms, flex/debrief space which alternates between simulation rooms, a "Just-In-Time Lab" and flexible conference space.
The Simulation Center provides training for interprofessional teams of students, caregivers and clinical staff, allowing them to explore, analyze and synthesize their actions and thought processes, emotional states and other information to improve performance in real-life situations. Rooms are sized to accommodate post-procedure debriefings with whiteboards and technology that allow students and staff to link their screens to a main screen for universal viewing.
During the design process, the team integrated technology into the corridors as part of the simulation experience, to maximize the entire space to serve as a learning environment. The design team and client tested a variety of innovative finishes and materials for durability, functionality and coordination with simulation and clinical activities. New data and video collection software was installed in the control rooms, allowing simulated systems to be universally controlled through a central point of use for more realistic emergency scenario simulations.
The Johns Hopkins Simulation Center was designed to facilitate greater educational opportunities for the hospital and School of Medicine staff. The facility is comprised of the procedural skills suite, standardized patient clinical skills suite, a resuscitation training facility, research laboratories and offices for use by Johns Hopkins University School of Medicine students, The Johns Hopkins Hospital staff and external clients.
Photo courtesy of Alain Jaramillo ©.
Posted June 20, 2017
More Articles: