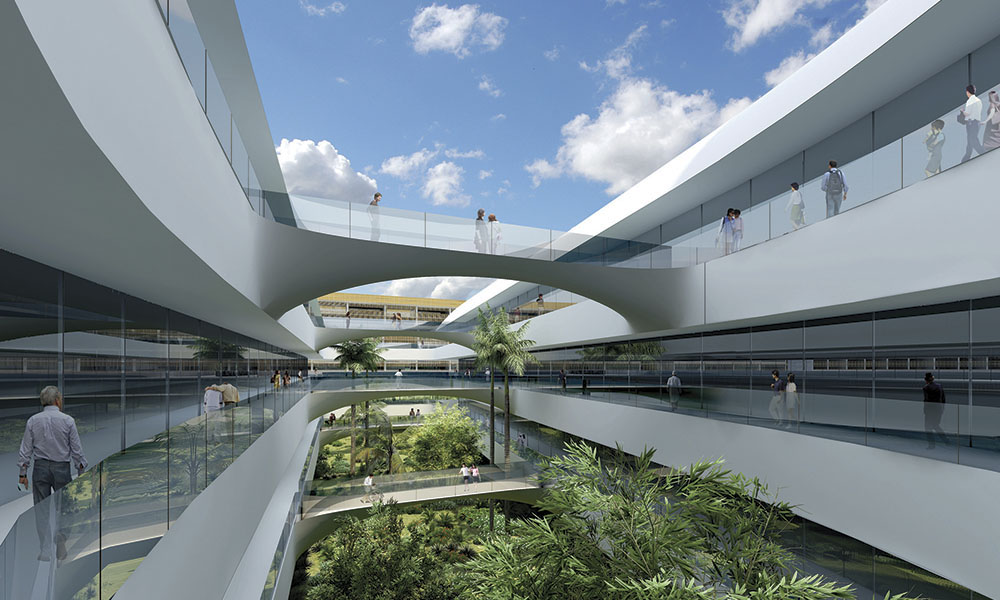 China's first LEED Gold hospital and research center, Hainan Cancer Hospital in Haikou, dissipates heat on campus through interior gardens and interconnecting courtyard walkways. Photo: CannonDesign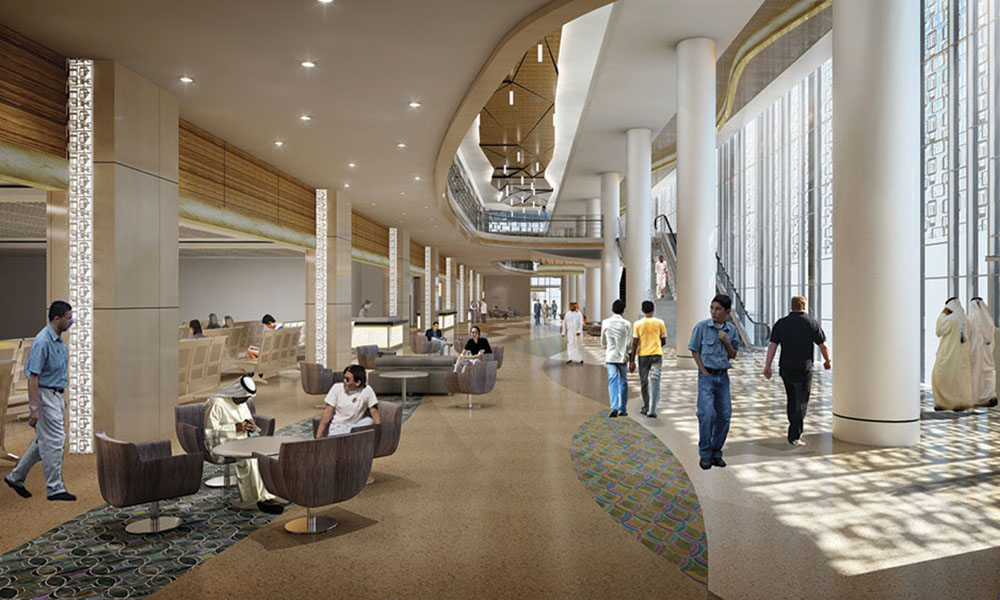 Abu Dhabi Health Services' new outpatient screening centers are strategically located to provide convenient access to expatriate workers in Abu Dhabi. The process and flow of patients is optimized to decrease wait times and increase capacity. Photo: CannonDesign
◀
▶
Subscribe Now
Keep up with the latest news with our magazine and e-newsletter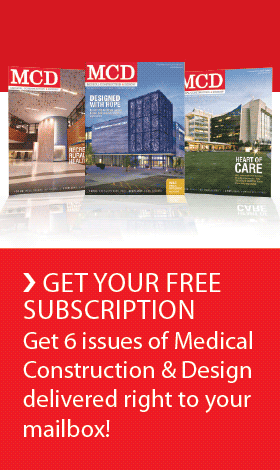 Subscribe to our E‑Newsletter
By C. Carson Shearon
While funding, utilization rates and strategies for growth vary across the heath industry, a growing cohort of healthcare clients in the Middle East, Asia and India are benchmarking with leading healthcare institutions in North America, Western Europe and Australia. Clients with facilities in these areas historically had a narrow focus to address "the big three" of shortages: beds, skilled clinical staff and medical technologies.
Today the confluence of a progressively competitive marketplace and globalization is resulting in an increasing number of discerning patients and providers seeking value from health systems in these international geographies. The industry is experiencing a shift as global clients with facilities in these nations are instructing healthcare designers to place equal emphasis on patient experience, clinical care, quality, safety and revenue capture. The shift is influenced by several drivers:
Driver 1: Globalized consumers
The global spread of modern technology and connectivity is empowering patients and providers with information about healthcare options in their own country and abroad.
In many instances, high net worth health consumers in the Gulf Cooperation Council of Arabic States — or GCC — in the Middle East, Asia and India are traveling to other countries for care.
Driver 2: High patient-to-doctor ratios
These geographies have historically had limited resources to commit to individual patients compared to North America, Western Europe and Australia, causing inherent pressure on care systems and quality outcomes.
Although many urban centers have substantial healthcare facilities in operation or construction, access to care is not equitably distributed within these nations. 
Driver 3: Skilled clinician and staff shortages
Addressing capacity, distribution and technology requires the corollary of placing adequate healthcare providers to operate new and expanding facilities in the Middle East, Asia and India. There has been an increased focused on recruitment and retention in parallel with expanding in-country capacity of graduate and post-graduate medical training curricula.
In addition, affiliation with global healthcare providers is an approach many systems are employing in the GCC to manage shortages through providing onsite staff, telemedicine and/or specialty clinical training.
Driver 4: Balanced medical specialties
As the incidence and prevalence of lifestyle diseases increase in these geographies, demand for services and facilities specializing in the prevention, detection, treatment and long-term care of what are termed "diseases of affluence" in aging populations is growing.
More patients are presenting with primary health issues and co-morbidities related to obesity, diabetes, smoking, aging and stress. This often requires complementing preventive and curative care with specialty clinical services including cardiovascular, pulmonology, endocrinology, geriatrics, bariatrics, rehabilitation and behavioral health.
Driver 5: Optimized operational cost and efficiency
With clients' increasing competitiveness in the Middle East, Asia and India marketplaces, healthcare systems are focusing on near and longer-term return on investment. Client sensitivity to first cost continues throughout design and construction, but is now often coupled with an understanding of longer-term operational cost and efficiency.
Together these five factors are uniquely influencing healthcare design practices in the Middle East, Asia and India. As a result, international trends require distinct strategies in the pursuit of new, elevated levels of healthcare in these geographies.
A closer look at trends
New large-scale mega healthcare projects, typically consisting of de novo multi-specialty institutions with 1,000 or more inpatient beds, remain widespread in Middle East, Asia and India. These institutions are aimed at addressing access to care in these regions and are frequently coupled with clinical staffing and operational strategies.
Concurrent with the development of mega projects is a growing international commitment to creating specialized centers of excellence to consolidate resources, attract new patients and elevate clinical outcomes. There is also an increased demand for standalone specialty centers of excellence to capture market share of unmet clinical needs in these regions.
In the GCC, multiple large medical cities are being planned in the Kingdom of Saudi Arabia, Oman, Kuwait, Qatar and the UAE. Such projects are predominantly government-sponsored and focus on bringing quality care to their national citizens. It is common practice in several of these nations to send their citizen-patients, and often families, abroad to the U.S. and UK for specialty treatment when comparable care is unavailable in their home country. These medical cities include robust inpatient and outpatient healthcare programs, as well as a mix of commercial and residential typologies to address regional gaps in care and mitigate resource expenditure for sending patients abroad to receive care.
In addition to de novo campuses in the GCC, aggressive building campaigns expanding existing facilities with new centers of excellence are under development to augment available medical services. As part of KSA's Vision 2030 plan, the new 900,000-square-foot facility, the King Abdullah Center for Cancer and Liver Diseases, has been recently completed on the King Faisal Specialist Hospital and Research Center campus in Riyadh as a combined state-of-the-art oncology and hepatology center of excellence for citizens.
Similarly, the Tata Medical Center in Kolkata, India responds to the reality that approximately 3 million people have cancer in India at any given time and, each year, more than 1 million new cases are diagnosed. This facility focuses on delivering world-class cancer care as a standalone center of excellence, bringing together the country's best in cancer diagnostic and therapeutic services, basic and clinical research, prevention, treatment, rehabilitation and palliative care on a single campus.
Medical tourism gains more traction
From a revenue-generation perspective, medical tourism is becoming a strategy several clients in the GCC, Asia and India are advancing as a means to attract and retain patients nationally, regionally and internationally. Asia's Bumrungrad International Hospital in Bangkok, Thailand is a pioneer in the field and regarded as a pre-eminent leader in medical tourism. As a Joint Commission International-accredited institution with 45 specialty centers, offering care in more than one dozen languages, the 550+ bed facility is a model with which healthcare clients target to benchmark. Medical tourism is an emerging trend in the GCC and India where clients are interested in a model where facilities serve both local patients while also becoming regional medical destinations.
Capitalizing on the concept of patient-centered experiences that underpin medical tourism, healthcare clients in the GCC and Asia are investing in concierge medicine as a brand differentiator. This model of high-touch care delivery focuses on premium access, experience and service amenities. The tenets of concierge medicine also increase transparency and access to information. Distinct features include patient registration kiosks, personal escorts, custom menus, tailored clinical protocols and discrete separation between front/back of house services.
China also continues to develop both large-scale campuses and small specialty facilities. Hainan Cancer Research Hospital on the island of Hainan in Haikou, China is a 250,000-square-foot cutting-edge center of excellence, focused on oncology treatment and research. The 800+ bed hospital integrates eastern sensibility and western expertise into the design process from user experience to building logic and construction, including a vast central healing garden shielded from the activity of the rapidly developing Haikou urban center.
In addition, the facility is the first major Chinese hospital to achieve LEED Gold certification. Sustainability is also a growing trend in the Middle East and India, where regional sustainability standards such as Estidama, QSAS, GSAS and GRIHA, analogous to USGBC's LEED system, are being used.
Trends in China are also responding to market demand for specialty facilities that address long-term care, low acuity elective services and cultural sensitivities. Children born under China's One-child Population Policy are challenged to support the cultural paradigm of caring for elderly parents. Many of these children have emigrated to other parts of China or abroad, creating demand for senior living and long-term care facilities. Additionally, an increased number of clients in Asia are investing in specialty centers focused on aesthetic medical areas, such as cosmetic dentistry, plastic surgery, weight loss and hair replacement therapies.
As healthcare clients in the international marketplace are seeking to improve access to care, advance quality outcomes, enhance clinical experiences and balance long-term risk/reward ratios, the Middle East, Asia and India are experiencing demand for progressive and innovative healthcare design solutions. The growing practice of clients and patients in these geographies to benchmark with premier healthcare institutions in North America, Western Europe and Australia is anticipated to continue driving these trends.
Author: C. Carson Shearon
C. Carson Shearon, MArch, LEED, EDAC, LEAN, is a principal and director at CannonDesign.
Posted June 14, 2017
More Articles: