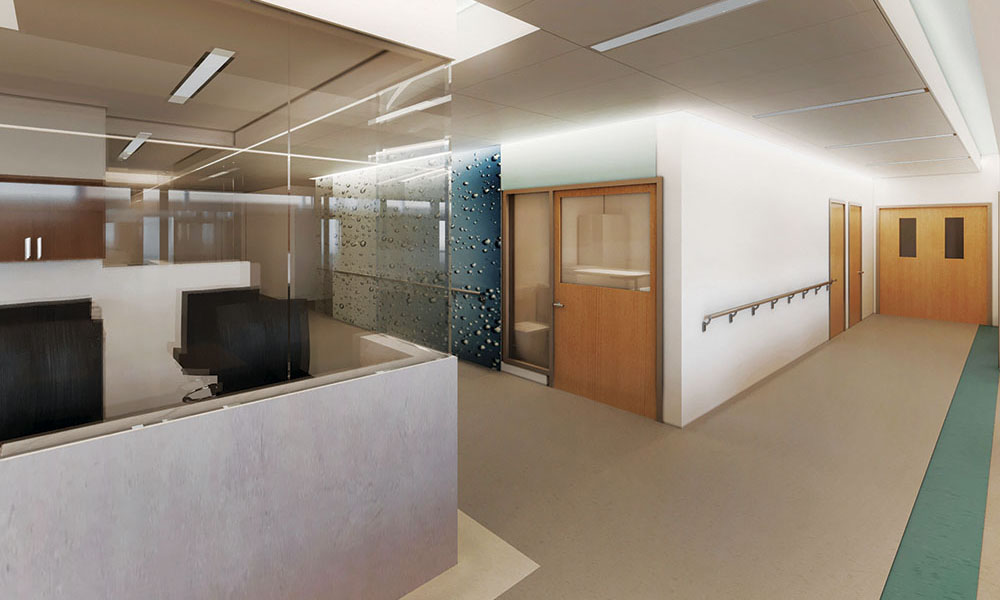 The new emergency department at Main Line's new Lankenau Medical Center is being designed to universal standards. Features such as non-slip floors, hand rails and soft lighting make it geriatric-friendly.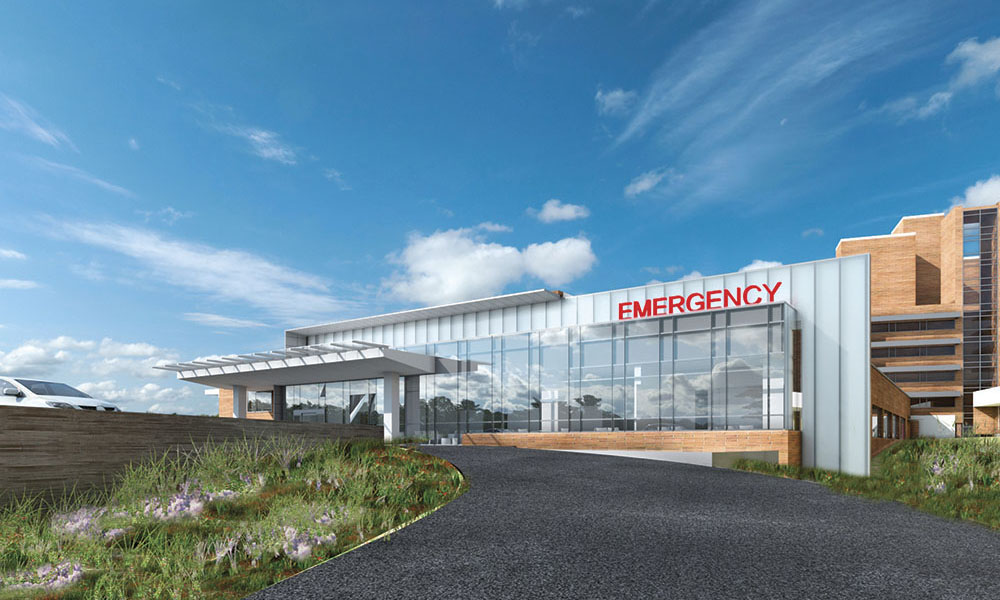 The emergency department at Main Line's Lankenau Medical Center, outside of Philadelphia, Pennsylvania, is being renovated and expanded with geriatric care in mind. Image: Francis Cauffman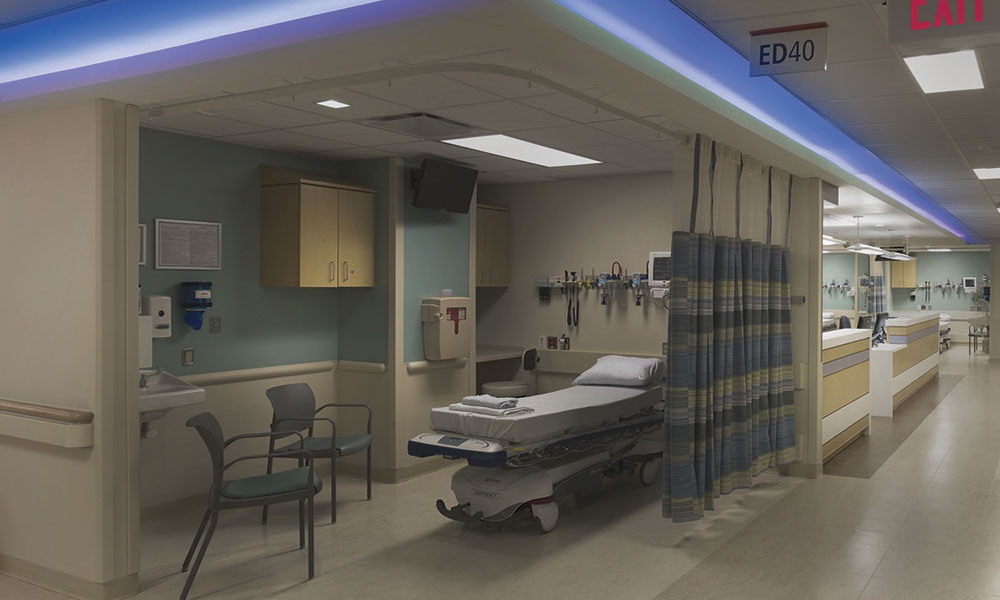 In St. Joseph's geriatric treatment bays, lighting is individually controlled and dimmable to create a more soothing environment. Photo: Halkin Mason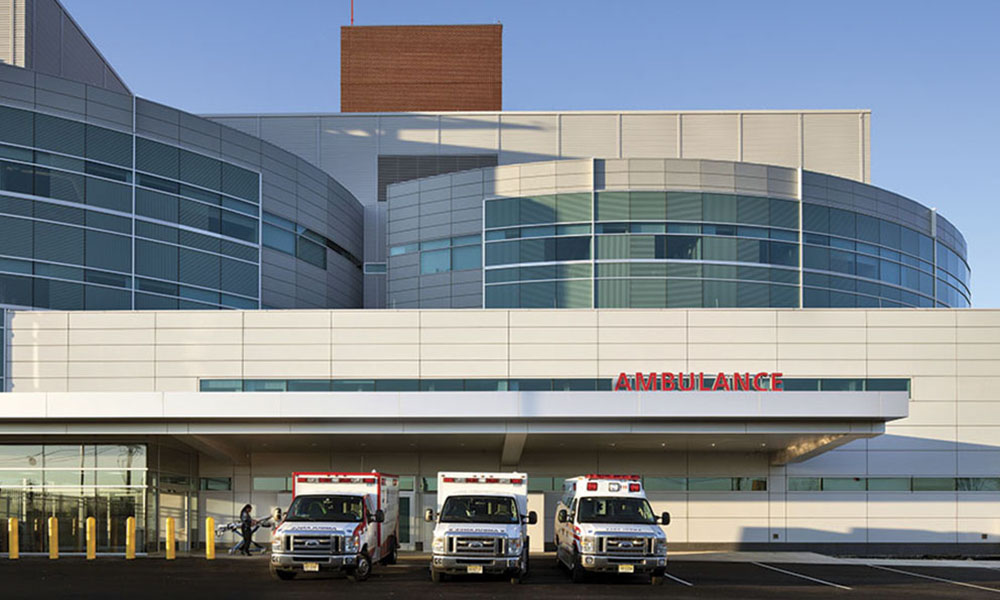 The geriatric emergency department at St. Joseph's Medical Center in Patterson, New Jersey, was developed in conjunction with Dr. Mark Rosenberg, an expert in geriatric care. Photo: Chris Cooper
◀
▶
Subscribe Now
Keep up with the latest news with our magazine and e-newsletter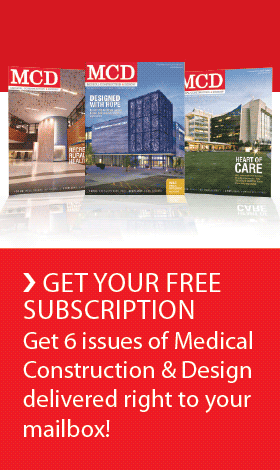 Subscribe to our E‑Newsletter
By Catherine Gow
U.S. Census data indicates that in the near future, 1 in 5 medical patients will be over 65 years old. Will our emergency departments be ready to respond? As 79 million baby boomers age into the 65-and-older geriatric bracket and increase their utilization of healthcare resources, it is imperative that EDs are designed to accommodate this growing market segment.
When EDs across the country renovate, retrofit or replace their departments, they are in need of guidance on best practices for elder care. Facility design is just one small piece of the overall puzzle — but addressing the problem both operationally and architecturally is critical.
Complications of elder care
Geriatric patients bring with them a complex diagnosis structure and are therefore regularly misdiagnosed. Patients often come to the ED with chronic illnesses, cognitive impairment and multiple comorbidities. They might be taking several medications, and patients may not remember the names of all of them. However, the difficulty of properly diagnosing the geriatric patient can also include environmental factors within the ED environment. For one, elderly patients can have a hard time with loud environments, which makes hearing the questions being asked of them more challenging, especially if they are in an impaired state. ED clinicians also report that lighting at high levels can be disorienting for some geriatric patients.
Compassionate design solutions
A quieter, lower-lit environment can make all the difference in geriatric patient treatment by creating an environment that improves communication between physicians and patients. For designers of emergency departments, one best practice for the ED would be to utilize dimmable lighting, which can be adjusted to help patients relax and focus.
Many EDs struggle with controlling noise levels at clinical work stations; it is a key issue for geriatric care, because sound transfer can add to patients' anxiety and difficulty hearing.
Design solutions for EDs include installing appropriate acoustic ceiling tiles, implementing curtained treatment spaces and enclosing clinical work areas with glass, which can soften the sound transfer and provide a quieter, HIPAA-compliant experience. Soundproofing treatment spaces also aids in decreasing sound transfer.
Another key issue in the design is choice of materials for the interior environment to ensure decrease in confusion, anxiety and the risk of falls. For these patients, a non-glare, non-slip floor and handrails in treatment spaces and corridors allow for safer ambulation throughout the ED. Using thicker mattresses or even patient beds instead of stretchers can provide much-needed comfort and reduction of bed sores if there is a longer length of stay, and choosing chairs with arms provides patients with a way to push up out of the seated position. Geriatric patients can also benefit from such amenities as hearing amplification devices, magnifying glasses, telephones, clocks and signage with large numbers.
Best practices
A good example of best practices is St. Joseph's Medical Center's emergency department in Patterson, New Jersey. This project, a replacement ED, had a visionary clinical champion in Dr. Mark Rosenberg, an advocate for the needs of geriatric patients. Dr. Rosenberg worked with architecture firm Francis Cauffman to develop a specialty care area in the replacement ED where geriatric patients could be treated separately, with a goal of achieving a significantly more accurate diagnosis rate.
Since the geriatric ED at St. Joseph's opened, the benefits of this model have become clear: the rate of unscheduled returns of geriatric patients to the hospital within 30 days for the same illness or injury dropped from 20 percent to less than one percent. This underscores Dr. Rosenberg's assertion that discharge planning is an important follow-up element in care. Since the construction of this project, hospital administrators, clinicians and healthcare designers across the country have come to St. Joseph's to learn from its geriatric ED model.
Designated geriatric area, universal spaces
Despite the success of geriatric EDs around the country, administrators and clinicians are wise to question their specific needs before deciding to provide a separate geriatric unit. One of the challenges specialty care EDs can face is lack of adequate space. When a geriatric ED goes over its number of beds, it necessarily pushes an elderly patient out into the non-geriatric-friendly designed space.
One tactic for avoiding this challenge altogether is to instead create geriatric universal treatment spaces. One such project is underway for the Main Line Health system at its Lankenau Medical Center, located outside of Philadelphia, Pennsylvania. At this medical center, the ED is undergoing an expansion while the existing space is renovated. For this project, the hospital opted against a separate geriatric ED; instead, a universal-style treatment space was created so that any room will be usable by geriatric patients, which provides Main Line with the flexibility of care that is needed. Each treatment space will have individually controlled lighting levels and handrails in hallways to increase comfort and ease movement. The clinical team work areas are behind glass, which will result in reduced noise levels in halls and patient areas.
Wayfinding is also paramount for any patient when approaching an emergency department entrance under stress, but particularly for a geriatric patient or family member. The Lankenau expansion has been designed to provide clear direction to the entrance in the utilization of materials, massing and lighting.
Parking is provided directly adjacent to the entrance both in a surface lot and on a parking deck accessible by elevator to the department. Inside the ED, color and imagery are being incorporated strategically to create areas easily identified and remembered by the patient. Targeted use of colors and patterns will aid in navigation. Minimizing high contrast between surfaces and reducing sheen levels on flooring surfaces will help reduce slip and fall risk.
Making the choice
Whether aiming for a separate geriatric ED or going the universal design route, gaining buy-in from hospital leadership is an important first step. Next, understanding a hospital's ED volume, as well as the age distribution of patients, is key to deciding whether a hospital could benefit from a separate department.
For example, if an ED has a lower percentage of patients over 65 and the department is relatively quiet and calm, a separate area may not be needed. Careful discussion at the onset of a design project to plan and discuss these issues helps to make the best possible decision on which direction to go in for the ED. For those retrofitting, changes such as installing handrails and dimmable lights are easily accomplished within the confines of existing space and can make a big difference despite the low initial costs.
Geriatric ED issues will not be solved only through facility intervention. Careful clinical operational planning must be done in parallel with facility design, as well as post-care patient planning. However, when sensitive in designing emergency departments to take into account all of these easily accomplished best practices, spaces will be created that support the best possible care and treatment of geriatric patients.
Author: Catherine Gow
Catherine Gow, AIA, is principal of Health Facilities Planning at Francis Cauffman.
Posted June 14, 2017
More Articles: