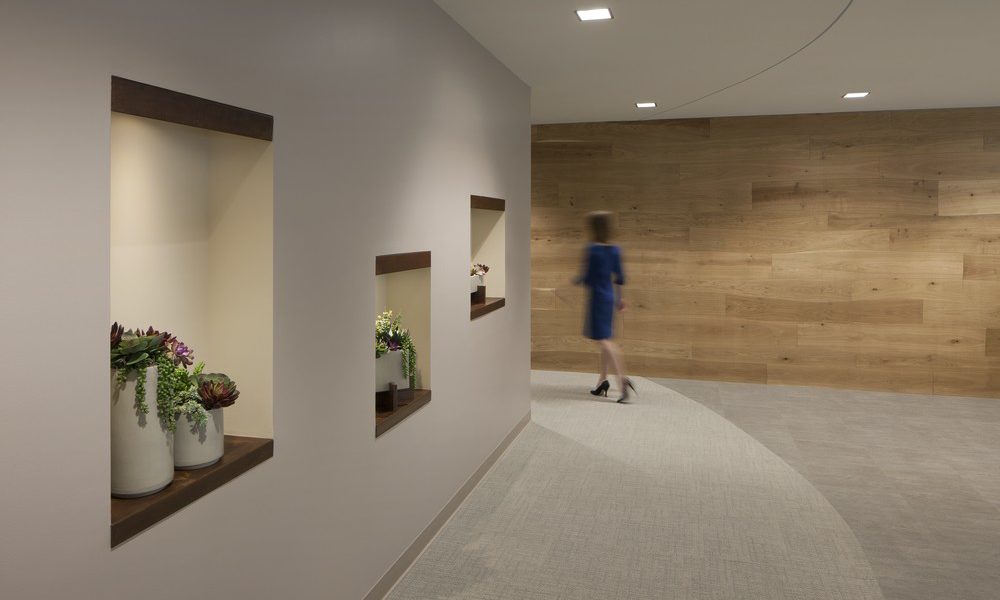 Nature is brought into the West Los Angeles , California facility with niches integrated into smooth, curved walls that hold life-affirming greenery. Photo courtesy of Tom Bonner.
Subscribe Now
Keep up with the latest news with our magazine and e-newsletter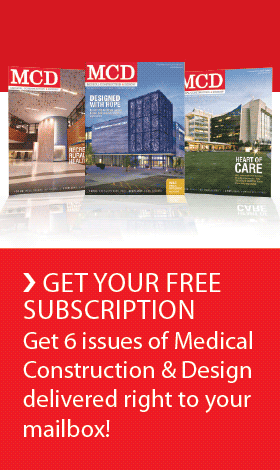 Subscribe to our E‑Newsletter
By Ali Dahl and Rebecca Kleinbaum Sanders
Putting home in healing
As treatment for behavioral and mental health issues continues to gain awareness and acceptance, so has the need for outpatient clinics and residential facilities to be less institutional and more welcoming, respectful interior environments.
Interiors designed to be more homelike, with warm natural materials and comfortable furnishings, not only reduce the stigma associated with treatment, they also support a sense of dignity in patients that's crucial to their successful recovery. The Hazelden Betty Ford Foundation has locations across the United States that offer a continuum of care, from residential and outpatient treatment for substance abuse to mental health clinics. As the foundation earmarks facilities for renovation and/or expansion, designing for dignity has become a priority, as it can positively impact costs, functional capabilities and safety for patients and staff.
The following renovated and expanded Hazelden Betty Ford facilities in St. Paul, Minnesota and Los Angeles, San Diego and Rancho Mirage in California create dignity through design:
A familiar, homelike place
Entering treatment for substance abuse or seeking help for mental health issues requires making profound changes and navigating new expectations in one's life. An institutional setting only exacerbates a patient's sense of failure. Facilities designed to support a patient's dignity, conversely, provide a homelike familiarity that imparts a sense of calm, as well as the freedom to make simple choices about the space a patient is spending time in.
Materials include those used in an upscale home or hotel, including quartz or granite countertops (rather than plastic laminate), real wood (instead of imitation veneer), hardwood ceilings (rather than acoustical tile) and varied scales and textures in tile floors (instead of sheet flooring). Pendant, indirect, sconce and floor-lamp lighting add to the residential atmosphere. Comfortable furnishings that patients can move into small groups impart a sense of choice and control, while creating community. Alcoves inserted in hallways provide privacy for quiet moments.
The four foundation facilities incorporate a muted, calming color palette and natural materials with timeless appeal. For instance, natural stone is used behind reception desks and around fireplaces. Natural wood trim, tables and furniture are priority. Still, each facility also communicates a sense of place unique to its location and clientele.
The interior design of the Betty Ford Center Outpatient Addiction Treatment in San Diego (part of the Hazelden Betty Ford Foundation), took its cues from the beaches of nearby Torrey Pines, by utilizing lighter wood accents, photographic artwork of local natural areas and large abstracted graphic elements of trees on the glass walls of meeting areas that let in light but also provide privacy. Natural wood wraps three sides of the reception wall that leads into the lounge and kitchen areas, to provide a warm sense of continuity.
The Betty Ford Center Outpatient Clinic in West Los Angeles, located in a busy, multi-tenant office building, brings nature inside by maximizing natural light through windows in the treatment spaces, including rough-hewn wood accents around doors, and incorporating artisan-crafted pots for plants and wall vignettes for greenery. A curved wood wall lends a soft, organic feel to the entry.
The foundation's new St. Paul addition needed to respect the existing historic brick mansion onsite. Thus, the main entry has a circular skylight that echoes the mansion's turret, and opens into a light-filled lobby with stone fireplace, wood reception and admission desks and coffee bar. Panels of colored glass nod to the mansion's stained-glass windows. Patterns incorporated into the staircase railings and wood privacy screens were abstracted from those in the mansion's ornate windows and banisters.
Large windows, including a full-glass wall in the group/lecture room, bring in abundant daylight and provide views of the gardens, Twelve Step path, labyrinth, river bluff and mansion. Similarly, at the Betty Ford Center in Rancho Mirage, warm woods, decorative flooring and accent lighting provide a welcoming atmosphere, while a large group room has a full wall of windows and doors to an outside patio and central yard.
In each of these projects, the intent is to create interiors that help keep patients calm and focused. Dignity comes from spaces designed to show respect for patients and staff.
Balancing safety and privacy
Designing for dignity in mental and behavioral health settings also means carefully balancing the need  for confidentiality and privacy, with patient and staff safety and security. At the facility in Rancho Mirage, wayfinding was created so patients can intuit where to walk with a sense of security. Reception is located directly to the right of the main entrance, and the group spaces, dining and kitchen areas lay directly behind—and are visible from the reception area.
The West Los Angeles facility includes a centrally located reception and waiting area with clear wayfinding to multiple areas of the clinic. Down the hall is a large flexible gathering space, which visitors and staff can also access through a second entrance. The floor plan includes a breakout room for staff and patients to relax, three small group classrooms, an observation room and eight offices. The space was designed for staff and patients to be able to have informal conversations around the group rooms by providing bench alcoves in the corridor and smaller rooms for individual reflection. Private staff offices are clustered together, away from the gathering spaces.
Many consultation and therapy rooms have glass walls that are etched or fritted to allow in light and provide a sense of openness, while creating privacy. Creating the
right psychological balance with materials like glass is also crucial to generating a blend of safety and exposure for staff and patients, alike.
In St. Paul, the new addition has two distinct entrances that overlap. The main entry opens to a community area with lecture hall and group rooms and offices for outpatient programs. The residents' entrance for board and lodging rooms opens into a staff area, with a large opaque glass wall as a marker. The two areas share first- and second-level open spaces, while the residents have their own secure area, as well.
Staff stations are at the perfect height for heads-down private work and heads-up visibility of goings on. Windows in enclosed staff areas to the dining area create privacy and visibility simultaneously. A variety of spaces for staff and patient, and patient and patient interactions, include alcoves, group rooms and offices, architecturally inserted into the plan to provide the perfect balance of seclusion, visibility and community.
In all of these facilities, finding the right level of acoustics was a challenge. Acoustically specialized drywall was used in treatment rooms to ensure confidentiality. Acoustical ceiling panels and door sweeps keep sound from leaking out. Still, to ensure staff safety and patient security in these rooms, glass inserts in doors or walls can allow other staff to peek in if necessary.
The importance of designing for dignity has been well recognized in patient healthcare settings, and is increasingly being accepted as critical to patient mental and behavioral health, as well. The same factors that contribute to patient dignity in a physical healthcare setting—from privacy and confidentiality to respect, community and control—are also essential to patient success in mental health settings. By designing for dignity, behavioral and mental health facilities will continue to erase the stigma of institutional settings to create, instead, more homelike, flexible interior environments that address patient needs and support staff security. In turn, these facilities will stand as a testament to the power of dignity in design in creating positive public awareness of mental illness.
Author: Ali Dahl and Rebecca Kleinbaum Sanders
Ali Dahl, IIDA, NCIDQ, is an interior designer with HGA Architects and Engineers in Los Angeles, California. Rebecca Kleinbaum Sanders, AIA, NCARB, is a healthcare architect and medical planner at HGA Architects and Engineers in Minneapolis, Minnesota.
Tags: Architecture, designing for dignity, Mental Health
Posted May 11, 2017
More Articles: