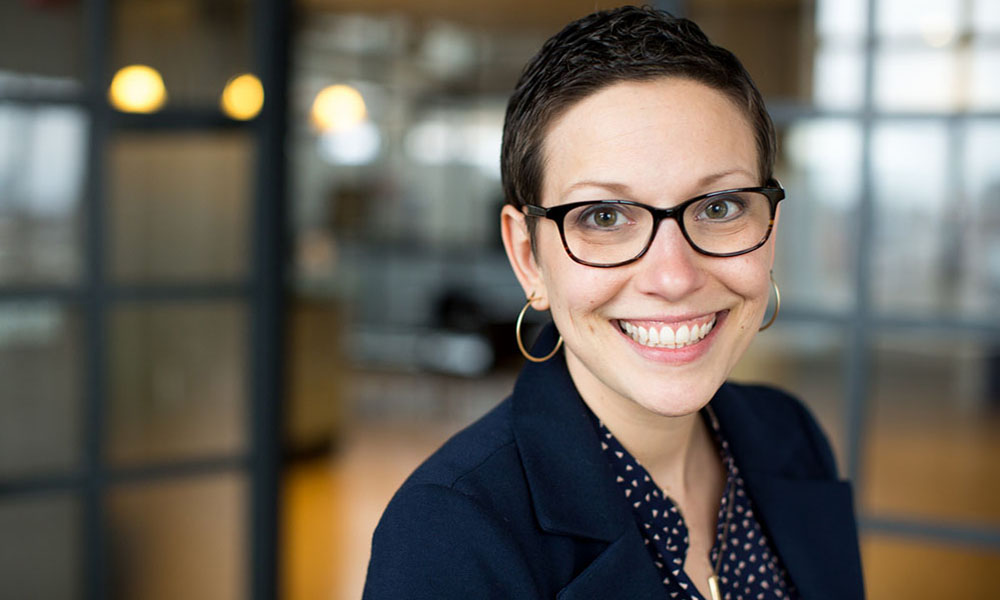 Kendra Brown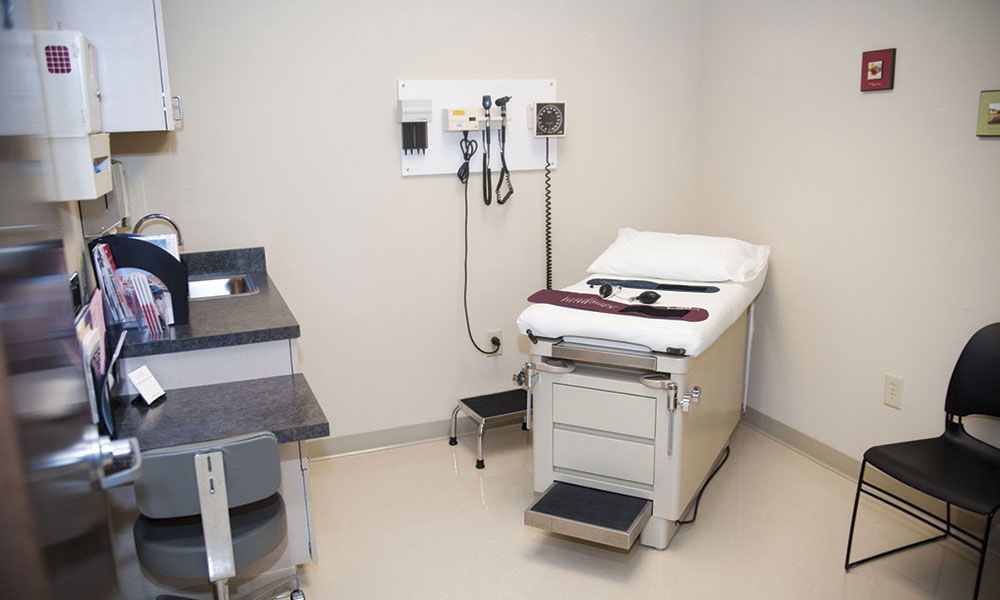 Sound barriers and insulation are often underestimated elements of design. Cancer patients deserve the utmost in privacy, including privacy between exam rooms. Shown: Patient exam room at Neuse Valley Internal Medicine, Raleigh, North Carolina.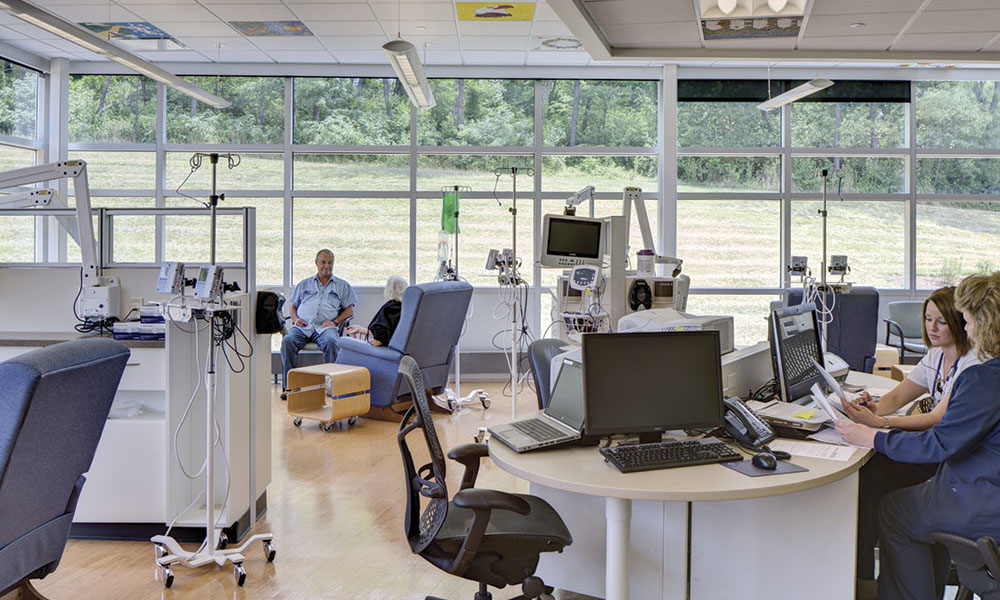 Finding ways to incorporate nature into the treatment areas of a facility can be challenging, but it is worth prioritizing to improve the patient experience and recovery time. Shown: Adena Cancer Center in Chillicothe, Ohio.
◀
▶
Subscribe Now
Keep up with the latest news with our magazine and e-newsletter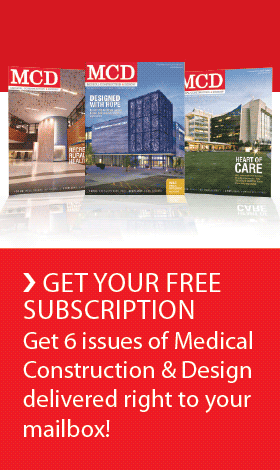 Subscribe to our E‑Newsletter
By Kendra Brown
As a marketer for an architecture firm, part of my job is to put myself in the shoes of a healthcare system client, consider their wants and needs for their facilities and work with our team to deliver the right plan and message to meet their expectations. Through my work, I've learned so much about specific healthcare spaces, such as ambulatory surgery centers, inpatient hospitals, sports medicine, NICU space needs and cancer treatment facilities.
Reflecting back, I rarely looked at these spaces from a patient's perspective; typically I wrote about design and planning based on a combination of what I knew the client wanted, industry best practices and our firm's experience. That was my approach, until my diagnosis with cancer in April 2016.
Up until that time, my personal experience in any type of healthcare facility was limited to visiting loved ones along with a handful of well visits throughout the year. That all changed when, over the course of nearly eight months, I spent countless hours during imaging, chemotherapy, surgery consultation, pre- and post-op and radiation in exam rooms, treatment spaces and waiting rooms.
While I received what ultimately became life-saving treatment, there was another component to my experience — the spaces in which I received this care. I saw my worlds begin to collide as an architectural marketer and as a patient and I wondered how these spaces could better contribute to the mental and physical well-being of other cancer patients. Here are three ideas:
First impressions matter
It's a natural instinct to draw immediate conclusions upon arriving anywhere. Whether it's at a hotel, restaurant or healthcare facility, those first experiences can either build confidence or break it. When walking through the front door at my first cancer treatment plan consultation, I crossed the threshold directly into a vast waiting room filled with people dealing with a similar diagnosis. Some of these people had already lost their hair, others appeared sick and weak. That first impression was a strong dose of reality.
Challenge: Through the eyes of healthcare planners, it may seem logical to place the waiting area near the entrance of a building, but consider the opportunity to create a welcoming, confidence-building impression to soften those first moments in a cancer treatment facility.
Patient privacy
In my opinion, patient privacy is one of the most frequently discussed, yet least thoughtfully executed elements in healthcare facility design. Physicians discuss cancer and other major illnesses every day with patients, perhaps as nonchalantly as someone giving directions in a foreign country, taking for granted that this is a completely new and unfamiliar subject matter. However, as a patient dealing with a new normal and uncertain future while absorbing new information about a diagnosis and treatment plan, this is a very delicate time. It's challenging to deal with a new diagnosis, not to mention sharing it with the world before you are used to the idea. I remember sitting in my general physician's office just three days after finding out I had cancer. I was numb with anxiety and fear. Sitting on the paper-lined table in a small exam room, I could very clearly hear her chatting with patients in the adjacent rooms.
Then, in one loud, swift motion, my physician entered the room, sat down and in a booming voice said, "Well, we know it's cancer." All I could think about was the patient in the room next to me, soaking in my news through the thin walls while they waited for their antibiotics or annual physical.
Challenge: From a patient's perspective, I would strongly argue insulation not be on the list of budget cuts. Ample, quality sound barriers in patient rooms will increase patient well-being and are well worth the cost.
Access to daylight, nature
Prior to my cancer experience, the only cancer facility that stood out in my mind was Cancer Center for Adena Health in Chillicothe, Ohio. Floor-to-ceiling windows encase the exterior of the building as patients' chairs face toward green space and a healing garden just outside.
That was my only look inside an infusion room prior to my diagnosis. The treatment room where I received chemo had the treatment chairs arranged with their backs to the exterior walls in a U-shape, with the nurses' station in the center. The building was surrounded by a parking lot and I wouldn't consider the views to the outside as serene or calming. Despite this, looking back at the time spent in that chair, I would have preferred to look outside rather than my only view being that of other patients and their families.
Challenge: Studies have shown the incredible impact of views to nature and sunlight on a patient's health and recovery time. Even if a facility's location does not allow for significant views to surrounding nature, consider alternative methods to bring the outdoors in.
So, what now?
Put yourself in the shoes of a patient entering that facility for the first time. Take the time to listen to someone who has first-hand experience in specific healthcare spaces. Understand their sensitivity to sound and privacy and look for opportunities to bring daylight in and provide views to nature. The next time you approach a project, study a patient's path through the building and their first impressions. Does the space build confidence in the quality of care they will receive?
It goes without saying that it's easier to approach work through the lens of our own experiences. Planning and designing healthcare facilities may become so routine that it's easy to look at these spaces strictly as a designer or administrator or even a marketer. My experience with cancer has certainly changed the lens through which I see these treatment spaces. In the process of planning and managing a project's schedule, scope and budget, I only ask that you take time to consider the ways in which design can positively affect the well-being of patients.
Author: Kendra Brown
As the marketing manager for DesignGroup in Columbus, Ohio, Kendra Brown is responsible for managing the firm's brand, thought leadership and marketing communications.
Posted May 12, 2017
More Articles: