Subscribe Now
Keep up with the latest news with our magazine and e-newsletter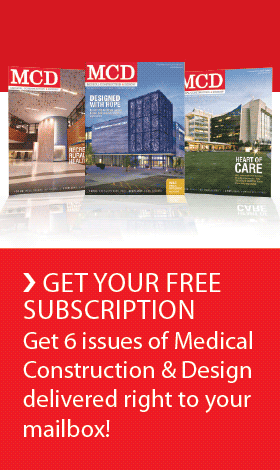 Subscribe to our E‑Newsletter
To deliver an inspired patient experience, today's healthcare spaces must support healing and creativity at every step. noraplan® lona captures the momentum of artistic expression in a premium rubber floor covering refined for the highly specialized needs of healthcare design.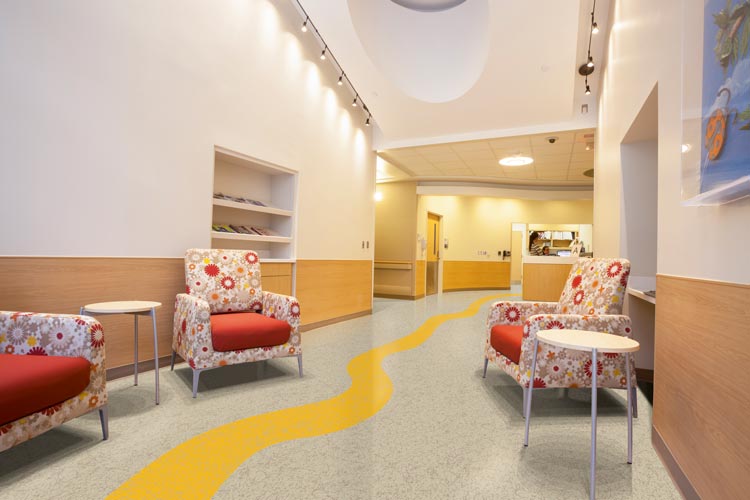 Creativity for Healing Environments
A growing number of hospitals, treatment centers and other healthcare facilities are shaping their designs around the physical and emotional needs of patients and caregivers alike. These healing environments strive to offer vibrant spaces that energize patients and their families while easing day to day challenges faced by staff… As a result, materials specified for new builds as well as renovations must deliver forward-thinking, engaging design elements that answer the functional demands of healthcare with unrivaled performance.
That's the motivation behind noraplan lona, a visionary flooring choice that marries the material advantages of resilient rubber with the energy of creative inspiration. Its engaging pattern of droplets and splashes, matched by a palette of rich colors and accents, draws a parallel to canvases found in an artist's studio. This holistic form lends new visualization to patient-centered spaces, inviting bold, artistic experimentation and modernism. The result is a floor covering that supports both mind and body, patient and caregiver.

Designed for Outcomes
Through extensive research and testing, nora® developed noraplan lona to foster new possibilities between healing design, staff inspiration and patient engagement.
"Listening to the needs of our customers, we developed original technologies that deliver the unique design flexibility that defines noraplan lona," said Tim Cole, vice president of marketing at nora systems, Inc., North America. "Wherever it is installed, the floor brin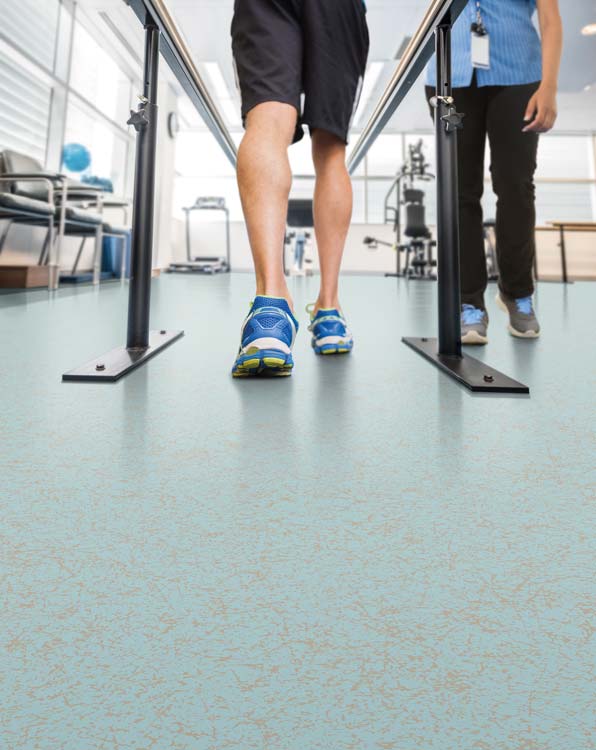 gs every room to life with the vigor of an artist's studio, creating workspaces that enthuse and engage the senses."
noraplan lona harnesses all the benefits of high-performance, premium rubber flooring favored by specifiers and staff. The seamless, nonporous surface repels chemical stains and bacterial contamination, cleaning quickly with little more than water. As a result, busy spaces remain safe and accessible, even during cleanups. That means simplified maintenance and drastically less downtime.
Low VOC for reduced emissions, and free from polyvinyl chloride (PVC), plasticizers (phthalates) and halogens (e.g., chlorine), lona delivers superior indoor air quality, and promotes a truly restorative atmosphere.
The naturally slip-resistant, ergonomic structure of noraplan lona also supports caretakers and staff as they move throughout the day, decreasing workplace injuries and lost productivity. In crowded hallways, busy ORs and other loud environments, lona offers remarkable sound-absorbent properties, minimizing patient disruption. The silk-matte finish redirects light, reducing glare and the risk of eye strain in bright waiting rooms, hallways and more.


Reveal Your Modern Healthcare Masterpiece
Explore the possibilities of designs that excite and engage patients and staff. noraplan lona encourages a forward-thinking approach, capturing a building's character in a range of tones and patterns as unique as the healing journeys it supports.
When it comes to finding inspiration for your healing spaces, look no further than where you stand. Discover new creative energy in the enduring, inspired form of new noraplan lona flooring. For more, visit http://www.nora.com/us/lona
Posted May 2, 2017
More Articles: