Subscribe Now
Keep up with the latest news with our magazine and e-newsletter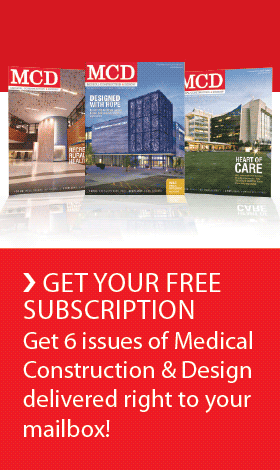 Subscribe to our E‑Newsletter
Vehicles crash into entrances of clinics, hospitals, and emergency rooms every day in the United States.  Prevention of these costly incidents can be simple and effective. There are two proven solutions…
Vehicles strike public and commercial buildings at least 60 times per day in the United States. According to the Storefront Safety Council, medical offices and hospitals are frequently the victims of such accidents and the causes are surprisingly consistent. Simple preventive measures can reduce the risk to property and people while improving lighting and access at the same time.
Hospitals and clinics are prone to accidents where cars run up onto curbs, into pedestrian areas, and even strike the building and entrances; there are many reports of fatal accidents where cars went into lobbies and treatment rooms. The frequency of poor driving exhibited by individuals arriving to a hospital or clinic tends to be much higher than that of the general population. This is due to the fact that many of these drivers are elderly, have physical disabilities, have cognitive impairments, and are often on prescription medication.
Higher risk drivers pulling in front of pedestrian entrances and passenger loading zones can result in accidents that cause injury and death.
Many health organizations, both public and private, have undertaken simple steps to prevent these crashes. Two solutions have proven to be the most effective:
Eliminate nose-in parking spaces. A large percentage of vehicle-into-building crashes are a result of drivers hitting the wrong pedal or putting the car in the wrong gear when parking or leaving a parking space. This is especially true of ADA spaces, due to the increased risk from physical or other impairments. Pointing vehicles away from people and property greatly increases safety.
Install tested and effective bollards or barriers. These might include models that are lighted which will improve navigation for drivers and pedestrians alike. Since it is impossible to control driver behavior, preventing these accidents is key. Sometimes this can be as simple as keeping the cars on roadways or parking areas, and blocking them from going into people-only areas.
Calpipe Security Bollards has worked with many health organizations to address this concern. Kaiser Permanente in California has instituted a mandate for all facilities to install rated security bollards at patient pickup/drop-off areas, as well as other safety and security devices at certain emergency room entrances and other exposed areas. This was done entirely to remove the threat from both common accidents (a driver going too far up into the passenger area and striking pedestrians) and more serious accidents where a driver might suffer some sort of medical event and accelerate their vehicle towards an unprotected entrance at high speed.
Both the elimination of nose-in parking and the use of safety barriers and bollards are trending in all forms of commercial construction. It is rare to see nose-in parking at newer grocery and other retail stores now. Furthermore, California just passed a law (effective 1/1/2017) authorizing insurance discounts for certain policy holders that install qualified safety barriers and bollards.
The experts at Calpipe Security Bollards can help you to understand new standards, help you with design and layout details, and work with you hands-on to find the right combination of aesthetics and crash resistance.
More Info
http://www.calpipebollards.com/
http://www.storefrontsafety.org/
Posted April 3, 2017
More Articles: