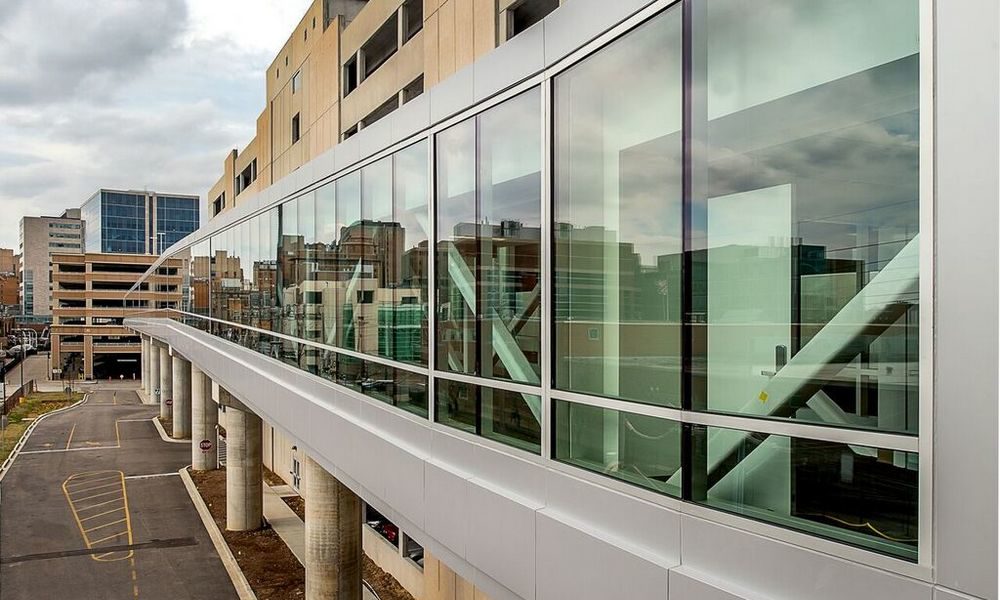 Subscribe Now
Keep up with the latest news with our magazine and e-newsletter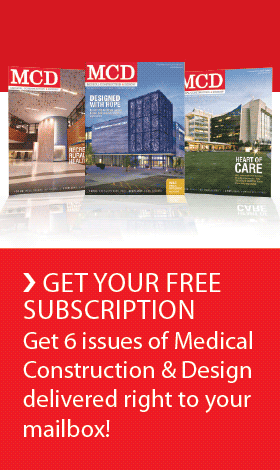 Subscribe to our E‑Newsletter
ST. LOUIS, Mo. – KAI Design & Build, along with joint venture partner Paric Corporation, has completed a 1,200-foot-long, elevated pedestrian skywalk project connecting more than 6,000 parking spaces to the main hospital complex on the BJC HealthCare/Washington University Medical Center campus in St. Louis, Missouri.
KAI Design & Build's construction department led the project, with KAI also providing its architectural design. The project is a component of the BJC HealthCare/Washington University Medical Center Campus Renewal Project – a long-term project to transform a 16-block campus that includes Barnes-Jewish Hospital, St. Louis Children's Hospital and the Washington University School of Medicine. The renewal project is focused on improving the patient and family experience from both a clinical and campus perspective.
Completed in March 2017, after only 264 construction days, the extensive pedestrian connector is a 13-foot-wide tube elevated to heights averaging 40 feet above street level. It starts on the east end at the St. Louis Children's Hospital staff garage and continues west along the MetroLink right-of-way adjacent to BJC's new 3,022-space Duncan Central Garage, designed and constructed in 2015 by the Paric/KAI joint venture. The walkway then connects to a third BJC garage on Taylor Avenue and continues across Taylor Avenue to the west and runs alongside the 700-space Metro Parking Garage.
The 1,200-foot walkway ends at the new 12-story Mid-Campus Center where pedestrians can connect to the main elevated walkway system near the BJC Institute of Health and Hope Plaza. The recently completed Mid-Campus Center was also constructed by a joint venture between Clayco and KAI. Other buildings adjacent to the connector route include a 213,000-square-foot College of Pharmacy academic building (under construction), the existing College of Pharmacy, the Parkview Building and the Eric P. Newman Education Center.
KAI's architects designed the connector to blend in with its surroundings, withstand high pedestrian traffic and outside environmental factors such as wind and weather, and provide a comfortable, safe environment for its travelers.
The connector is constructed of tinted, Low-E glass; pre-fabricated steel truss sections (in total weighing 380 tons); 14 concrete piers (2,500 cubic yards of total concrete) and over 500 sections of glass panels. Its mechanical system consists of a 4-pipe, hot and cold water system that feeds local fan coil units with a couple of local above-ceiling air handlers.
The interior, which could not be completed until the connector was enclosed, incorporates field carpet tiles for its flooring and LED lay-in ceiling fixtures strung along its entire length. The bridge design also incorporates emergency exits, as well as emergency security intercoms (indicated by blue lights) at all garage and building points along its route.
For security reasons as well as aesthetics, lights were installed roughly every 20 feet in the soffit beneath the bridge to illuminate the ground below and minimize the shadow effect cast from the bridge. The connector's roof consists of an energy-efficient white, mechanically fastened TPO roofing system.
With multiple contractors/subcontractors and entities involved in the project at any given time, including the Washington University School of Medicine, St. Louis College of Pharmacy, MetroLink, various BJC HealthCare operational entities, as well as public utilities and the City of St. Louis, significant coordination was required by the KAI/Paric construction team to keep the project on track.
KAI was able to achieve substantial minority inclusion on the project with 75 percent MBE and 1 percent WBE participation and reported only two recordable accidents on the project.
Power UP Electrical Contractors provided Design-Build electrical services on the project, with Square UP Builders providing rough and finish carpentry services.
To view a video of the East-West Connector project, visit https://www.youtube.com/watch?v=eHlmsJUFvq4.
Posted April 26, 2017
More Articles: