Subscribe Now
Keep up with the latest news with our magazine and e-newsletter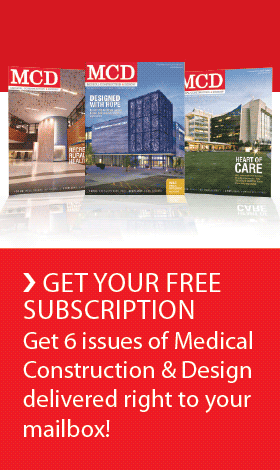 Subscribe to our E‑Newsletter
IRVINE, Calif. – Taylor Design has recently added three key industry leaders to its Irvine, California team: John Gresko as senior project manager, Todd Yamanouchi as architect and Alesha Arp as senior strategist.
John Gresko, RA, LEED AP, is Taylor Design's new senior project manager. An integrative design specialist with extensive experience in the firm's core markets of healthcare, education and science and technology, Gresko excels in the design of purpose-driven, people-centered spaces. Gresko will help propel the firm forward in its pursuit of design excellence by focusing on design quality and integrating user-based research into built environment projects.
Prior to joining Taylor Design, Gresko was technical director for HDR Architecture in Chicago, Illinois, where he led multiple design teams, serving as a design architect and technical leader. His 17-year career is highlighted by a notable work portfolio, including a $500-million high-rise hospital for the Ability Institute of RIC showcasing translational medicine in downtown Chicago, the $90-million testing and research laboratory for the Metropolitan Water Reclamation District of Chicago and the $59-million south tower addition for the John W. Fisher Heart Center at Ball Memorial Hospital in Muncie. A licensed architect, Gresko holds master's degrees in architecture and civil engineering, as well as a bachelor's degree in architectural studies from the University of Illinois, Urbana-Champaign.
Todd Yamanouchi, AIA, has joined Taylor Design as architect. Yamanouchi is an exacting architect with a technical eye for detail. He is responsible for integrating building systems and reinforcing design concepts through the entire project process.
With 25 years of experience in high-performance design with a focus on developing exterior design solutions for award-winning domestic and international
projects, Yamanouchi comes to the firm from HOK in Los Angeles, California, where he served as a senior technical design leader. Experienced leading and collaborating with design and construction teams in all project phases, his expansive portfolio includes healthcare, education, government, corporate, mixed-use, sports and aviation building types throughout the U.S. and Asia. Some of his notable designs in California include the $1-billion Cedars-Sinai Advanced Sciences Health Pavilion in Los Angeles, $350-million Governor George Deukmejian Courthouse in Long Beach, $830-million Ronald Reagan UCLA Medical Center in Los Angeles and $40-million University of California, Riverside Engineering Building Unit 2 in Riverside. Yamanouchi has a Bachelor of Architecture degree from the University of Hawaii at Hilo.
Alesha Arp is Taylor Design's new senior strategist. In her new role, Arp utilizes her extensive experience in user research methods and processes to conduct client end-user research. Her findings are then used by the firm's project managers to guide the project's design
strategy and deliver a user-focused space that deliberately contributes to the client's business initiatives. Prior to joining Taylor Design, Arp most recently served as UX research / analyst for DealerSocket in San Clemente, California. Through detailed qualitative and quantitative user research, usability testing and iterative design, Arp has excelled at helping a variety of business types and organizations deliver better products and services to their customers for over two decades. Arp is a member of the User Experience Professionals Association, Los Angeles Chapter. She is a graduate of Kent State University with a master's degree in information architecture & knowledge management: user experience design. She also earned a Management Development for Entrepreneurs Program certificate from the UCLA Anderson School of Management and a Bachelor of Arts from California State University, San Diego.
Posted March 1, 2017
More Articles: