Subscribe Now
Keep up with the latest news with our magazine and e-newsletter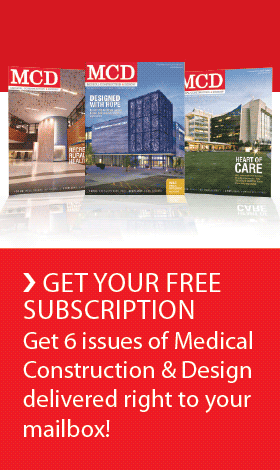 Subscribe to our E‑Newsletter
GLASTONBURY, Conn. – S/L/A/M Construction Services (SLAM CS) completed the construction of a new state-of-the-art tier III data center as part of the two-phase renovation of a 1930's, 57,000-square-foot building for Saint Francis Hospital and Medical Center, located at 103 Woodland Street in downtown Hartford, Connecticut. SLAM CS was the prime for the Design-Build team which consisted of Quisenberry Arcari Architects and electrical designer, J.P. Engineering LLC.
The funding requirements and an immediate need to occupy the building greatly influenced the approach and phasing for the project. On the first day of construction, the second floor was fully occupied by Saint Francis which required a plan to manage the extensive demolition and reconstruction of the floors above and below the space. The team also had to develop a process to decommission the existing building's MEP systems while maintaining the building operations of the occupied spaces.
Phase 1 began in December 2012 with the systematic gut and renovation of the entire MEP infrastructure, bathroom cores, elevator, roofing and interior spaces of the building while maintaining full occupancy of the second floor. This also included the installation of temporary utilities, MEP systems and sewer ejector pumps with temporary plumbing to maintain operations of a bathroom core. Saint Francis occupied each floor as it was completed which required a temporary Certificate of Occupancy per floor.
In preparation for the eventual inclusion of the Data Center on the first floor, the team included upgrades to the infrastructure and MEP systems needed to support the future Data Center load; a key planning strategy to avoid any reconstruction; and building disruptions needed to construct the future Data Center.
Phase 2 began in November 2015, after 10 months of planning and design of the Data Center spaces. The tier III requirements included multiple redundant utility feeds, communications, cooling systems and standby power. Uninterruptible power was provided by duel UPS feeding the Data Center load until the three 750 kw generators were on line.
The entire Design-Build team was recently honored with a 2016 Silver Award for Building Construction from the Design-Build Institute of America New England Region for its work on the project, with each submission judged by a panel of experts that focused on the practices that constitute "design-build done right." For more information on all winning projects, visit www.dbiane.org.
Posted January 26, 2017
More Articles: