Subscribe Now
Keep up with the latest news with our magazine and e-newsletter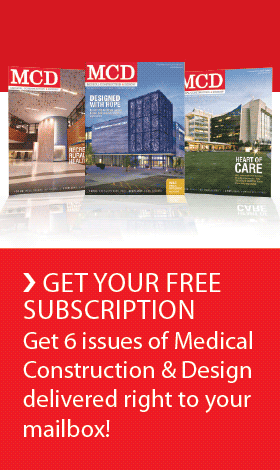 Subscribe to our E‑Newsletter
IRVINE and SAN FRANCISCO, Calif. – Taylor Design was recently recognized by the American Institute of Architects Orange County (California) with two awards during the association's 2016 AIAOC Orange County Design Awards on Sept. 15. The awards were for work completed by the firm in the Bay Area that encompassed two ambulatory care clinics that provide exceptional patient experience design.
The AIAOC Design Awards honor exceptional responses by Orange County-based firms to the complex problems of today's architectural environment, and celebrate innovative solutions to architectural challenges, regardless of project category, type or budget.
Taylor Design received a Citation Award in the Commercial Interiors Category for its work on the San Francisco Vein and Vascular Institute's new Vascular Surgery Clinic and Ambulatory Surgery Center. The firm was also recognized with a Merit Award in the Commercial Interiors Category for its work on the UC San Francisco Ambulatory Care Center 5 Heart & Vascular Clinic.
A key differentiator in Taylor Design's work for the San Francisco Vein and Vascular Institute is a patient experience that focuses on the genuine interactions between patients and clinicians. The San Francisco Vein and Vascular Institute is committed to the treatment of all aspects of vascular conditions. Its new 5,320-square-foot office space in an existing mixed-use high-rise building needed to be transformed into a vascular surgery clinic and ambulatory surgery center with AAAHC Accreditation and Medicare Deemed Status. The experience characteristics that played a major role in design include a calm, comfortable environment that was inviting, yet was professional and trustworthy.
For the UCSF Ambulatory Care Center, the interior clinic space was designed to reflect the contrast of the urban city view with the lush greenery of the surrounding Golden Gate Park. The fifth floor of the Ambulatory Care Center building offers sweeping views of downtown San Francisco all the way to the tips of the Golden Gate Bridge. The 10,000-square-foot space houses the now consolidated UCSF-Parnassus Heart & Vascular services ambulatory programs. The use of contrast between interior and exterior is also demonstrated by the "on-stage/off-stage" concept that delineates the public-facing spaces from the staff and clinician-only spaces. Furniture and finishes mirror both the natural hues of the park and the monochromatic hues of the city. The reception desk itself acts as a reflection of the city. The silver texture pattern of the ceiling and light fixtures resemble clouds and evoke a sense of the fog that hangs over the city and the bright sunshine that breaks through.
Posted October 7, 2016
More Articles: