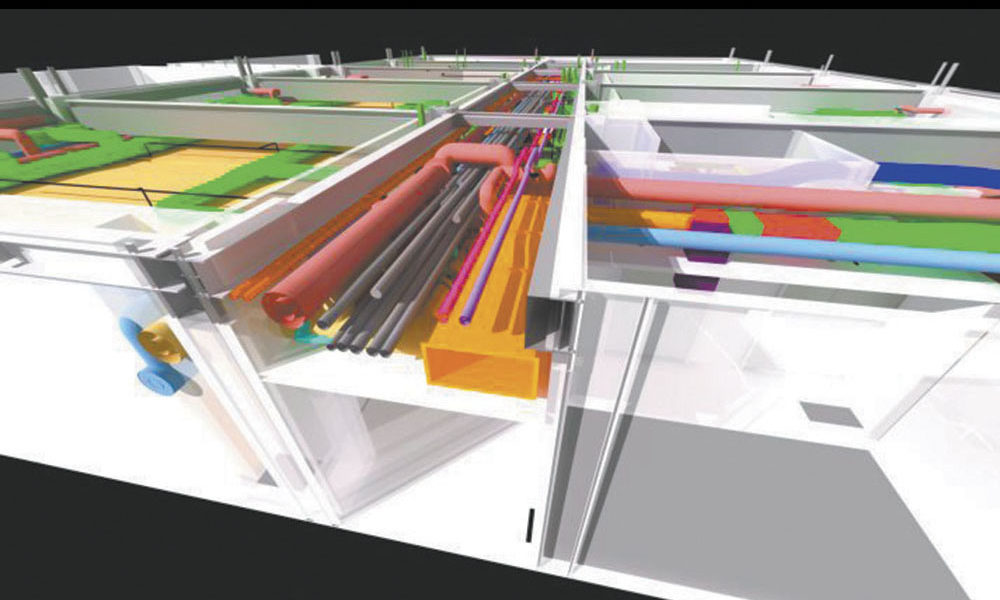 After-hours scanning can be performed to eliminate disruption to hospital operations. Point clouds can be combined and converted into BIM models consisting of existing MEP and structural conditions. These models help coordinate and inform the design.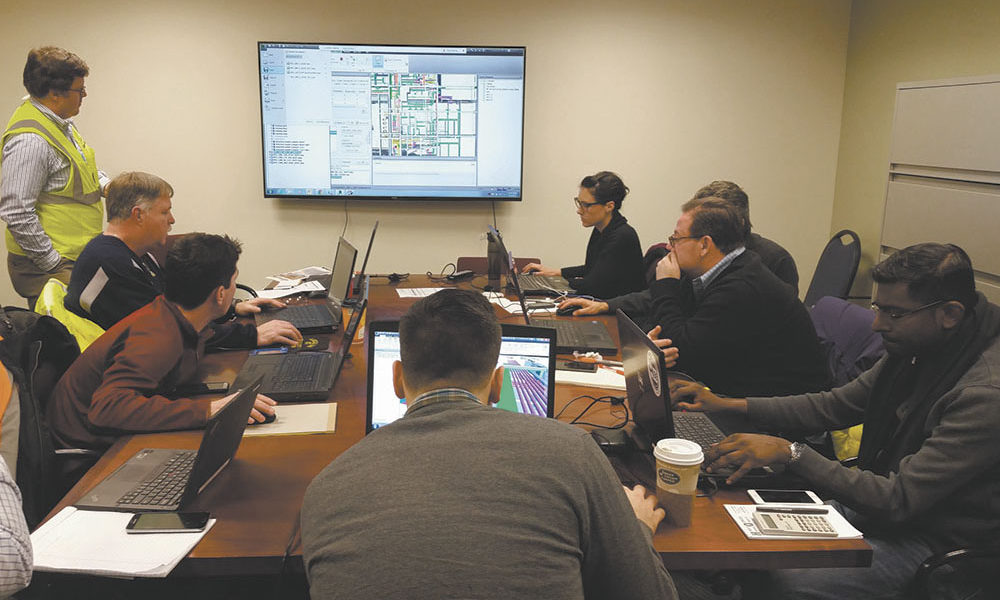 Including facilities management teams, space planners and reimbursement analysts in BIM execution planning meetings can help bridge the gap between design/construction and building operations teams.
◀
▶
Subscribe Now
Keep up with the latest news with our magazine and e-newsletter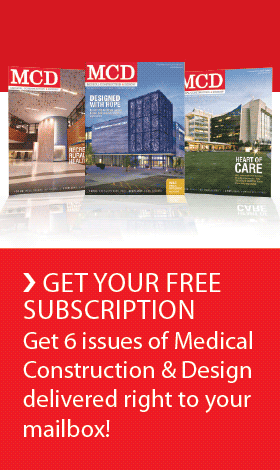 Subscribe to our E‑Newsletter
By Chuck Richmond
Building Information Modeling is an integral part of providing construction services for healthcare facilities. Whether during design, estimating or construction, the process lends itself to building virtually by demonstrating its true value. Whether saving labor through improved fabrication techniques, reducing risk by engineering a hazard out of the equation or operating a building more efficiently with a data-rich model — the use of BIM should always be where it makes the most sense. To do so requires an equal amount of commitment and coordination from clients, design teams and subcontractors.
Virtual identification, mitigation of issues
The most common use of BIM is the virtual identification and mitigation of design and construction issues prior to field operations with an ultimate goal of zero field RFIs. Additional goals are to identify potential pre-fabrication options, maximize installation and enhanced safety and logistics. The integrated model is formed by the collection of designs, and coordinating those designs by an established hierarchy of most significant to least significant and comparing the virtual installation of each design per the hierarchy.
When a conflict occurs in the virtual model, it is reviewed by the project team, and resolved at that time or at a prescribed date. When conflicts or geometry "clashes" are resolved, the model is updated and rechecked to ensure no new clashes resulted in the revised models.
With the improvement of third-party model content, the trade scope areas that can be addressed by the application of these techniques are increased, particularly in structural designs. 5-D workflow comprises the use of model validation protocols to align the visual content with the extracted quantitative data, ensuring the accuracy of results when relying upon model content. These processes are being continually enhanced as model quality increases to make sure the most efficient and accurate results are obtained from the implementation of this developing technology.
Beyond collision, crash detection
While BIM models are good tools to show collision and clash detection, firms can take it a step further by optimizing adjustments based on rules established by the team and running checks for accessing and replacing serviceable equipment.
Another option is to apply logistics staging (cranes, caisson augers, protection systems, etc.) to the model for risk analysis and to verify safe picking points during erection. The results are 4-D simulations that improve erection methods and reduce hazards.
Also, it's good practice to rely on modeling construction processes to produce project-specific safety plans. Items such as pre-erected nets and shaft covers provide worker protection and effectively engineer out hazards before they can occur.
BIM in action
As part of the preconstruction and ongoing phased construction activities for a medical facility in New York City, Lendlease utilized BIM to conduct 3-D site safety and logistics plans created for the entire campus in order to enhance planning and communication between stakeholders. 3-D constructability reviews and renderings of interior spaces have been provided to the client to help articulate each phase of the make-ready and renovation progression. These have assisted in the decision-making process and allowed the client to visualize temporary changes to interior spaces made to accommodate construction activities and keep the public safe.
The laser scanning to BIM process throughout the project captured existing conditions. After-hours scanning was performed in order to eliminate disruption to the public and hospital operations. The resulting point clouds were combined and converted into BIM models consisting of existing MEP and structural conditions. These models have been used to help coordinate and inform the design.
Beyond the field
The benefits of BIM to project teams are myriad. It can be used to run routines that simulate energy usage and future campus expansion options. Beyond the field, benefits extend to a variety of healthcare facilities management practices. The process can be simplified in the following steps:

Integrate information with the owner's FM database

Provide an easy interface for viewing and managing information

Test the operation of building management systems utilizing modeling data for operational control and energy monitoring.
It was only in recent years that the technology has begun to be utilized post-occupancy. A three-part blog series by IMAGINiT (http://blogs.rand.com/imagin
itnews) talks in detail about the gap that exists between design/construction and building operations teams in healthcare. In short, the blog sites three main reasons for this gap:
1. Design and construction concerns dominate the process. The data needed to support design and construction is included in the information model, but the broader lifecycle considerations like facilities management are excluded. Or worse, the building operations aspects of the project are considered at the last minute and O&M manuals simply get embedded.
2. Teams don't begin with the end in mind. Building and renovation projects commonly start with a discussion about the design and construction information that must be in the information model, but that conversation rarely covers what will be turned over post-occupancy.
3. AEC firms aren't comfortable reaching out to new contacts. To identify the information needed to support building operations, firms must reach out to the facilities management team. This often means stepping outside a comfortable circle of contacts.
Authors of the blog series provide three recommendations for moving forward, starting with including facilities management teams in BIM execution planning meetings. Given the intersection between building operations and financial reimbursements, it may also make sense to engage with space planners and reimbursement analysts. Additional potential solutions the blog authors propose are:
Ask the right questions. Key topics to explore include who will use the data, what data is required for different aspects of building operations and how will the data be maintained over time?
Develop use cases to guide the data that should be incorporated in the information model. These are the different scenarios and tasks that key stakeholders need to accomplish, as well as the information needed.
The bottom line: utilization of BIM modeling is a key factor in a project's success throughout the entire lifecycle. The use of BIM — combined with collaborative effort with key stakeholders — provides the benefit of being able to fast-track decision-making and provides successful coordination to any project.
Author: Chuck Richmond
Chuck Richmond is director of operations for Lendlease's New York Healthcare Business Unit. He has 26 years of construction supervision and project management experience.
Posted July 28, 2016
More Articles: