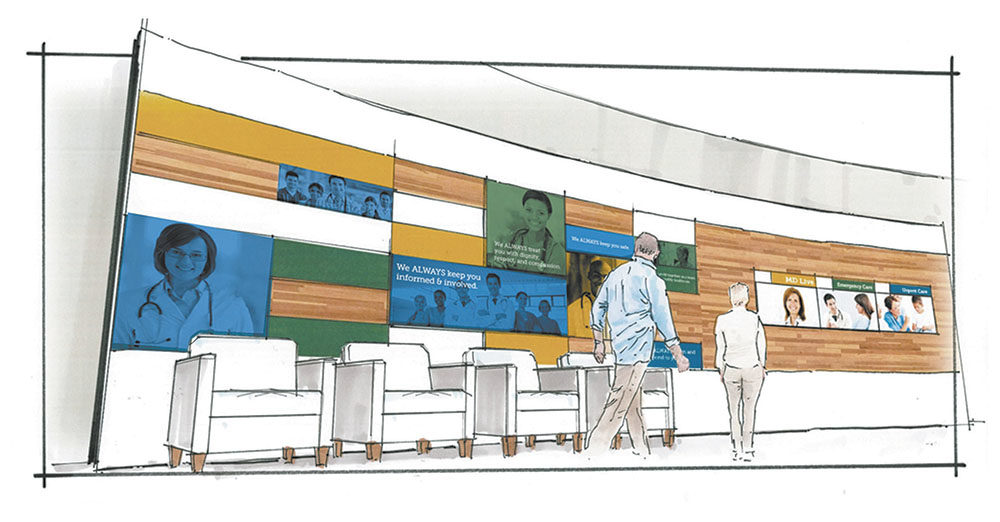 A branded environment that communicates organizational values can enhance the patient experience and help foster a lasting customer relationship.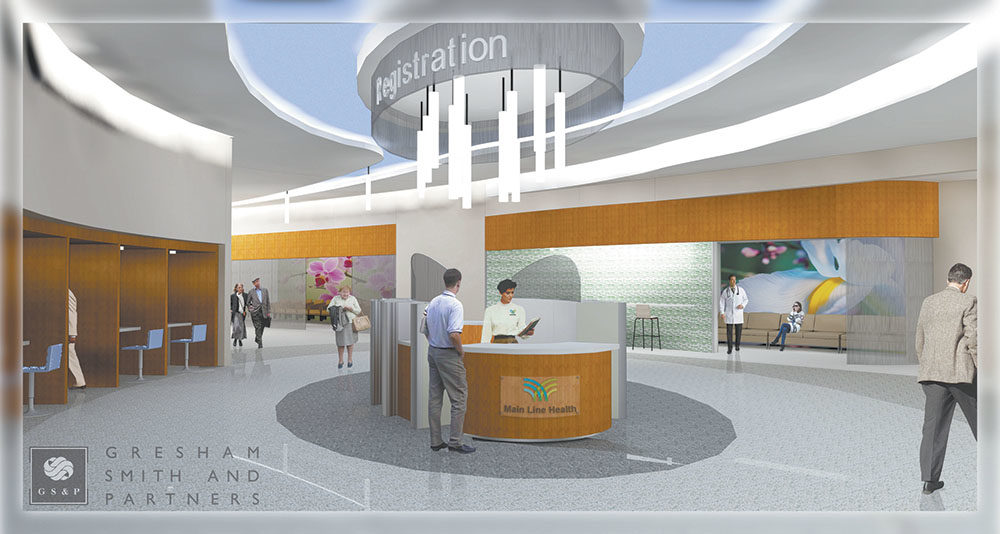 Main Line Health's Exton Square Mall location near Philadelphia, Pennsylvania features a streamlined and convenient registration process.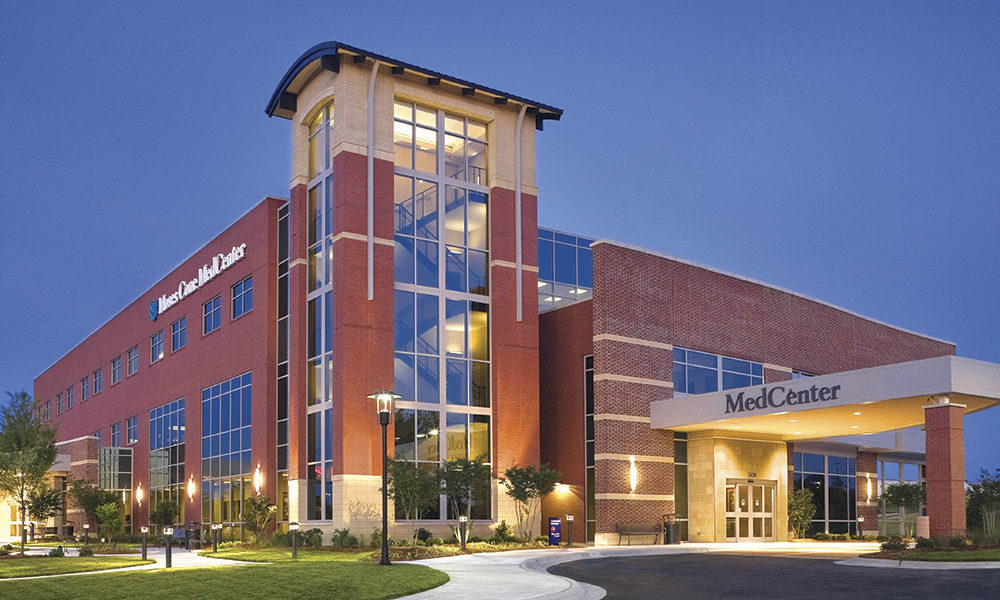 Cone Health's MedCenters fit the network's brand but maintain a distinct identity.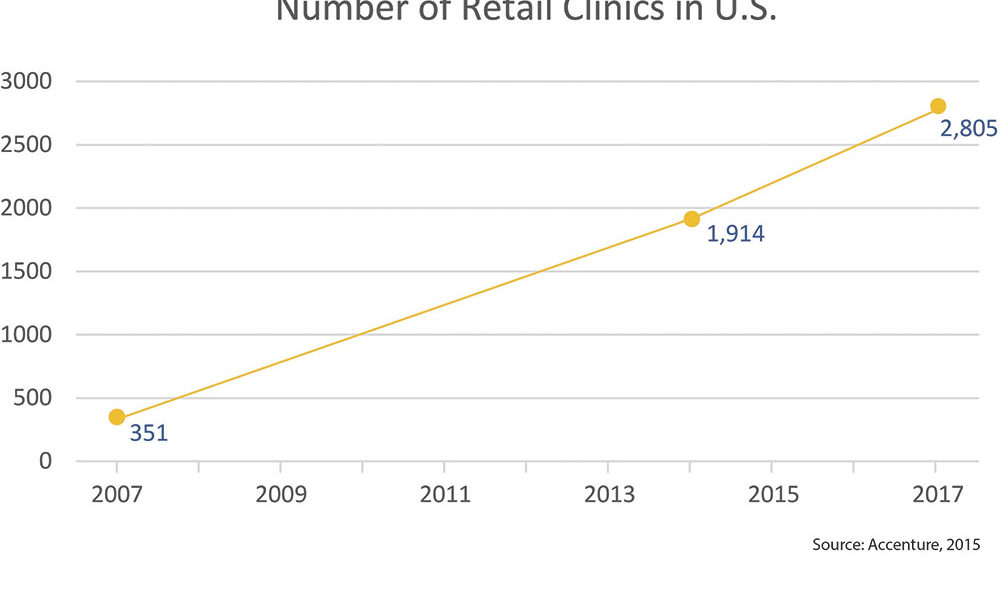 The number of retail clinics in the U.S. has rapidly increased in recent years, a trend that's expected to continue.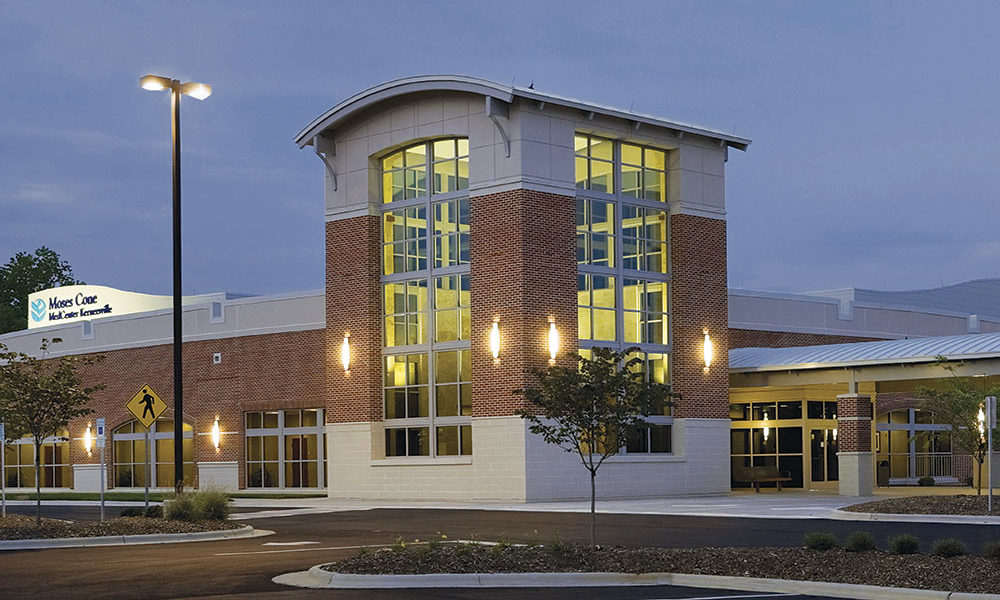 Cone Health's MedCenters fit the network's brand but maintain a distinct identity.
◀
▶
Subscribe Now
Keep up with the latest news with our magazine and e-newsletter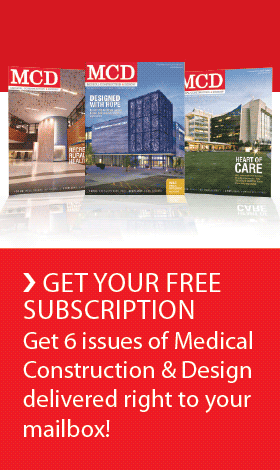 Subscribe to our E‑Newsletter
By Elisa Worden-Kirouac & Phillip Petty
Ambulatory care providers in urban settings operate in an increasingly competitive environment. Especially in large cities, people often have a choice between healthcare facilities close to home, work or other frequent destinations. Thanks to smartphones and mobile apps like ZocDoc, there's also a world of information at our fingertips.
With a few taps of the thumb, you can locate the nearest clinic, read crowd-sourced reviews, look up average wait times, find the menu and cost of procedures available and instantly book appointments. So much information is available to guide decisions about where to seek care that modern patients are increasingly becoming "healthcare consumers."
So what does a healthcare consumer value? Convenience and affordability. Eight of the top 10 attributes that patients desire most in a primary care facility fall into one of those two categories, according to a 2014 Advisory Board survey of 3,873 people. Being able to walk in without an appointment and see a doctor within 30 minutes was the highest-rated attribute of all.
Any urban healthcare provider who can stand out as a fast and affordable option has a major competitive advantage — a fact that's driving the shift toward retail-oriented models for ambulatory care. Consulting firm Accenture estimates that walk-in retail clinics received almost 19 million primary care visits in 2015 — a 76 percent increase from five years earlier. Traffic at urgent care centers grew to 177 million visits last year; retail clinics and urgent care combined accounted for 20 percent of all primary care visits.
Understand the brand … and the competition
Competition in this space can be fierce, however. Traditional healthcare providers moving into this growing market segment are often contending with CVS, Walgreens, Wal-Mart and other companies that have retail expertise and much more experience using convenience and price to market their services. Nonetheless, many traditional provider organizations have real opportunities to build market share and enhance brand loyalty across their networks by offering affordable, tailored services in outpatient settings that are easier for people to access.
The chain retailers, pharmacies and grocery stores that offer walk-in clinics tend to be household names. With a few exceptions, that is not true for most regional or even national healthcare networks. From a design perspective, raising brand awareness should be a primary goal. At Cone Health's MedCenter Kernersville and MedCenter High Point in North Carolina, for example, tower elements at the main entrances and the brick and concrete construction give these facilities a distinct identity while reflecting the look and feel of the network's flagship hospital.
Reaching new populations
Novel approaches to the design and location of facilities within an ambulatory care network can help a healthcare provider reach entirely new populations, but no one strategy has a monopoly on success.
Main Line Health's location in the Exton Square Mall near Philadelphia, Pennsylvania is a great example of how outpatient facilities built in visible or high-traffic urban locations can help spread community awareness about the availability of convenient, affordable care. Surrounded by shops, restaurants and people running every imaginable errand, MLH offers seven-day urgent care, same-day appointments, lab visits without an appointment, integrated administrative and customer services and complimentary valet parking.
Physical location is not the sole measure of convenience, however. Convenience can also be created by putting the right services under one roof. For example, patients who need urgent care services often go to the emergency room, and vice versa. Recognizing this problem, Sentara Healthcare is considering ways to remove the guesswork, which can be frustrating, costly and in some situations even life threatening. One option would be to co-locate a freestanding emergency department with an urgent care clinic. After checking in but before receiving care, every patient would see a triage nurse to determine the level of care required.
Partnering for care
Some providers choose to partner with third-party organizations that have a strong existing presence in the community. Baptist Health of Northeast Florida recently teamed with the local YMCA to create Y Healthy Living Centers, which serve as storefronts for Baptist Health inside local YMCAs and provide medically integrated educational seminars, health screenings, risk-assessment services and other health and wellness programs.
Focus on the patient experience
As convenience and price play a growing role in how patients pick between the diverse options available in an urban environment, healthcare providers do risk the commoditization of their services. Organizations looking to avoid that fate need something that sets them apart: a positive, engaging and branded patient experience that connects with people on an emotional level.
Providers entering this market are using a combination of technology, architecture and interior design to enhance patient satisfaction and build lasting customer relationships. MLH, for example, developed a new image and brand for its Exton Square Mall location to demonstrate the facility's comprehensive approach to the delivery of care. A vibrant interior environment and excellent customer service creates a sense of place that calls to mind top-tier dining and shopping experiences. Other providers are using branded environments to communicate their messages and values alongside important patient information.
In a combined urgent/emergent care facility like the one Sentara is considering, color-coded graphics would clearly differentiate emergency and urgent care service paths, and a comfortable observation unit connected to the emergency department could offer patients a place to rest during extended visits.
To reduce wait times and improve patient satisfaction scores, there's also growing demand for facilities designed with streamlined, intuitive and user-friendly registration and checkout procedures — including the ability to check in with a receptionist at the desk or through automated touch screens. In a study by Press Ganey, patients who waited five minutes or less to see a doctor or nurse gave satisfaction ratings of more than 95 percent. When wait times grew beyond 30 minutes, however, the average satisfaction rating dropped to just above 80 percent.
The best retail-oriented spaces in urban settings are intentionally designed to reduce patient frustration, increase patient comfort and convey a commitment to open and transparent decision-making. And there's no reason the positive experience should end when patients walk out the door. Healthcare providers are integrating email, social networking and even face-to-face community outreach to increase their engagement outside the exam room.
These are interesting times for designers of urban ambulatory care facilities, and the variation seen in retail-oriented healthcare models to date is only the beginning. As technology further develops, the business of healthcare, patients and providers alike will continue to evolve. In the midst of such change, however, at least one thing will remain the same: convenience and affordability may get patients in the door, but the patient experience is what will keep them coming back.
Author: Elisa Worden-Kirouac & Phillip Petty
Elisa Worden-Kirouac, IIDA, LEED AP, EDAC, is senior interior designer, healthcare, at Gresham, Smith and Partners. Phillip Petty is the branded environments practice leader at Gresham, Smith and Partners.
Posted May 10, 2016
More Articles: