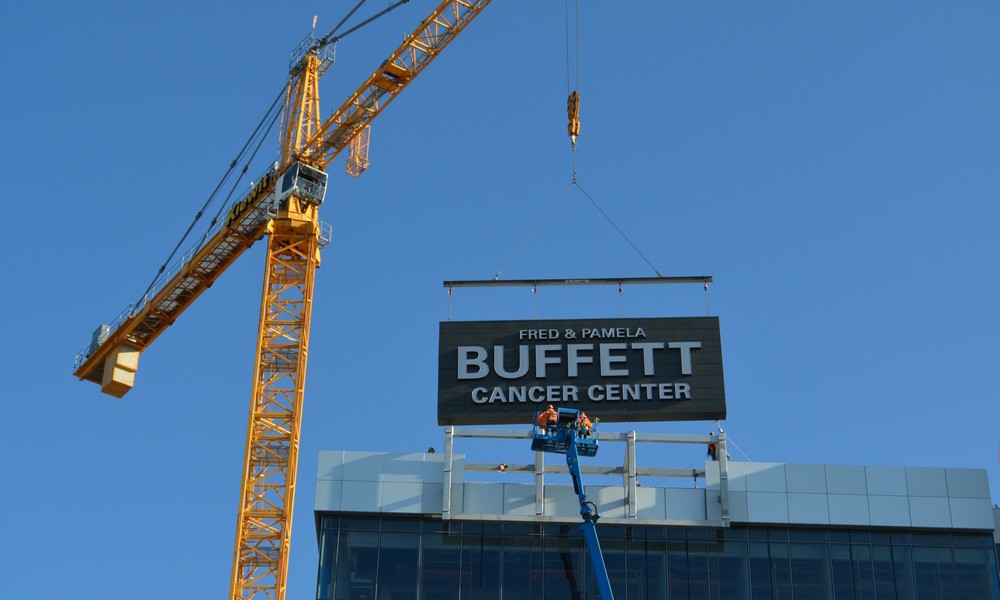 Subscribe Now
Keep up with the latest news with our magazine and e-newsletter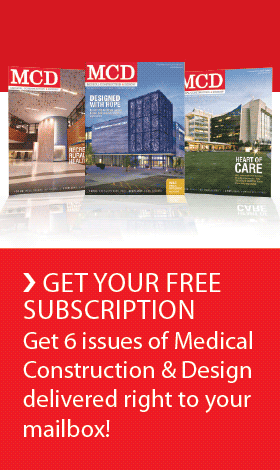 Subscribe to our E‑Newsletter
OMAHA, Neb. – Two large exterior signs identifying the Fred & Pamela Buffett Cancer Center were recently placed on the building by Kiewit Building Group. The 615,000-square-foot cancer center is located on the campus of the University of Nebraska Medical Center/Nebraska Medicine on Dewey Avenue between 44th Street and Durham Research Plaza (formerly 45th Street).
The two signs are identical. One was placed on the north side of the building, the other on the south side of the building. Watch a quick time-lapse video of the signage installation here: https://youtu.be/IiH_qMumJPU?

The cancer center is scheduled for completion in the spring of 2017. Since the project is near completing use of the existing tower cranes, the sign installation had to be scheduled before the cranes were removed, said Kathy Bauer of Tetrad Property Group, the company which is providing owner's representation services for the new facility.
Unlike other signs that are installed in sections on a building, these signs featured a unique unit assembly system that allowed the signs to be completely assembled at ground level. They were then hoisted onto the building in one piece.
Kiewit monitored weather conditions to determine the install date. "Because of the size of the signs and the fact that we needed to use a crane for placement, it was important that we have minimal wind during installation," Bauer said.
HDR completed the design for the signage.
Other signage facts
The signs weigh 8,000 pounds each. In addition, there is another 1,400 pounds of weight in the associated rigging needed to put the signs in place.
They are 36-feet long, 16-feet tall and 13-feet deep.
Lettering on the "BUFFETT" name on the signs is 5-feet tall and is visible from nearly a half-mile away.
The signs are comprised of zinc panel cladding with aluminum frame and utilize energy-efficient LED lighting.
Fred & Pamela Buffett Cancer Center – Fact Sheet
Completion expected – Spring 2017 
Cost – $323 million – the largest project ever for UNMC/Nebraska Medicine.
Size – 615,000 square feet, including 38,000 square feet of ancillary support spaces 
Suzanne and Walter Scott Cancer Research Tower  

252,000 square feet
98 labs, 10 floors total, including one floor of mechanical support 

C.L. Werner Cancer Hospital  

325,000 square feet 
108 beds on three top floors 
8 floors total, including two floors of mechanical support, outpatient clinic and treatment areas; Leslie's Healing Garden and Chihuly Sanctuary 
Posted April 14, 2016
More Articles: