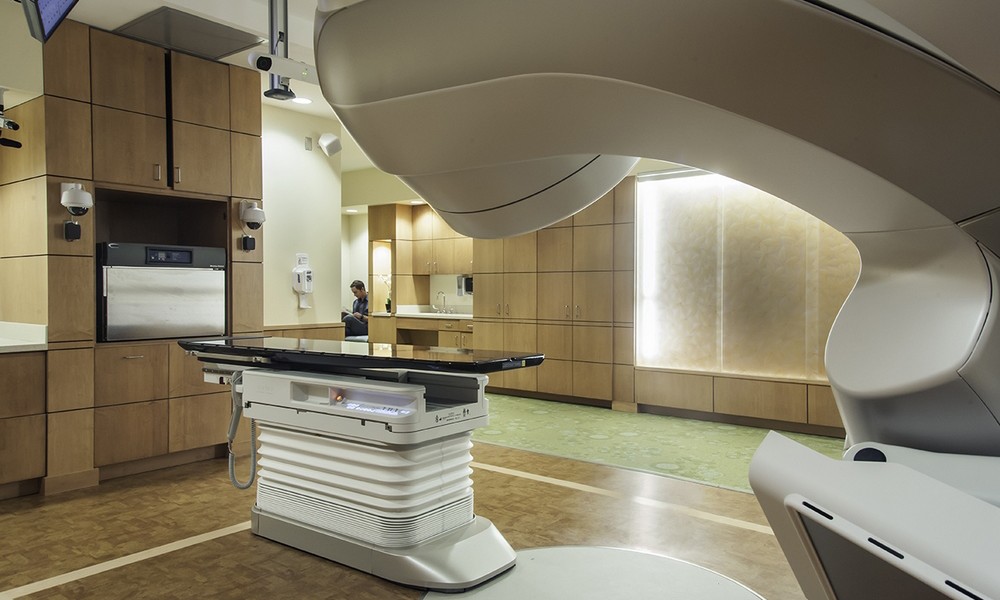 Warm wood-tone paneling hides intimidating advanced equipment, reducing patient stress while providing additional storage for greater staff efficiency. Photo courtesy of John Giammatteo Photography.
YNHH Greenwich Hospital Bendheim Cancer Center treatment area. Photo courtesy of John Giammatteo Photography.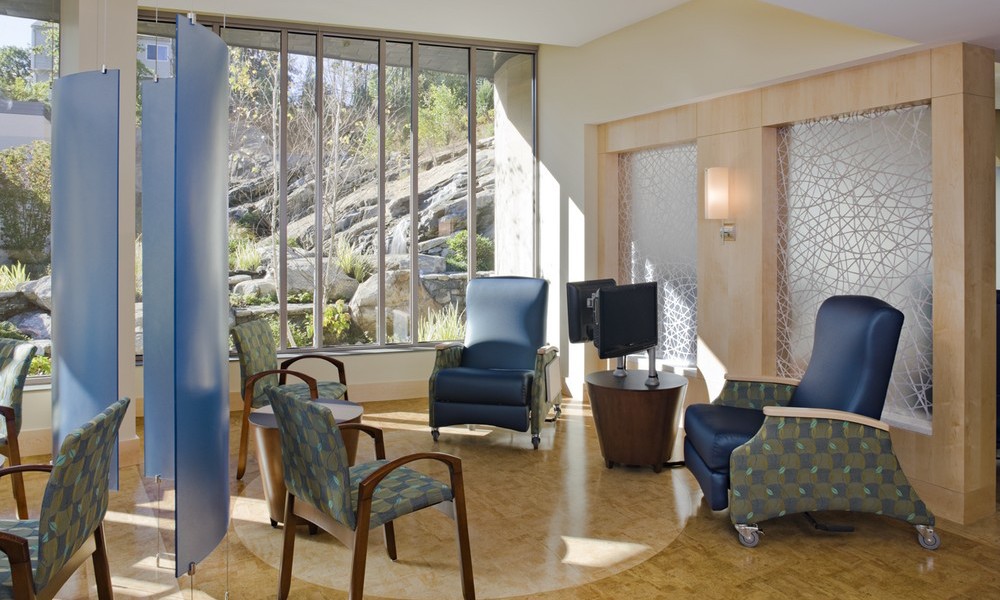 At Griffin, both radiation and infusion spaces are organized around a healing garden while speakers play the sounds of the waterfall, providing patients an added therapeutic benefit. Photo courtesy of Robert Benson Photography.
◀
▶
Subscribe Now
Keep up with the latest news with our magazine and e-newsletter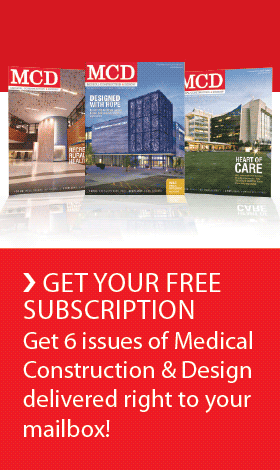 Subscribe to our E‑Newsletter
While Vice President Biden's call for a 'moonshot' effort to combat cancer in the wake of his son Beau's recent death from brain cancer has researchers scrambling jointly with health networks—such as Kimmel Cancer at Johns Hopkins and Smilow Cancer at Yale—to  develop the latest in immunotherapy and other breaking therapies, most cancer care is still community based. In fact, community-based cancer care is increasing throughout North America with healthcare organizations looking to reduce the expense of treatment in major hospital settings and attract not only patients, but also retain an aging staff population. The U.S. healthcare industry has experienced significant changes over the past four years and, while the benefits are apparent, with an increased number of publicly insured patients, the drawbacks are as well.
Hospitals are being tasked with treating an increasing number of patients without the benefit of increased reimbursement rates. Cancer institutions have been equally vulnerable to healthcare reform, as the number of radiation patients is expected to increase over 20 percent by 2020, while the number of trained radiation oncologists is only expected to increase by two percent over this same span (The Advisory Board Company, 2012). If  combining the increased number of patients with flat or reduced reimbursement rates, an increasingly aging population more susceptible to chronic illness, with a sluggish employment rate of trained oncologists, the result becomes a recipe for concern. The bottom line is, healthcare institutions are being asked to do more with less and, as a result, healthcare facilities must optimize clinical operations for greater efficiency, productivity and staff retention.
A shifted focus
With more clarity on the national direction of the delivery of healthcare, hospitals and networks are back in expansion mode in order to accommodate their patients' care needs. Major institutions are moving cancer centers into the community to better serve the patient population while making the spaces more efficient and less costly to run. The focus has shifted to efficiency and cost control in the design of these institutions with a fundamental redesign of their staffing and operations, while at the same time, coping with limited resources and reform. The design of healthcare facilities now has to align with the varying needs of patients and maximize efficiency across the board in order to provide the best care possible.
The struggle, however, involves the need to protect razor-thin profit margins as reimbursement rates have declined, so costs need to be kept to a minimum. Design focused on the interaction between both patients and staff can help resolve operational efficiencies and provide a peaceful, less institutional, home-like setting for care delivery. Additionally, efficient design can be cost-effective. Renovations of existing facilities can balance both contrasting needs of growth and cost control. The layouts of existing facilities can be reconfigured for greater efficiency, productivity and wayfinding, reducing the number of steps clinicians have to take to provide care for their patients. This, in turn, provides a more patient-centered approach, and increases the rate of care provided to patients.
As the pioneering institution of the Planetree model of patient-centered care, when it came time for Derby, Connecticut-based Griffin Hospital to develop its new cancer center, the patient was at the forefront of the discussion. The facility maximizes the diversity of experience through the use of flexible and layered environments, both inside and outside the facility with the landscaped healing garden as a central organizational element.  The use of nature allows the facility to change with the passage of sunlight over variegated walls and window fenestration, as well as through the passage of the seasons. The facility supports the delivery of coordinated care with combined modality including radiation and medical oncology, as well as laboratory services.
One-stop shopping to healthcare
Along with the reconfigurations of existing facilities and service lines, the move to outpatient locations has allowed the co-location of collaborative medical teams.  Now more than ever, the co-location of services is responsible for helping cancer programs stand out in the marketplace. Facilities need to feature convenient locations, close to the communities they serve, and offer services such as laboratories, imaging and clinics, along with sufficient wayfinding, parking and ADA services. Patients are searching for one-stop shopping for all of their cancer care needs; they want to come into a facility and receive specialized attention for each of their needs — whether it be a simple examination, or a more comprehensive treatment visit. It is important to have all care take place in one building, with multi-disciplinary clinics providing comprehensive cancer care and specialized symptom management with one point of contact helping each patient understand their treatment. Learning from the educational and research world, architects are co-locating provider offices and flexible examination spaces to encourage spontaneous interactions helping to break down the silos of the profession. Encouraging dialogue enhances the treatment planning and ultimately allows each patient access to a coordinated medical outcome.
World-class care
While patients appreciate a non-threatening or less clinically oriented environment, they still want to know that they are getting the best treatment possible. The renovation of Yale New-Haven Greenwich Hospital's Bendheim Cancer Center, in Greenwich, Connecticut, allowed the institution to re-brand itself as part of the Smilow Cancer Hospital System, and to affiliate with the world-class research institute at the community level. It also maximized existing real estate by renovating rather than building new. The design team was able to configure the space so it is compact, but extremely functional. For example, consolidation of equipment in the radiation oncology suite, made possible by advances in computerized treatment planning, allowed designers to include more program space and enable improved results.
Cancer patients have weakened or compromised immune systems, and deal with needs that do not necessarily need urgent medical attention such as pain-related ailments after treatment. Although they are often directed to the emergency departments, the hospital ED waiting area is not an ideal setting for such patients. One new trend is co-location of a cancer patient urgent care area within the cancer facility, as well as pharmacies and other related support services. As a result, hospitals offering these cancer-specific spaces are reporting fewer cancer patients entering the ED. With the reduction of the number of cancer patients suffering from relatively minor symptoms visiting the ED, higher acuity patients with more lucrative conditions are now receiving focused care, while maximizing the efficiency of patient-centered care overall.
Now with more people insured, fewer people are forced to go to the emergency room for non-emergency treatments, creating the shift of focus to outpatient and ambulatory facilities rather than on inpatient care facilities. From a patient care quality standpoint, the outpatient clinic is a success. Physicians appreciate that their patients can go to the cancer clinic where they can see oncology-trained staff and receive access to oncology support services rather than going to the ED. This results in higher HCAHPS scores for both the emergency department and the cancer center.
It takes a community
Cancer treatment is more of a journey rather than a single procedure and, as such, it requires a patient to be guided along a path by a network of support members. The comprehensive cancer center of today includes space for a patient navigator or clinical guide to help explain the treatment process. These spaces are often located in an office at the front entrance to a facility serving as a living room setting. Other spaces nearby include an information center providing visiting patients with educational resources for symptom management, psychosocial distress and local community support resources. Complementary care spaces for massage or other spa-like treatments, meditation areas, general nourishment and specific retail zones all help to diffuse and combine the clinical setting to let patients better manage their symptoms for the duration of their cancer care. The community is a crucial aspect of the design of these facilities. By bringing the community, patients, staff, contractors and designers together early in the process to map out a vision such as with an Integrated Project Delivery method, the result becomes a collaborative and cost-efficient effort.
UMass Marlborough Hospital located in Marlborough, Massachusetts, opted for an IPD method to deliver their cancer pavilion, resulting in a speedier and more cost-efficient project. The cancer pavilion was one of the first healthcare projects in New England to be completed using an IPD contract. This enabled UMass Marlborough Hospital to save money while upgrading furnishings and equipment – items that directly impact the perception and quality of care provided. The cancer center portrayed an example of UMass' efforts to bring patient care closer to the community they serve.
The future of cancer care
In addition to community efforts serving a role in the design process of these types of facilities, the concept of flexibility needs to be kept in mind. With the rapid expansion of outpatient facilities, it is important that they stay relevant, serving patients and staff not only today, but in the future as well. The challenge with these types of spaces is that designers are essentially being asked to do more with less while maintaining efficiency and productivity throughout. However, as healthcare institutions push cancer care out into the community to reduce costs, allowing the main hospital campus to focus on more emergent and acute care, designers are helping to develop cancer care facilities that enhance patient and staff efficiency, providing hope to the community through ease of access, familiar home-like and natural settings, multi-disciplinary and flexible spaces. The future of cancer patients is in good hands while we await the breakthrough in treatment research.
Tags: ACA, Architecture, Cancer Care, healthcare reform
Posted April 13, 2016
More Articles: