Subscribe Now
Keep up with the latest news with our magazine and e-newsletter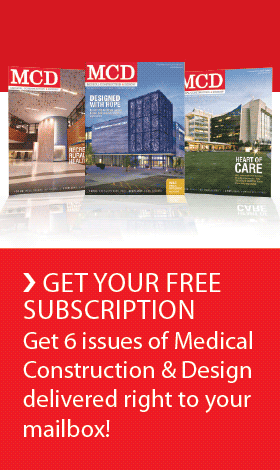 Subscribe to our E‑Newsletter
MIAMI, Fla. – Gilbane Building Company recently completed the massive concrete placement for the Baptist Health South Florida Proton Therapy project. The new proton therapy treatment facility is only one of a handful of proton therapy centers in the country and the first in South Florida.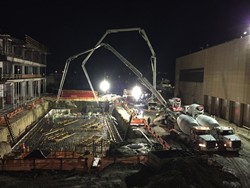 The total placement area of 2,200 cubic yards was split into three individual placements spanning over three days, with the individual placements ranging from 500-900 cubic yards. Due to the proton's radiation, building the treatment areas requires shielding walls that contain the protons with high-density concrete, which the concrete mix is made up of two types of high-density limestone aggregate. The limestone aggregate was specifically used to meet the density requirements, but also to control the heat generated to not exceed the temperature requirements of the mass concrete placements, which was the other major characteristic affecting concrete placements.
All individual placements started at 1 a.m. and completed by 9 a.m., to not exceed the ACI required 158 degree peak temperature per the Mass Concrete specifications. The concrete batching utilized ice and other means to cool the concrete temperature at batching, but the typically high ambient temperatures in Miami, Florida caused concern for having any ability to consistently control the placement temperature during the day, resulting in the concrete placement window of 1-9 a.m.
The majority of the MEP services and proton vendor conduits were embedded in the shielding walls, with the noted placement including over 15,000 linear feet of conduit. According to the Jason Martin, senior project manager, the thickest wall to be poured is a 15-foot-6-inch shielding wall and it is 12-feet high. The largest challenge was not only verifying all conduits are included in the placement, which required a significant quality assurance program and inspections, but that the layout is accurate and no conduits are damaged during placement.
The 70,000-square-foot Baptist Health facility includes three rotational gantries, one inline beam and support spaces for treatment and research. Proton therapy vaults and their support spaces will be built in the middle of the new cancer institute.
Construction on the Baptist Health proton therapy center is anticipated to complete in December 2016.
Photo source: www.gilbaneco.com.
Posted March 18, 2016
More Articles: