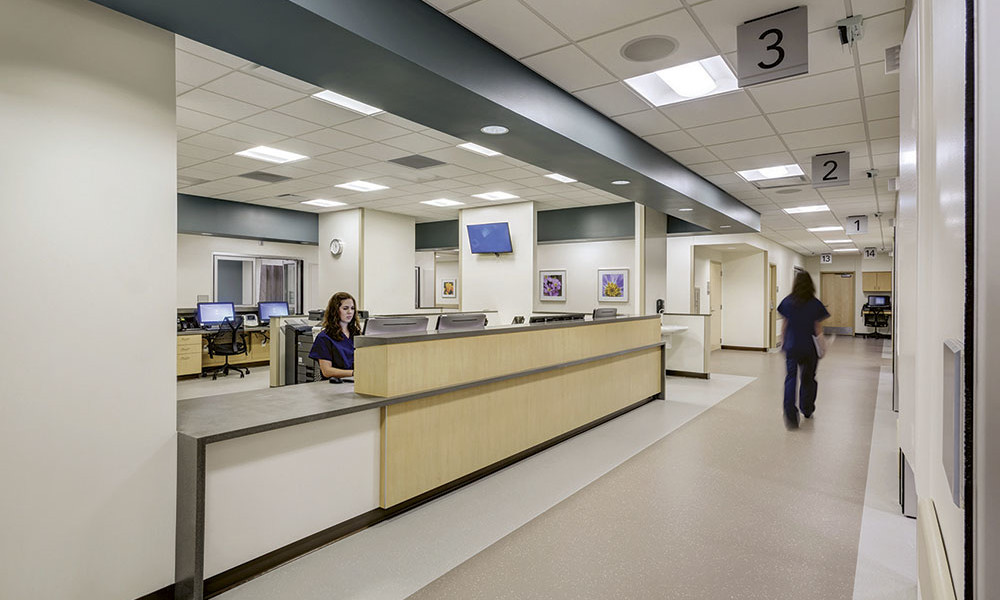 Dispersed workstations place nurses in closer proximity to patients and provide areas for collaboration. Image: Charles Davis Smith
Subscribe Now
Keep up with the latest news with our magazine and e-newsletter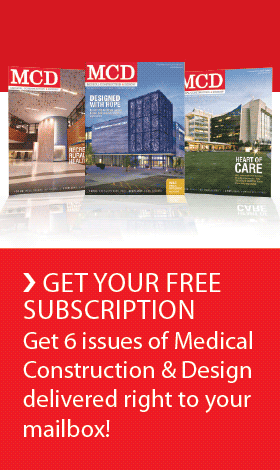 Subscribe to our E‑Newsletter
It's no secret that the healthcare industry has seen major shifts over the last few years. Government regulations, technological advancements and new models for care have all played a role in transforming approaches and expectations when it comes to healthcare in the U.S. This new mindset is causing ripple effects across the entire healthcare ecosystem with healthcare facilities often at the frontlines, facing the challenge of incorporating these upgrades and updates before anyone else.
By avoiding a one-size-fits-all approach, those leading the pack understand where to invest in order to achieve maximum impact and are helping to dictate the key differentiators and features that will define facilities of the future.
Seeing the changing industry tides as an opportunity, healthcare facilities of the future will prioritize operational improvements, sustainable design methods, new methods for delivering care at a community level and research initiatives.
Patient-focused design
There is a heightened importance placed on the patient-provider relationship. However, it's more than just measuring patient satisfaction during a hospital visit. Healthcare leaders are focused on the science behind these interactions and future-focused facilities are using this data to inform everything from space layout to staffing needs and wait times — all with the goal of improving functionality and increasing efficiency without losing focus on patient care.
William P. Clements Jr. University Hospital at UT Southwestern Medical Center in Dallas, Texas is putting this idea into practice in a unique way. Working closely alongside hospital staff, nurses and doctors, the design team set out to answer a simple question: "What's best for the patient?" The answer was found in an unconventional W-shaped design. This key architectural feature improves navigation, gives clinicians closer interactions with patients, promotes collaboration by co-locating medical specialties and minimizes patient exposure to noise and other infections.
In the future, healthcare facilities will continue to use data to improve functionality across all parts of the business, from organizational practices to physical design.
Redefining sustainability
The introduction of LEED for Healthcare v4 aims to up the stakes, shining a new light on the significance LEED will play in facilities of the future. Noted as the most significant comprehensive update since LEED's inception, the new guidelines place a high value on more specific energy- and water-efficiency prerequisites. It also includes unprecedented building reporting and disclosure requirements.
Vassar Brothers Medical Center in Poughkeepsie, New York has tackled the challenge head on. It's the first registered healthcare project in the state of New York under the new LEED guidelines and only the second in the U.S. Sustainable elements include solar shading that deflects direct sunlight and allows light to penetrate for decreased heat gain and increased interior natural daylight and the reduction of building energy by using motion and light sensors.
In addition, low-flow faucets and fixtures with auto-off controls save an estimated 20,000 gallons of water per day. Other elements include cisterns that retain rainwater for re-use in landscaping and potable water, as well as the repurposing of existing building materials for new uses and to divert from landfills.
Sustainability in healthcare has grown beyond the standard definition of LEED to match the unique needs of these facilities. Implementing these techniques and features in renovations and new construction will not only have a benefit to operational costs now, but will provide hospitals with an increasing return on investment in the future.
Delivering care with communities in mind
Convenient access to quality care is a crucial component to population health. In many areas, communities are creating outpatient care facilities as a comprehensive and holistic approach to help address this issue.
The Presence Center for Advanced Care at Presence Saint Joseph Hospital in Chicago, Illinois is a prime example. This one-stop destination offers a convenient way for residents to stay up-to-date on personal preventive health and wellness.
In addition, the outpatient center's location on the campus of the Presence Saint Joseph Hospital allows for an enhanced level of coordinated care that could reduce costs by as much as 35 percent. The influx of patients into the main hospital is lessened, reducing wait times and overcrowding. This proactive approach to healthcare also helps reduce the number of patients admitted to the main hospital for reactive health complications.
Establishing outpatient centers not only improves visibility for the hospital, but also allows for the expansion of service lines and better levels of care.
Incorporating research into design
Accessibility is just as important to hospital staff as it is for patients, and the most sought-after clinicians and physicians often seek out facilities with the best access to resources. In response, many healthcare facilities are placing a new focus on research with an emphasis on ties to academic institutions.
At UTSW, in-house research is an essential part of the design's success, with more than 35,000 square feet of space dedicated to research and learning. Clinical research is also incorporated into every patient care floor, providing easy access to cutting-edge research projects, state-of-the-art therapies and advanced treatment options. In addition, conference rooms with interactive whiteboard technology and videoconferencing capabilities enable care teams to discuss cases with other experts anywhere in the world.
With time, the importance of in-house research initiatives will continue to increase. More than just accessibility, leading healthcare facilities will incorporate these components into the design from the beginning of a project or discover ways to implement research capabilities into existing facilities.
With the increasing complexity of the healthcare landscape, facilities of the future will focus on improving operations and expanding levels of care with sustainability, data and technology helping to drive these efforts.
Posted December 2, 2015
More Articles: