Subscribe Now
Keep up with the latest news with our magazine and e-newsletter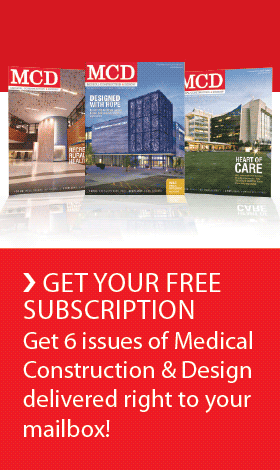 Subscribe to our E‑Newsletter
St. Bernards Medical Center is moving forward on a $130-million master plan that will change the face of downtown Jonesboro, Arkansas.
To be done in four phases, the plan calls for construction that will give St. Bernards a new "front door" on Jackson Avenue and will involve changes and additions

to the medical center's Ben E. Owens Cancer Treatment Center and the Heartcare Center; construction of a new surgical and intensive care tower and a new emergency department configuration with access from Church Street; and renovation and refurbishing of the present medical center structure, including patient rooms.
Work already has begun on the initial phase – that of the cancer center.
When completed, it will bring all components of the St. Bernards cancer service line together in a single facility on the main campus while providing space for future growth.
The exterior of the ground level will have a new look, and a covered patient drop off will be added on Jackson Avenue. Interior space will be reconfigured to create an atrium, improve work flow and enhanced patient experience and to allow ample space for continued growth as St. Bernards meets needs within the region.
Square footage will be added to the top level where the medical oncology/hematology clinic and a 27-chair outpatient infusion area will be located. The center also will include a laboratory for blood testing and a chemotherapy pharmacy which will prepare all physician-ordered antineoplastic drugs on site.
Beginning Jan. 4, patients being treated at the cancer center will not be able to access the building from Jackson. Rather, they will enter from the ground level in the parking garage.
Phase 1 work is anticipated to take approximately 11 months, with all facets of the cancer treatment center fully functional by October 2016. Total cost of Phase 1 work will be approximately $9 million.
Phase 2 will include changes at the Heartcare Center that will allow for expansion of invasive services, the addition of both a new electrophysiology lab and a new hybrid lab and renovation of current cardiac catheterization labs.
The first floor of the Heartcare Center will be used for non-invasive cardiac procedures. The second level will house all invasive services, with construction bringing to six the total number of cath and EP labs. The third level – now simply shelled in – will be developed as a 30-unit patient prep and recovery area and a separate family waiting area.
Projected start date is spring of 2016, with completion expected in the winter of 2017. Approximate cost of Phase 2 is expected to be $8 million.
Phase 3 will involve construction that gives St. Bernards a new "front door" and changes the face of downtown Jonesboro. It will include a five-story surgical and intensive care tower that faces Jackson Avenue and new entrances for emergency services with access from Church Street.
The 245,000-square-foot tower will feature entrance into an atrium on the ground level with access to admissions and registration and visitor-friendly amenities such as a coffee shop, education rooms, a chapel, improved wayfinding for families and visitors and support services for surgery and critical care areas.
The first level of the tower will house 14 surgical suites, along with support programs such as pharmacy and the GI Lab.
The second level will house a 40-bed critical care unit.
The third level will be shelled in to allow for future growth and expansion, while the top level will be a mechanical area.
Emergency services will be accessed from Church Street and will have separate entrances for ambulance and ambulatory patients. There will be seven bays for private ambulance service, separate parking for emergency vehicles (such as law enforcement, etc.) and a covered entrance for patients who arrive via private vehicle. That area will include ample private parking for community emergency needs.
A helipad will be built atop the ambulance bay, giving St. Bernards two helicopter landing sites. The present helipad will be used primarily for Neonatal Intensive Care Unit and women's and children's services patients, while the one at the ED will be used mostly for emergency and surgical services.
Total cost of the tower/emergency services project is expected to be about $75 million. Work on Phase 3 will begin with site prep after St. Bernards has access to the Blessed Sacrament school property in the fall of 2016. Work on the tower itself is expected to begin in 2017,with completion in the winter of 2018/19.
The final phase will include renovations within the present medical center, including enhancements of patient rooms, public areas and kitchen and dining areas.
The overall project has been developed in conjunction with HKS, Inc. Nabholz Construction, with a presence in Jonesboro, will serve as contractor.
Posted December 30, 2015
More Articles: