Subscribe Now
Keep up with the latest news with our magazine and e-newsletter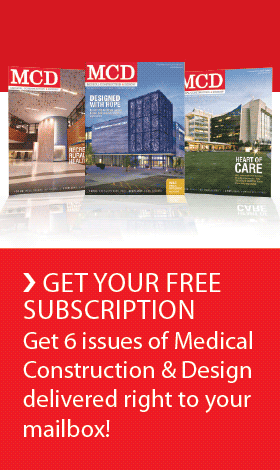 Subscribe to our E‑Newsletter
CHICAGO, Ill. — Rush University Medical Center recently unveiled its initial plans for the further redevelopment of its campus in order to continue transforming its clinical, educational and research processes and programs. The campus expansion and renovation is part of Rush's vision to increase access to care for patients, enhance academic teaching programs, and grow medical research — all while strengthening and growing Rush's network of care facilities and providers throughout the Chicago, Illinois area.
Rush has been developing a master design plan for its Near West Side campus. In early 2016, more detailed planning will begin, as described in a document filed with the state of Illinois. One of the key new features on the campus will be a comprehensive outpatient care facility. The preliminary plans also include redevelopment of current buildings on the Rush campus and other owned property.
This detailed planning for the campus redevelopment, expected to be completed next year, will include architectural, engineering and design work and will involve significant employee, physician and community input. Final plans and expenditures will require state regulatory agency approval before construction at the campus begins.
Central to the vision for this effort will be the innovative and comprehensive outpatient care facility, located on Harrison Street just east of Ashland Avenue. The building design, access and care model will create a new feeling and experience for the growing numbers of people receiving both primary and more complex care in physicians' offices and ambulatory centers. The new ambulatory building will serve to enable new models of enhanced care delivery along with a patient experience that is second to none.
Included in the vision planning is enhancement to university and academic facilities. Rush and the Chicago Blackhawks are in the process of acquiring the land currently occupied by Malcolm X College, which will be moving into new facilities in 2016. Rush's current ideas have focused on how Malcolm X College site development might help address a number of academic needs of Rush University. These needs include new teaching and study space, additional research space and housing for students.
The Malcolm X site is adjacent to other Rush properties on its north campus.  Overall, Rush will be looking at the best potential use of these properties and ways to connect them to the rest of the campus as a whole. Doing so offers an opportunity for Rush to be more visible, to create new partnerships and to better integrate with the community overall. Work will continue on discussing and refining ideas that will lead to more specific plans over the coming months.
Posted December 11, 2015
More Articles: