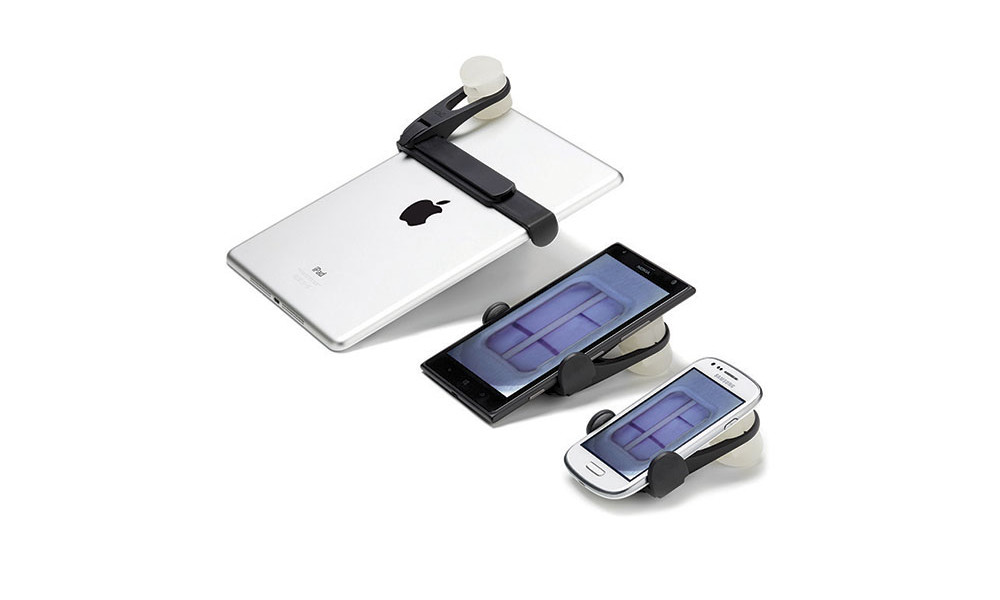 Using no electricity and being small enough to fit in your hand, this reader attaches to a smartphone and, using only a drop of blood or saliva, provides high-quality and low-cost quantified test results. Image: i-calQ, LLC
Subscribe Now
Keep up with the latest news with our magazine and e-newsletter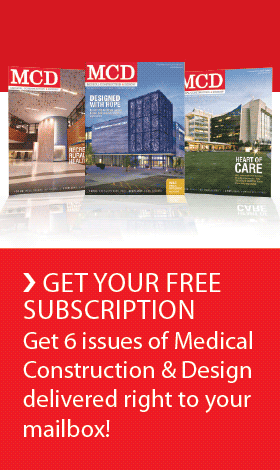 Subscribe to our E‑Newsletter
By Ted Hood
Ten years ago, no one had heard of an iPad or iPhone. Now, 94 million iPhones are in use in the U.S. It was also just 10 years ago that the first true hybrid operating room (fixed imaging in a surgical environment) was installed in the U.S. Now almost all community hospitals, teaching facilities and cardiac hospitals are planning a hybrid OR in surgical suite projects.
Innovative technologies are driving healthcare to a new level of patient interaction and engagement with improved care and better outcomes. These technologies will play a key role in paving the way to the future by changing how healthcare is managed and where it's delivered. The built environment will need to evolve along with it. While designing 30-year healthcare facilities for technologies that may be 10 years away from implementation, it is crucial to envision the future.
Wearable technologies, implantable biotechnologies and the growing Internet of Things will change how providers interact with patients through constant monitoring, instant remote treatment and continuous wellness planning support. Smart clothing is available in the consumer market to measure resting and recovery heart rates, respiration and cadence. Measurements are sent to a smartphone, and a dashboard is available online. Digital belts, socks and shoes analyze a rehabilitation patient's balance and gait to aid in therapy planning. Therapeutic clothing with integrated pressure and humidity sensors provide compression therapy of chronic wounds to facilitate healing. It is only a matter of time before the data generated by these devices — and more — may be submitted in real-time to one's health provider.
Implantable technologies are also promising. The recently trialed bio pancreas provides automated blood glucose monitoring that automatically releases accurate insulin delivery. It has the potential to dramatically change the management of diabetes — a chronic condition that represents $176 billion in direct medical costs per year in the U.S. Printable smart tattoos are under development that not only unlock electronic doors, but monitor body temperature, provide a unique identifier for health records and transmit patient biomedical data.
Technologies such as these will serve as preventive health management tools for post-procedure monitoring and healthy lifestyle encouragement. They will also give rise to the age of "digital doctors" who will provide remote telehealth diagnostics and treatment plans based upon monitored data submitted by connected technologies.
Evolving spaces need to adapt to technologies
These eClinicians will be located in primary community hospitals, campus office buildings or consolidated regional healthcare operations centers, similar to the remote monitoring centers used for eICUs now. Clinical specialists will likely need shared telehealth suites located in the hospital or on campus to perform remote post-procedure follow-ups. Rounding physicians may expect "telestations" in the patient care units to support a "connected" practice approach.
Rapidly developing mobile tools, smartphone apps and unique healthcare devices will continue to change clinician options for delivering care. Doctors will have access to information and patient data via diverse mobile devices like never before. The doctor's smartphone is becoming the medical "bag" of diagnostic tools. With apps alone or with a small clip-on attachment, the smartphone becomes an ophthalmoscope, microscope, pediatric temperature monitor, electrocardiograph, skin cancer detector or even an instrument to perform immunoassay disease testing.
Other clinician apps have the ability to integrate with electronic medical records, allowing personalized patient decision support information at their fingertips. These new capabilities dramatically change the flexibility, location and mobility of care and will impact programmatic requirements. Clinic spaces and exam spaces will decline while data centers will grow.
Nanotechnologies and robotics will be commonly utilized in regional hospitals of the future. Today's nanotechnology developments are providing nanoconstructs that attack cancer and other diseased tissue at the cellular level. Surgical robotics will also soon expand into the cellular level. DNA nanorobots are now moving toward clinical trials, bringing great promise for programmable molecular machines that will develop new DNA-based tools that dramatically change clinical procedures. Surgical suites will need to support these new technologies with adaptable spaces, satellite bio tech workrooms, procedural simulation spaces, technology corridors and even surgical cockpits.
Regenerative medicine will push healthcare into a new realm where growing replacement organs from a patient's own cells will be the norm. With Massachusetts General Hospital's recent success of growing a "biolimb" from stem cells of a rat's arm, even bioartificial replacement limbs seem likely. Regenerative cellular therapies and stem cells will be used to repair damaged tissue lost to trauma and disease. Regenerative labs will become part of the space programming for the healthcare campus of tomorrow.
One of the largest industry developments in the digital age will be 3-D printing. Healthcare is seeing huge benefits from 3-D printing, including customizable robotic prosthetics with electronic control sensors, to skin printing with biomaterial for burn victims. Personalized 3-D drug printing at point of care will provide the exact dosage based on the patient's daily biochemistry, reducing waste from high-cost drugs that frequently expire.
3-D printing of 4-D devices is being utilized for pediatric implants
that can grow over time within an infant's airway, providing more lifesaving opportunities and potential for future applications. Another implantable 3-D printed technology is flexible electronics, such as the "electronic pericardium" under development at the University of Illinois' Rogers Research Group. It is shaped to a model of the patient's heart, created on a 3-D printer from an imaging study "pattern," resulting in a perfect fit when transferred to the patient. This device can detect oxygenation, heart strain and other conditions that can indicate blocked arteries, and it might be implanted in high-risk patients. Sterile "biolabs" containing 3-D printers, hoods, biomaterial refrigerators, etc. will need to be connected to the operating suite to support these new surgical procedures.
Like the Hybrid OR trend of today, the complexity of developing technologies will continue to push and shape the built environment needs of tomorrow's healthcare facilities. These future technologies will change where care occurs. Care that formerly was delivered at the hospital is moving to the ambulatory care center, into the home, onto a phone, within clothes and implanted inside individuals. The massive amount of data generated from these technologies will inform predictive analytics and provide precision medicine and real-time wellness support.
Healthcare facilities must prepare for what the future holds. Quick adaptability to technology utilization will be needed in the healthcare systems of tomorrow. At a minimum, this will require robust data centers, mobile health technology management teams, clinical technology training centers, adaptable procedure spaces and infrastructure to support constant connectivity for the healthcare Internet of Things. The end result will provide comprehensive healthcare solutions that support overall population health in a new and diverse healthcare delivery platform.
Author: Ted Hood
Ted Hood is senior vice president and COO at GBA, a healthcare technology consulting firm, and a frequent speaker and CES provider for the American Institute of Architects. He can be reached at ted.hood@gbainc.com.
Posted December 2, 2015
More Articles: