Subscribe Now
Keep up with the latest news with our magazine and e-newsletter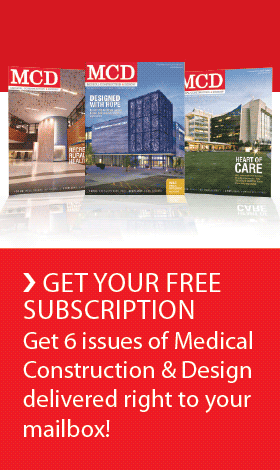 Subscribe to our E‑Newsletter
STANFORD, Calif. — The Lucile Packard Children's Hospital Stanford Expansion reached an important milestone this week, becoming weather-tight before the anticipated wet El Niño season begins.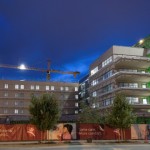 The 521,000-square-foot expansion and new main building is more than halfway through construction, and the exterior of the building is anticipated to be completed at the end of this year.
"We are one step closer to opening the nation's most technologically advanced, family friendly and environmentally sustainable hospital for infants, children and expectant mothers," said Christopher G. Dawes, president and CEO of Lucile Packard Children's Hospital Stanford. "Our innovative facilities will help set the stage for the future of healthcare for children, and we are grateful that we will be able to meet the increased demand for pediatric and obstetric care as the Bay Area population continues to grow."
Scheduled to open in summer 2017, the expansion will optimize the hospital's services and infrastructure, adding more beds, private rooms, state-of-the-art operating suites, family friendly amenities and the flexible floor space the hospital needs to adapt to new technologies and streamline services. With DPR Construction as general contractor and designed by Perkins + Will Architects with executive architect HGA, the expansion almost doubles the size of the current hospital and adds 149 patient beds when completed. This will make a total of 397 licensed beds for the San Francisco Bay Area's largest enterprise for children and expectant mothers, and ensures families needing the highest quality of care will not be turned away due to lack of space.
Since the project broke ground in September 2012, more than 40 million pounds of steel and rebar have been installed to support the building. Interior work is now under way in addition to construction of some the distinctive and child-friendly architectural elements of the new facility, including the glass Tree House façade and outdoor Discovery Garden.
A leader in sustainability, the $1.1-billion Lucile Packard Children's Hospital Stanford expansion is also setting a new standard for sustainable hospital design. One hundred percent of the irrigation needs for the hospital landscaping and gardens will be harvested from rainwater and wastewater, saving approximately 800,000 gallons of water per year. Inside the hospital, water-efficient bathroom fixtures and fittings will reduce potable water usage by 30 percent.
With the hospital expansion and new main building, high-demand programs like the Heart Center, Johnson Center for Pregnancy and Newborn Services, Bass Childhood Cancer Center and more will have room to grow and benefit from the additional space.
Photo courtesy of Business Wire.
Posted November 25, 2015
More Articles: