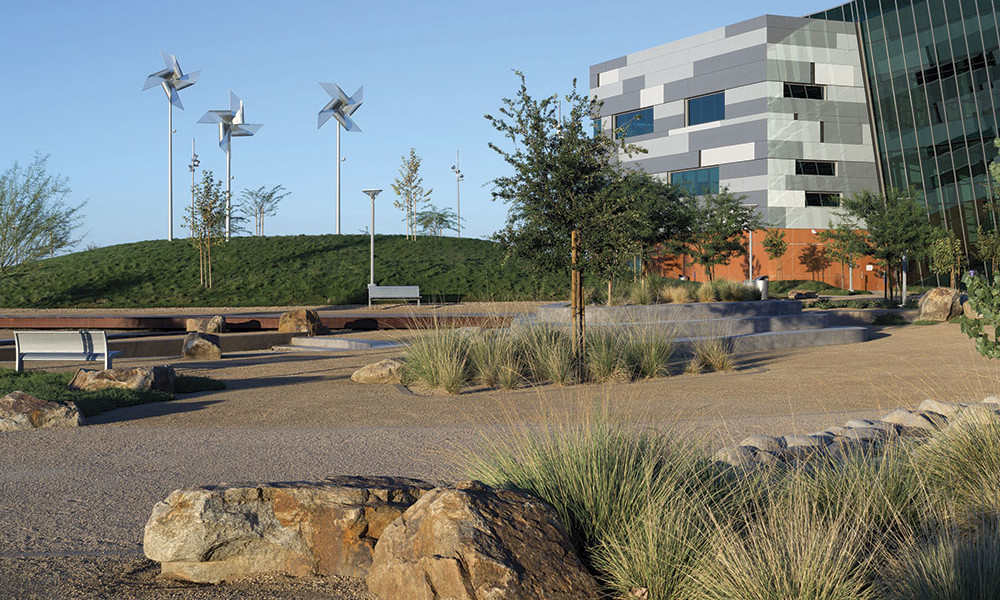 Stepped walls provide informal seating adjacent to a sunken sand pit for children to play at this desert-inspired medical campus located in California's Antelope Valley.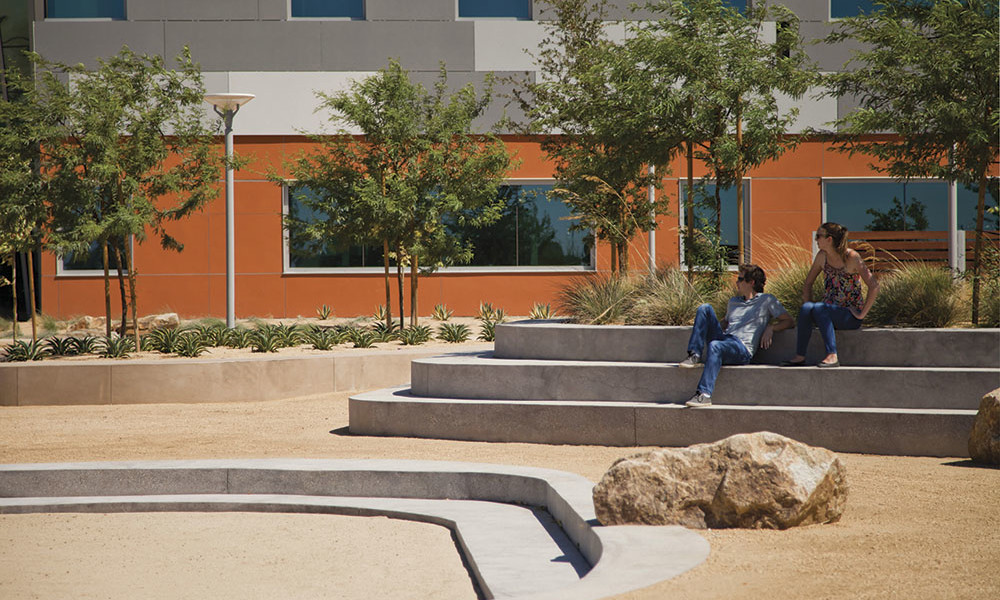 Top: Boulders, decomposed granite and native grasses support Kaiser's sustainability goals with locally sourced materials. A plant palette that is drought tolerant and requires minimal maintenance are key highlights of this net-zero medical campus.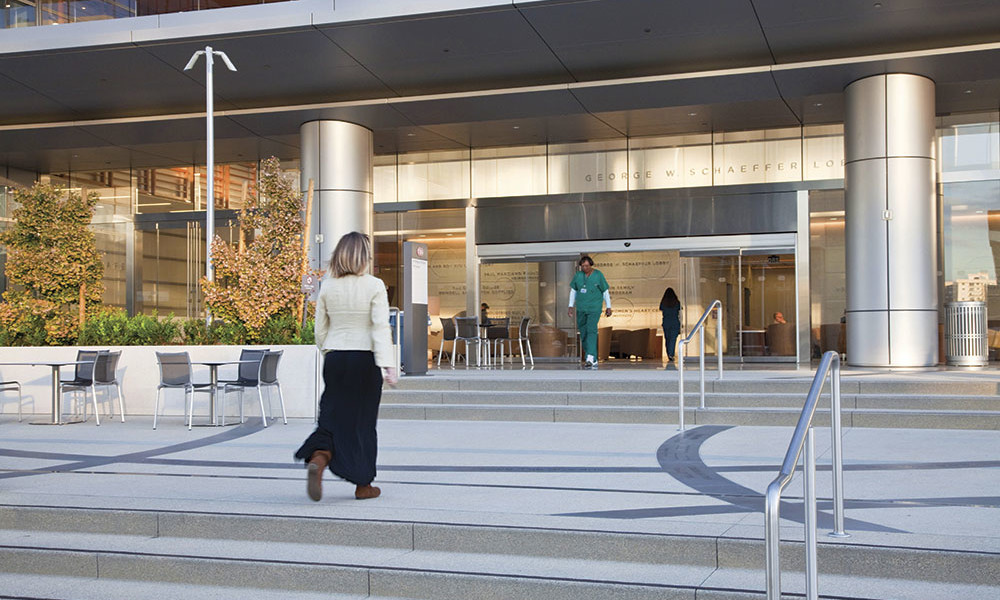 A high albedo concrete paving with a solar reflectance index value of 43 was used at Cedars-Sinai Medical Center's plaza entry to reduce the heat island effect.
◀
▶
Subscribe Now
Keep up with the latest news with our magazine and e-newsletter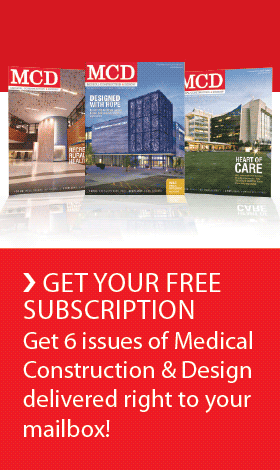 Subscribe to our E‑Newsletter
By Stephen Carroll
Harsh environments are geographic areas impacted by climate extremes — heat, cold, drought, flooding and wind. According to the American Meteorological Society, the U.S. experiences "as much or more severe weather than any other country on earth." As the impacts of the overall rise in global temperatures continue to be felt, the number of areas in the U.S. that can be considered a "harsh" environment will continue to grow.
Sustainable design is particularly important in harsh environments, because it creates buildings and landscapes that not only work efficiently with their surroundings but also are resilient in the face of extreme weather. Sustainable landscape design is important to that resiliency because it is the first line of defense against harsh elements. In hot, arid climates, landscape designers can impact the microclimate of a site by using vegetation, water and hardscape to modify surface temperature, protect against wind, control evaporation and reflect solar radiation. In areas impacted by coastal storms and flooding, landforms and berms can help protect building structures.
The U.S. Green Building Council introduced its LEED certification program in 2000. The program comprises five separate rating systems addressing multiple project types: Building Design and Construction (BD+C), Interior Design and Construction, Building Operations and Maintenance, Neighborhood Development and Homes. Within each rating system are a number of different project types, all of which have guidelines for four levels of certification: Certified, Silver, Gold and Platinum. The certification system is based on a number of points achieved on the project type's scorecard.
Within BD+C, the Healthcare scorecard is divided into eight sections, with 110 possible points. Most of the points relate to the physical design of the building and its mechanical systems, but landscape architecture can contribute to a number of points.
The LEED factors that can be impacted by landscape architecture include:
> protect or restore habitat
> open space
> rainwater management
> heat island reduction
> light pollution reduction
> places of respite
> outdoor water use reduction
> material reuse
> quality views
Getting water wise with net zero
Seventy miles north of Los Angeles, California, within the high desert, sits the Antelope Valley. It gets an average annual rainfall of just over 7 inches and has the highest temperature change from day to night of any other region in the country. Added to that, the city of Lancaster is also famous for its ripping winds, which means that outdoor public spaces in the city benefit greatly from design elements that slow down or mitigate the wind.
Kaiser Permanente Antelope Valley is a medical office building that provides a variety of specialty care services to the region, including general surgery, an infusion center, chemotherapy, physical and occupational therapy, hematology and oncology and audiology. Completed in October 2014, the campus is seeking LEED Platinum certification.
The building's exterior spaces were all created to contribute to LEED certification and also to protect the building and its visitors from the harsher elements of the city's climate. Earthen berms planted with tall trees slow the rough winds that blow through Lancaster and enclose the site from the busy street. The berms also help lift the trees high enough to provide green views from patient rooms on the upper floors of the building. These planted berms provide human comfort and restoration, as well as conserve soil moisture in this arid environment by blocking the drying winds.
The facility is also notable for having a landscape that is net-zero water use. The topography of the site was designed so that water would drain away from the berms and paving toward the trees and larger shrubs. Plantings were split into three distinct hydrozones, with the non-native trees and grasses placed only in the areas with the most public use, such as the courtyards, amphitheater, play space and therapy garden; and a dryer palette farther away from those areas. The areas around the parking lot perimeter use only plants adapted to the site's extreme conditions.
Water for irrigation is supplied by a reclaimed water line provided by the city's water reclamation plant, and paid for by the facility. A cost study of potential irrigation systems that compared potable water, reclaimed water, graywater and stormwater showed that installing a 6-inch recycled water mainline from the city's supply and maintaining the system over time was a considerably more cost-effective way to achieve net-zero water usage in this case than alternative methods of water collection, treatment and irrigation.
A place for respite
Landscape architecture is particularly suited to meeting the "places of respite" factor in the LEED scorecard. These outdoor places of respite can even be achieved in harsh environments. The Kaiser Antelope Valley facility includes a screened physical therapy/occupational therapy garden that provides a restorative place for patients to receive guided physical therapy outdoors. Indoors, the waiting rooms and patient rooms have windows to the green spaces and the inner courtyard with a reflecting pool, which provides a quiet, restorative place to recharge mental well-being. Native plants and natural materials such as wood, water and local stone tap into patients' innate need for nature and its patterns in a restorative environment.
The location and orientation of a building on a site, the use of materials suited or adapted for the environment and the design of the landscape to help reduce heat absorption and capture and retain rainwater, all help mitigate many of the challenges that arise when creating a healthcare facility in a harsh environment.
Minimizing maintenance with durable materials, plants
For example, in the urban center of Los Angeles, where temperatures top out over 100 degrees on hot summer days, the landscape is critical to reducing the city's heat island effect. At Cedars-Sinai Medical Center, high albedo concrete paving was used to reflect heat and light, while a drought-tolerant mix of grasses and succulents were planted to minimize maintenance and provide a "lush" appearance.
In any extremely hot region, durable materials and plants that are locally sourced or indigenous to the region are better able to withstand the harsh setting. There are also some tactics that help reduce glare and heat gain, such as shade trees that provide a canopy over portions of a site and vertical planting on walls.
In less arid regions, rainwater can be captured and collected from the roof and reused for irrigation or it can be directed to rain gardens that feature riparian plants. The use of permeable paving helps minimize stormwater runoff and increases groundwater recharge on a site. Another alternative is to capture graywater from the building or the condensate from air conditioning units and use that for irrigation purposes.
According to a 2014 report released by the U.S. Department of Health and Human Services, the effects of climate change in the coming years "will likely increase or decrease extreme temperatures and precipitation" and intensify storms that impact coastal areas.
As such, by employing strategies that conserve water, protect buildings and sites from the hazards of climate extremes, provide indoor and outdoor places of respite and bring beauty to medical facilities, landscape architects are making significant contributions to the sustainability and therapeutic value of healthcare facilities in harsh environments.
Author: Stephen Carroll
Stephen Carroll is a principal of EPTDESIGN, a landscape architecture, urban design and planning firm, specializing in the design of outdoor environments for healthcare, higher education, commercial, residential and parks.
Posted October 20, 2015
More Articles: