Subscribe Now
Keep up with the latest news with our magazine and e-newsletter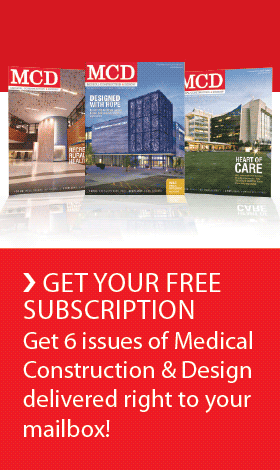 Subscribe to our E‑Newsletter
ANNAPOLIS, Md. -Revista, a research, data and events company specializing in medical real estate, releases its first comprehensive national construction report.
The Revista Mid-Year 2015 Construction Report identified $86.7 billion of medical real estate construction in the pipeline, which includes 1,189 projects totaling 123.1 million square feet that are in late planning or are under construction, and which have a construction value of at least $5 million. The total includes 542 medical office buildings totaling 38.7 million square feet with a value of $18.3 billion and 647 hospital projects totaling 84.4 million square feet with a value of $68.3 billion.
Total Medical Real Estate Construction Pipeline*
Medical Office Building
Hospital
Grand Total
Number of Properties Under Construction
542
647
1,189
Total Square Feet
38.7M
84.4M
123.1M
Total Construction Value
$18.3B
$68.3B
$86.7B
Median Square Feet/Project
45.0K
50.0K
46.0K
Median Construction Value/Project
$14.0M
$37.5M
$21.0M
*Revista measures medical real estate projects that are in late planning or are under construction and are greater than $5 million in value.
The MOB projects in the pipeline had a median size of 45,000 square feet and a median value of $14 million. The medians for the hospital projects were 50,000 square feet and $37.5 million.
The Revista Mid-Year 2015 Construction Report can help owners, developers, construction companies and others with an interest in healthcare real estate construction to better understand trends and statistics that impact their business. Some other highlights from the report include:
There are 16.7 million square feet of medical office space and 28.1 million square feet of hospital space scheduled to complete in 2015.  In all, more than $25 billion of construction value is scheduled to complete for both hospitals and medical office buildings.
For hospitals, the vast majority of construction projects are related to expansions of existing campuses.  On a total pipeline basis, there are 493 expansion projects in the U.S. with the median project being valued at $25 million and containing 32,000 square feet.
Revista identified 105 new hospital projects comprising 25.9 million square feet and $18.2 billion in value.
Of the 542 medical office construction projects under construction, 398 were considered off the campus of a hospital.
The report is available at www.RevistaMed.com/Pages/National-Transactions-Report.
Posted October 13, 2015
More Articles: