Subscribe Now
Keep up with the latest news with our magazine and e-newsletter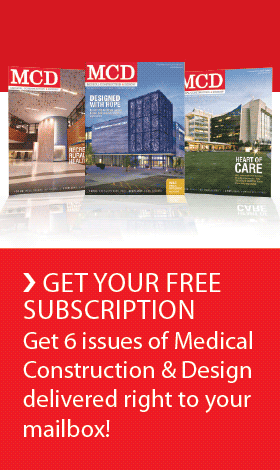 Subscribe to our E‑Newsletter
By Ron Menze
Rural hospitals are at a great advantage to combine key functional elements for patient-centered medical homes. The Affordable Care Act points to coordinated care in a compassionate setting – the Medical Home.  
With rural hospitals pursuing physician practice purchases, hospitals must generally renovate or relocate for those operations to become a licensed hospital outpatient department. These hospitals are realizing there are true significant costs to become hospital compliant. Current statistics report that six of 10 physicians expect to retire in the next 10-15 years. With many physicians moving from the physician-owned practice to the employed model, the built environment will change.
As ownership shifts to the HOPD license, state licensing agencies look for commonalities of the hospital built environment. If the physician-employed practices remain with the hospital license, these must comply as a hospital business occupancy. The architect must certify and stamp the compliant built environment as Life Safety Code compliant with a Facilities Guideline Review based on reviewing agency requirements. Most often, compliance factors center on complying public sewer, complying public water source, exterior accessibility, interior accessibility including toilets, 5-foot-wide patient corridors, exam room hand wash, hospital finishes and signage acknowledging the HOPD as owned by the hospital.
Relocation of physician practices also allows more vibrancy onto a hospital campus and assists to back feed hospital services and increase utilization of marginal services. These assisted hospital operations may include laboratory services, imaging services, hospital-based procedures, dietary services and conference and public education venues. While in a remote location, patients often found other sources for these services.
The relocation of separate independent practices into a consolidated on-campus location allows the discussion of improved workflow, consolidated services and hospital operational savings. Evidence-Based Design elements demonstrated by the improved awareness of Lean discussions and 2P process events (2P explores preparation and process: 'running operational simulations through the proposed space') evidence the increased awareness of improved operational thought and efficiencies. New standards create better quality and operations process flow and discussion in their consolidated operations allow better definition of roles for improved service.
Savings can be realized in streamlined registration, medical exams and dismissal/rescheduling functions. Patient toilets, waiting, staff lounge and toilets and medical records can also shrink in a combined operation. Billing, compliance and quality functions will also improve as a streamlined consolidated function. The changing care delivery model has welcomed physician extenders into the physician environment. Frequent review on the utilization of exam rooms within a single environment can lead to greater efficiency in a controlled and monitored environment. Quarterly or semi-annual review of exam room utilization can be used to bid on available exam space.
That relocation and hospital-based medical practice opens the inclusion of patient-centered medical home integration with the simple goal to care for rural patients in this new ACA setting. In January 2015, HHS Secretary Sylvia Mathews Burwell announced with some fanfare a national plan to tie at least 30 percent of traditional, fee-for-service Medicare payments to innovative value-based payment models including affordable care organizations and bundled-payment arrangements, by the end of 2016. She seeks to tie as much as 50 percent of traditional fee–for-service payments to these alternative models by the end of 2018.
A patient-centered medical home is a team-based model of care led by a personal primary care physician who provides continuous and coordinated care throughout a patient's lifetime to maximize health outcomes. PCMH co-existing elements may include mental health professional, nurse educators, dieticians, home health/visiting nurse professional and social workers. They may also include support groups, portal access and transportation services. Deborah Franqui of Clemson University compared three models of medical office care. It was determined that patient access to a larger team are key drivers of success to the most compromised patients.
The PCMH with shared corridors accomplished the most integrated delivery of care. It accomplished this with standardized clinical pod configuration with flexible team arrangements. It allowed physical connections between pods along with visibility connections across pods. Access to patient care areas are through shared patient and staff corridors for the allied professionals. These shared spaces are located at the entry points to the physician treatment corridors. Physicians or lead support staff can refer those patients needing assistance for a quick consult or introduction. The need for educational spaces within physician treatment areas is space inefficient and not flexible in its use. The need to make the personal contact with the patient upon diagnosis for follow-up and educational sources is the key.
Rural hospitals are at a great advantage to combine key functional elements for patient-centered medical homes. With physician group hospital employment, the required physical upgrades from past settings, potential consolidation of sites and operational usage improvement, the rural hospital can move decisively toward the patient-centered medical home model.
Author: Ron Menze
Ron Menze, AIA, ACHA, EDAC, is a partner with MKM architecture + design. With a passion for Evidence-Based Design, he has over 30 years of experience leading the firm's efforts in assisting clients in pursuing an improved model for patient-focused delivery of care.  
Tags: 2P, Evidence-Based Design, Facilities Management
Posted July 15, 2015
More Articles: