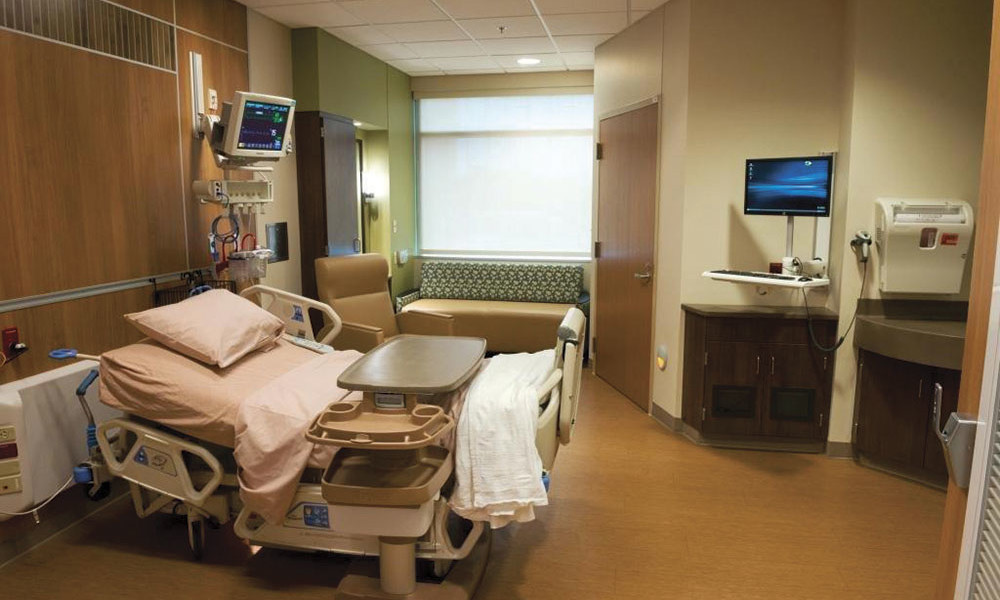 Patient rooms include pullout sofas for family sleeping and plugs for charging devices.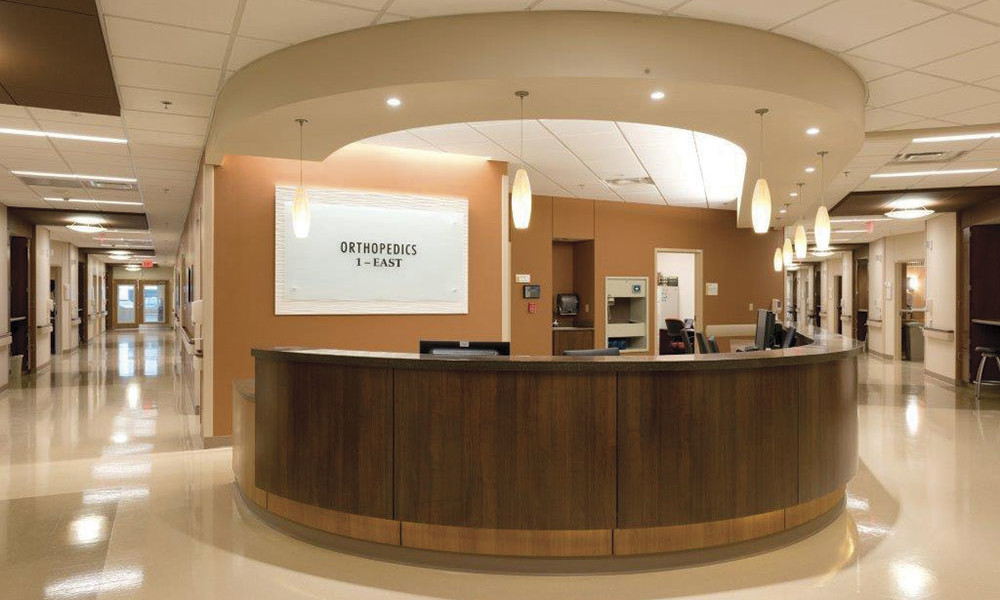 Visitors encounter a bright, open entry to each unit and easy navigation to patient rooms.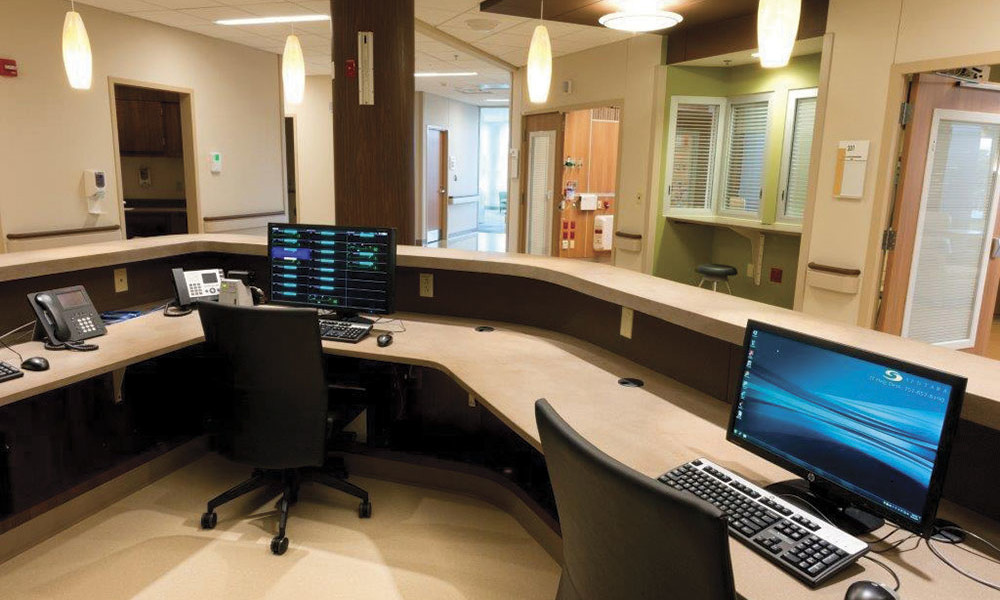 Spacious work areas for nurses include countertops infused with ionized copper as part of a clinical trial in infection control.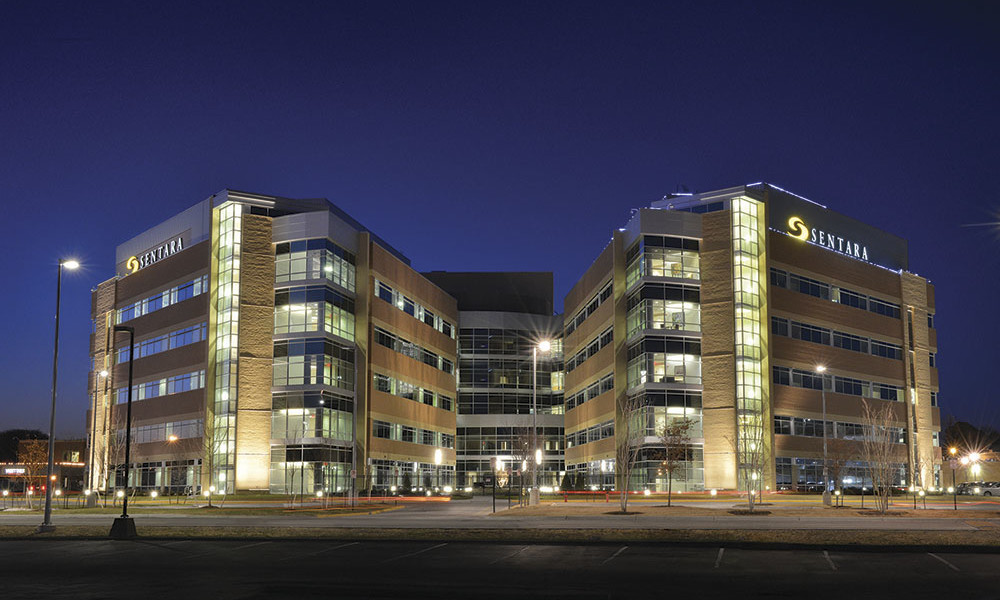 The East (right) and West towers at Sentara Leigh Hospital.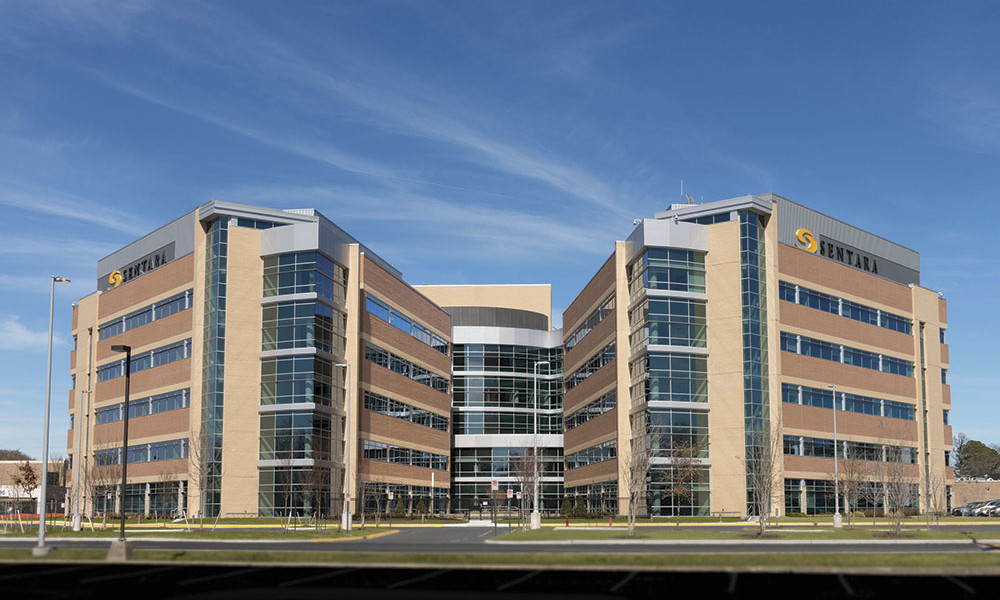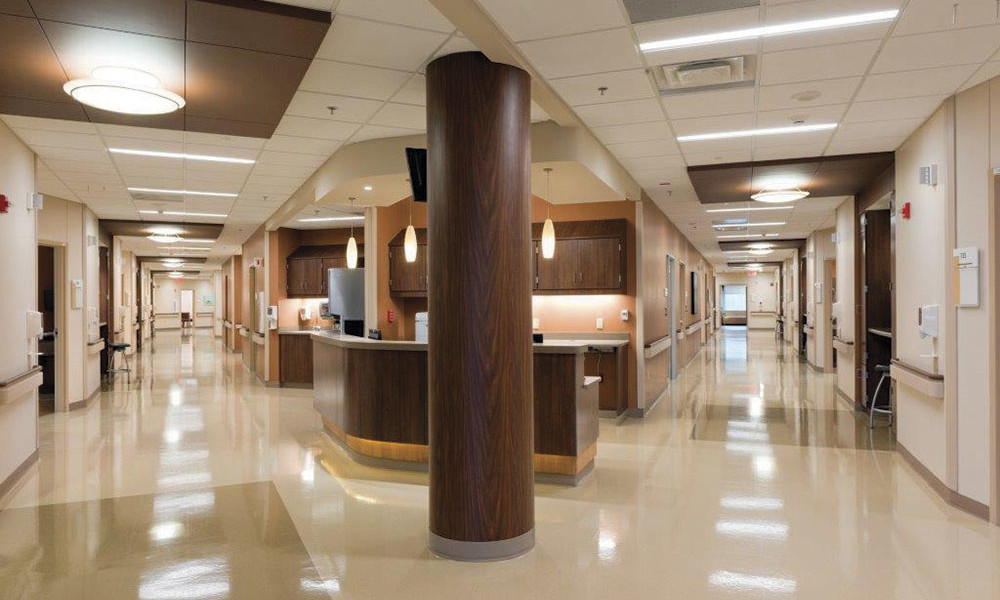 Triangle design creates a loop around patient floors, with a nurse station, coffee pot, ice machine and other amenities at each juncture.
◀
▶
Subscribe Now
Keep up with the latest news with our magazine and e-newsletter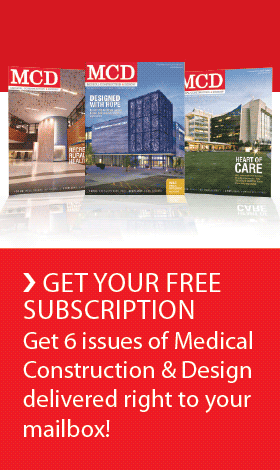 Subscribe to our E‑Newsletter
By Dale Gauding | Photos by Steve Budman
The March 2015 opening of the five-story West Tower at Sentara Leigh Hospital in Norfolk, Virginia marked the latest of many milestones in a long journey to replace the 38-year-old, 250-bed hospital within its own footprint. To fully appreciate the Sentara Leigh story, you have to look back almost a decade to the adoption of a master plan for the 31-acre campus, which includes six outpatient buildings.
"This project was the poster child for an effective master plan," said Mike Lawyer, senior vice president of HDR Architecture, Inc. "In 30 years of designing healthcare projects, Sentara Leigh Hospital is one of the biggest transformations I've ever worked on."
Sentara Healthcare has built three new hospitals since 2002 on undeveloped land. But with so many existing assets serving a large region, the healthcare organization decided to replace Sentara Leigh Hospital in place.
"This is a complicated marriage of design, operations and logistics," Lawyer said.
Primary contractor Whiting-Turner sent its mid-Atlantic healthcare coordinator and other experts to HDR's headquarters in Omaha, Nebraska during the design phase to discuss ways to minimize disruption of hospital operations during the project. All the parties agreed that consultation up front was key to an almost flawless execution.
The legacy of Sentara Leigh Hospital began in 1903 when Dr. Southgate Leigh built a 35-bed hospital named for his aunt. Sarah Leigh Hospital was a model of innovation, with rounded interior corners for cleaning, rudimentary air handling and a fire suppression system.
After a merger with Norfolk General Hospital in 1972, a new 250-bed Leigh Memorial Hospital opened at its present site in 1977, featuring all private patient rooms, each with a closet-sized bathroom with toilet and sink.
"It was groundbreaking at the time," said Vice President of Operations Eric Young. "But two of those rooms fit into one room in our new towers, with square footage to spare."
Design by committee — engaging practitioners
The general floor plan for Sentara Leigh's towers is a proven triangle design by HDR, also used at Sentara Williamsburg Regional Medical Center and Sentara Princess Anne Hospital in Virginia Beach, Virginia. Each iteration brought design tweaks based on real-world experience. In designing its hospitals, Sentara engages nurses, physicians, administrators and others who use the facilities to create the most optimal designs, right down to placement of storage closets and aesthetics such as floor tiles, fabrics and paint colors.
Nurse engagement also factored into Sentara Leigh's recent application for 'Magnet' status through the American Nurse Credentialing Center, which credentials hospitals that clearly value the contributions of nurses in all aspects of patient care and operations.
"One of the key strategies … was having nurses work in partnership with the architects," wrote nurse executive Jennifer Kreiser in the Magnet application. "One example is the mock-up room walk-through … to ensure items were placed correctly for patient safety, nurse safety and workflow."
The design committee also worked closely with HDR and Whiting-Turner when Sentara Healthcare made a corporate decision to invest in a clinical trial at Sentara Leigh using hard surfaces and linens infused with ionized copper to help prevent hospital-acquired infections. The decision, after the project was designed and budgeted, created a major change and required engagement with the producers of the copper-infused products to meet production deadlines and keep the project on schedule. The working relationship with the design committee facilitated the change and on-time execution.
The design team also worked on placement of a newly devised push-button call system to improve workflow for nurses by routing routine requests for pain medication, blankets, water or chaplains directly to the needed providers.
"It's important to make decisions based on patient care and safety first, then aesthetics," said Young. "We made aesthetic tradeoffs to achieve the best workflows while being good stewards of the budget."
One example is an idea nurses had after reviewing the design of the East Tower. They identified a connecting corridor, which wasn't seeing much foot traffic. As a result, the area was redesigned in the West Tower to create storage for specialty beds and other equipment.
Another example was a plumbing rework to ensure that in-the-wall dialysis boxes in patient rooms were all positioned beside the head of the bed for better workflow and to prevent a potential trip hazard.
Computer workstations with louvered observation windows outside patient rooms include an overhead soffit with recessed lighting to differentiate the space. The original design called for soffits made of richly finished wood. The design team opted for painted wood, which looks nice at a fraction of the cost.
Responding to growth
The replacement project began in January 2008 with a two-year effort to grow the emergency department from 21 beds to 35, modernize operating rooms and update sterile support areas and the post-anesthesia care unit within the 1977 structure. The ED included a drive-through weather-protected ambulance bay to replace one configured like a loading dock.
"We wanted to respond to growth in ED volumes and provide our patients with greater privacy, while meeting the needs of our EMS partners," said hospital President Terrie Edwards.
Unlike the 1977 patient rooms, which could barely accommodate a bedside easy chair, patient rooms in the new towers include pullout sofas for family members to spend the night and private baths with no-step showers. But building the two towers was a test for the clinical and project teams, which had to demolish and build the East Tower within 3 feet of a working hospital.
Pile driving — the sound of progress
Edwards could see, hear and feel pile driving just outside her office window. It made meetings and conference calls difficult, but of greater concern was the effect on patients and staff.
"They were not happy with it," Edwards recalled. "Even though we had a great communication plan and patients appreciated the new facilities, our patient satisfaction scores took a dip due to the noise and disruption."
Patients were offered earplugs to dampen noise and ear buds for music, but the pounding was pervasive every day for eight weeks.
"Some patients actually enjoyed watching the construction from their windows," Edwards recalled.
It took 208 hits each to drive 628 90-foot piles for the East Tower, even after Whiting-Turner required the contractor to drill 25-foot pilot holes. The West Tower needed 472 piles over six weeks. Trucks bringing piles to the site could carry only two at a time and deliveries had to be scheduled between 9 a.m. and 3 p.m. to avoid gridlock on nearby interstates.
All subcontractors bidding on the project knew what they were in for. They've learned that communicating a job's unique requirements up front reduces unplanned costs.
Keeping patients safe during outages
As the East and West towers neared completion, each required utility connections, which involved planned outages. For the hospital's facilities and nursing teams, preparing for these meant brainstorming every conceivable crisis.
"We were preoccupied with failure," said Kreiser. "If the outage is extended, what's our plan B?" she would ask. "If there's a code blue called and the overhead speakers don't work, what's our backup plan?"
For Facilities Director Richard Brock, planning for outages of electricity, medical gases, suction and other services included close attention to patient safety.
"Every time we planned one of these, we had a safety stand down," Brock said. "All leadership walked through the plan together and then did so with their staffs."
The work included more than 80 planned electrical interruptions and 45 for mechanical, plumbing and medical gas connections. Most were scheduled for the middle of the night and were accomplished in less time than allotted.
Next steps
All Sentara Leigh Hospital inpatients are in the new towers. The vacated B-wing was demolished to make room for a two-story atrium-style main entrance, outpatient spaces, central registration area and education rooms, scheduled to open in March of 2016.
To reach a temporary main entrance, visitors walk through a landscaped healing garden between the East and West towers, which includes a labyrinth and varying terrains and elevations for orthopedic rehabilitation on nice days.
Now in its final 10 months, this complex replacement project is coming to bricks-and-mortar fruition, and a new beginning for Sentara Leigh Hospital is in sight.
"Our patients deserve this, and I'm grateful that Sentara leadership had the vision to support this transformation," said Edwards.
"Sentara Leigh Hospital has always been associated with cutting-edge design and state-of-the-art care, and we're going to build on that legacy for decades to come."
Author: Dale Gauding | Photos by Steve Budman
Dale Gauding is a communications advisor for Sentara Healthcare.
Posted July 20, 2015
More Articles: