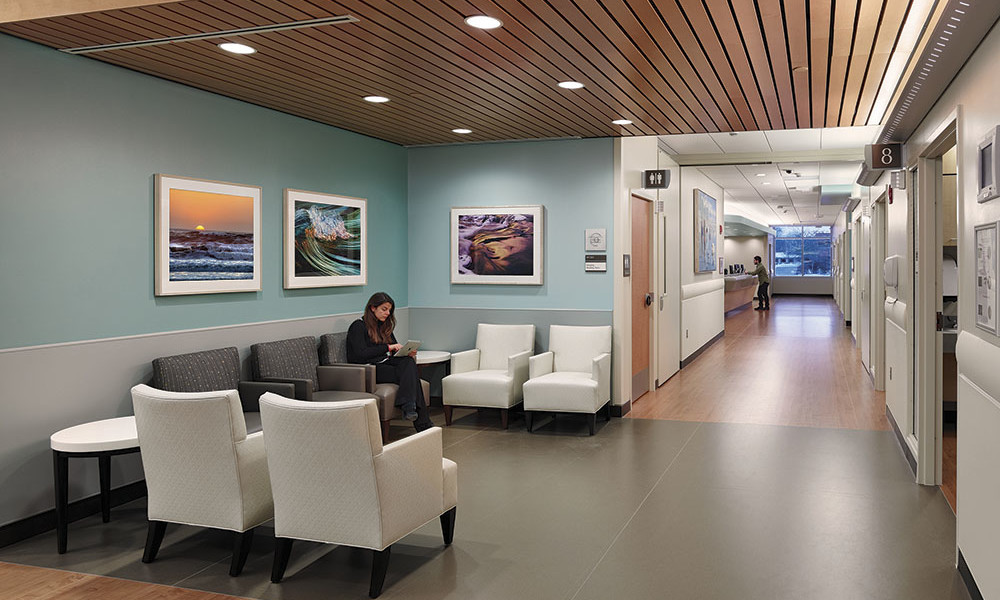 Considerations for the geriatric population in this lobby included incorporating carpet to reduce noise and falls, as well as high-back chairs with sturdy arms to support elderly patients.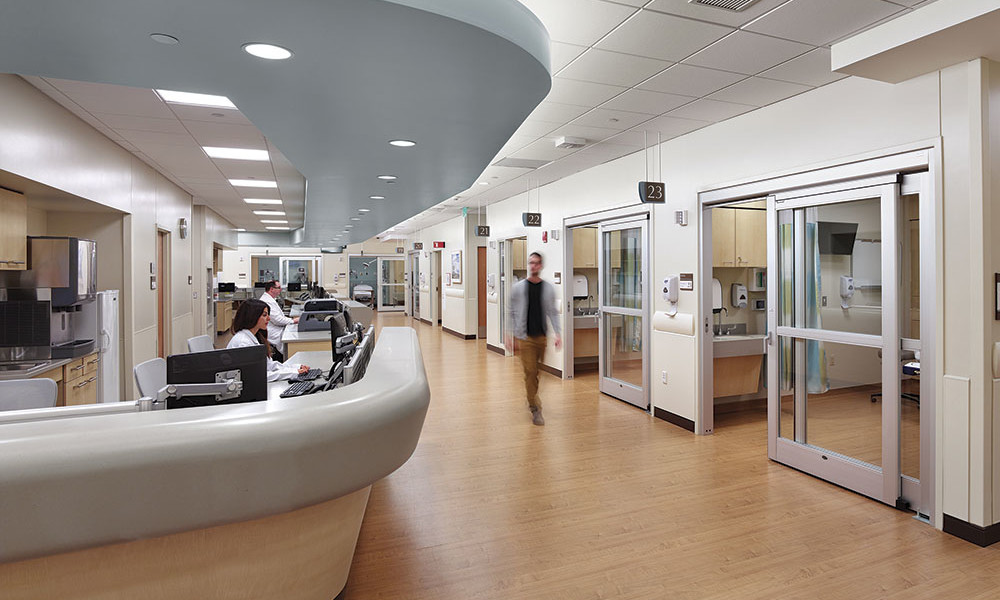 Nurse stations at this facility have rounded corners to soften the space and reduce injuries for both geriatric and pediatric populations. Indirect lighting reduces glare.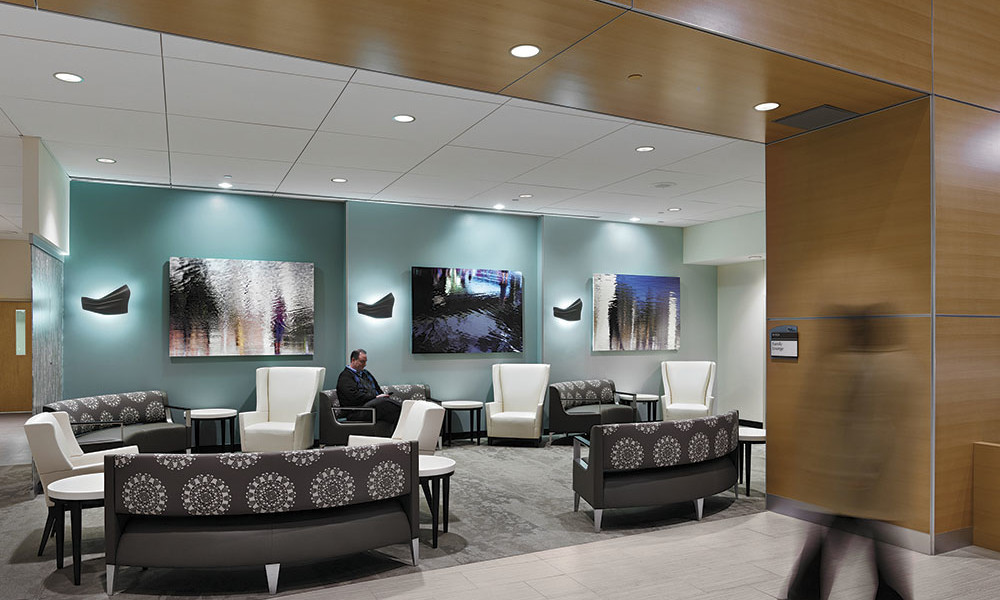 Considerations for the geriatric population in this lobby included incorporating carpet to reduce noise and falls, as well as high-back chairs with sturdy arms to support elderly patients.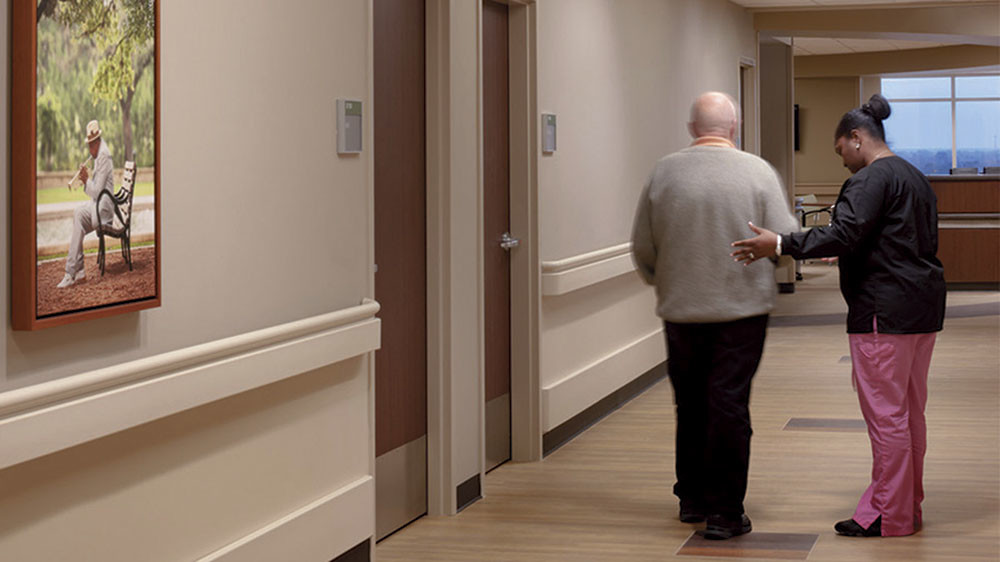 Insets on the floor at Memorial Hermann The Woodlands, Joint Center and The Institute for Rehabilitation and Research provide patients and staff visual markers indicating distances. Staff conducts pacing tests, using markers as a way to measure how quickly and safely patients can travel a specific distance.
◀
▶
Subscribe Now
Keep up with the latest news with our magazine and e-newsletter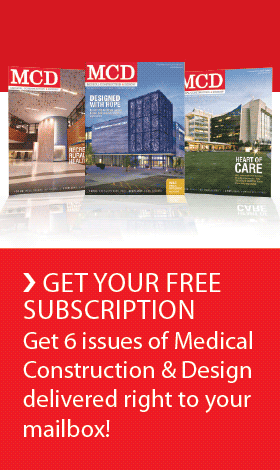 Subscribe to our E‑Newsletter
By Bhargav Goswami & Sherri Shafiei |  Photos by Jeffrey Totaro
Last fall the New York Times carried an article by Louise Aronson, a geriatrician at the University of California, San Francisco, titled "New Buildings for Older People" (Nov. 1, 2014). She described her experience bringing her 82-year old father to a brand new healthcare facility at a leading medical center and the struggle that ensued as she led him with his walker into the clinic — including seating with no arm supports and long distances to the right destination within the building. No doubt she could have gone on listing issues with the design that made it difficult to navigate for someone like her father.
Healthcare architects and designers are well aware this is not an unusual incident given changing U.S. demographics. Nearly 15 percent of the population, over 40 million people, is over the age of 65, and the number is growing. Roughly 11 million are over 80, making them one of the fastest growing cohorts. Today there are an estimated 70,000 centenarians with estimates projecting this segment of the population to rise to 700,000 by the year 2050.
Geriatric challenges
Older patients present healthcare facilities with a unique set of concerns, including co-morbidities, chronic illnesses, cognitive and psychiatric needs, problems with activities of daily living, sensory issues and the need for socialization, many of which are different from those of younger adult patients.
Older patients are likely to have diminished vision, hearing, memory, mobility and strength and slower responses to external stimuli. They are more likely to suffer from depression and anxiety, which may be exacerbated in trying to deal with unfamiliar, fast-paced and often confusing clinical environments especially in emergency departments and inpatient hospital settings.
Because older patients often have reduced functional abilities, the design of the environment where they seek care is crucial. A well-designed environment can help patients feel at ease, reduce stress and even help them navigate the unfamiliar surroundings with greater confidence. Aronson suggests there is a need for "silver" architecture and design that will help meet the challenges of the aging population in much the same way that "green" architecture responded to growing concerns over environmental challenges.
Many of the best healthcare facilities incorporate solutions that would be the basis of a "silver standard" by combining Evidence-Based Design research, best practices and creative design. Successful environments not only help mitigate the challenges of the elderly patient, but also support a greater sense of well-being.
Simple design decisions like providing daylight, especially morning light, has been shown to improve mood and sleep quality and decrease the need for anxiety and sleep medications in older adults (Ulrich, 2008; Gammack, 2005). Introducing moderate degrees of positive stimulation — sound from water or music, colors, light, sculpture, art and other environmental elements — help to foster well-being (Wohlwill, 1968; Berlyne, 1971).
'Silver architecture' checklist
With such considerations in mind, a "silver architecture" checklist for designing for the elderly would include:
Space planning
The first and perhaps most important consideration is the organization and layout of the healthcare facility. Design to optimize the ability of clinical staff to provide care and minimize disorientation and anxiety in the elder patient. Create open nurse stations that are clearly defined destinations. Open nurse stations provide two-way nurse-patient visibility and allow patients and their elderly companions access without barriers.
Minimize walking distances between destinations to ease ambulation for the geriatric patient. It's also best to create large, unobstructed corridors that terminate in light-filled windows when possible. Also, provide easy to see and grab handrails on both sides. The grab bars should preferably be a color that contrasts with the wall.
Interconnected and looping corridors facilitate continuous movement. Lastly, family zones in patient rooms enable overnight family stays, which helps relieve stress and can facilitate communication.
Orientation
Reduce confusion and improve patients' understanding of their environment by deploying a clear graphic wayfinding system that is easy to see and read with sufficient contrast between letters and background. Create strong, intuitive architectural elements to support wayfinding.
Lighting
Reducing glare helps patients with impaired vision and reduces confusion. This can be done by utilizing indirect lighting in corridors and patient rooms.
Balance light levels between corridors, workstation and rooms so that the lighting is "felt" and not "seen." Window shades in patient and day rooms also help to reduce glare.
Design lighting and switching with more control options better suited for patient rooms.
Acoustics
Walls, floors and ceilings should be designed to support privacy and minimize noise transmission. Use sound-absorbing acoustical ceiling tile, and a suspended ceiling system. Specify sound-absorbing wall panels especially in large areas where noise tends to build up.
Cover glass and natural fiber wall panels with a thin, impermeable film to allow for easy cleaning in clinical areas. Use fabric-wrapped wall panels in non-clinical areas where regular cleaning is not required.
Furniture
Furniture should be designed to aid patients getting in and out of seating and provide adequate rest spots. For example, seat heights should be kept to 18 inches; avoid using low furniture. Provide furniture with arms to give options for those that need extra support.
Provide ample options for resting, such as comfortable seating alcoves along corridors and paths. Resting spots should extend outdoors and be located at exits, as well as benches along sidewalks. Outdoor furniture in the shade should be available.
Flooring
Improve patient safety and support orientation. Use carpet or other soft flooring to help prevent falls, and minimize potential damage and noise. Specifying no-wax floors helps reduce glare and non-glare paving materials on outdoor walkways.
In regard to design, floor patterns should be created to "define" entrances to patient rooms for orientation. Patterns that "define and measure" walking distances help to  encourage ambulation.
Color palette
Reduce stress and improve spatial perception. Create contrast where there is a change of planes between the wall and floor to make it easier to "read" the spaces. Also, avoid creating high-contrast floor patterns that might cause confusion. Use solids and simple patterns on furniture upholstery for both comfort and visual clarity.
Positive distractions
Relieve stress, encourage interaction and support a sense of well-being. Provide windows that offer views of nature and bring in daylight. Incorporate artwork, such as paintings, photographs or sculptures, that will engage the patients.
Outdoors, provide for a variety of plants at face level that will give seated patients a focus and offer a respite.
As healthcare architects and designers continue to address the needs of an increasingly older patient population, there is a significant opportunity to improve healthcare environments for people of all ages. Many of the design considerations that make a visit to a clinic or stay at a hospital less stressful and more supportive for the elder patient ameliorate the experience of every patient.
Meeting the needs of the geriatric generations today provides valuable lessons for the care of Gen Xers and Millennials who, with luck, will reach age 65 and be thankful for "silver" facilities.
Author: Bhargav Goswami & Sherri Shafiei |  Photos by Jeffrey Totaro
Bhargav Goswami, AIA, ACHA, LEED AP is a principal and senior medical planner with WHR Architects. Sherri Shafiei, IIDA, is a senior interior designer also with WHR Architects.
Posted May 26, 2015
More Articles: