Subscribe Now
Keep up with the latest news with our magazine and e-newsletter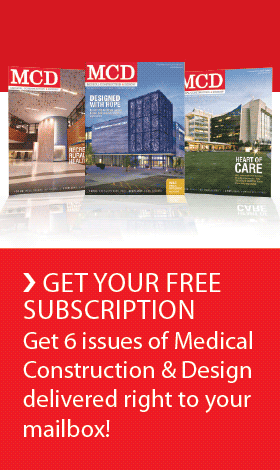 Subscribe to our E‑Newsletter
The groundbreaking for Saint Barnabas Medical Center's new West Wing took place on May 13 at 94 Old Short Hills Road in Livingston, New Jersey. Occupancy is expected in 2017.
Francis Cauffman designed the $250-million expansion, totaling 241,000 square feet of new construction, 29,000 square feet of renovated space and a new structured parking facility to improve the quality of patient care. The new addition will introduce luminous, expansive spaces that will enhance patient recovery, facilitate staff interaction, attract the best doctors and match the hospital's reputation for superior healthcare. The expansion project prioritizes an enhanced patient and staff experience; the number of beds will not increase. Wm. Blanchard Co. is the construction manager for the project.
The five-story addition is slightly angled from the existing complex. Its light and transparent façade emphasizes glazing as a counterpoint to the existing brick, 1960-era facility. The visual and functional centerpiece of the addition is a two-story, structurally glazed lobby. The addition communicates the medical center's mission to provide compassionate care while advancing the quality of life of its community.
Every hospital needs a clear and welcoming arrival point, and a discharge place: here the arrival point is created in a grand open space that is the heart of the project, while the existing lobby will be re-purposed for swift and clear discharge functions. A "two- front door" model was designed for the diagnostic services in the new addition, where both inpatients and outpatients are ably served by cross-trained staff. Organic, curvilinear forms with views of nature, and various furniture options allow visitors choice over their environment and promote stress reduction.
In keeping with the findings of Evidence-Based Design, which shows that recovery rates are higher in private rooms, the new wing is designed as an all-private room model; this will allow the hospital to increase its number of private rooms without increasing patient volume. Bedside computers, stools for clinicians, sleep sofas and guest seating encourage patient interaction. The hospital provides in-room food ordering and an interactive patient network. This highly customized healthcare approach will encourage patient satisfaction.
The NICU will be completely replaced. The square footage has been expanded three-fold in order to comply with current guidelines for spatial clearances while accommodating both private rooms and semi-private pods that will provide quality space for NICU families while implementing state-of-the-art technology.
Circulation patterns were designed to create efficient connections that make the various zones of the hospital more accessible and functional. The reconfigured arrival sequence provides a safer trip from the parking lot and garage to the building, including for those with limited accessibility. Colorful new wayfinding and visual clues have been deployed throughout the facility.
Project team:
Francis Cauffman, architect
Blanchard Co., construction manager
Dewberry Engineers, site/civil engineer and landscape architect
The Harman Group, structural engineer/parking garage architect
PWI Engineering, building systems engineer
Renderings courtesy of © Francis Cauffman.
Posted May 19, 2015
More Articles: