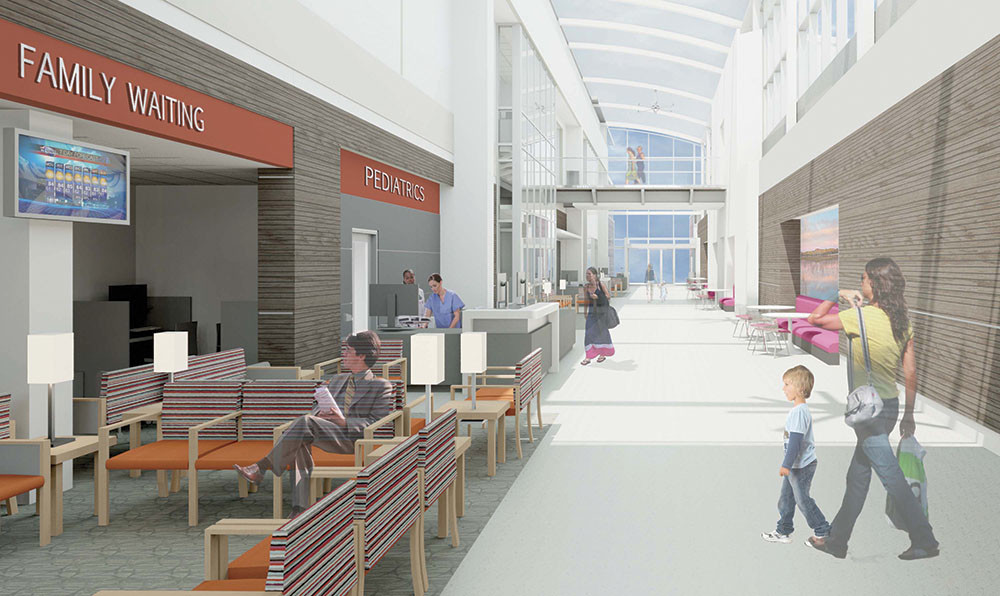 The 107,000-square-foot renovation at Seymour Johnson AFB will serve 18 different clinical specialties. Most of them can be reached from this light-filled central corridor. The project is due for completion in December 2016.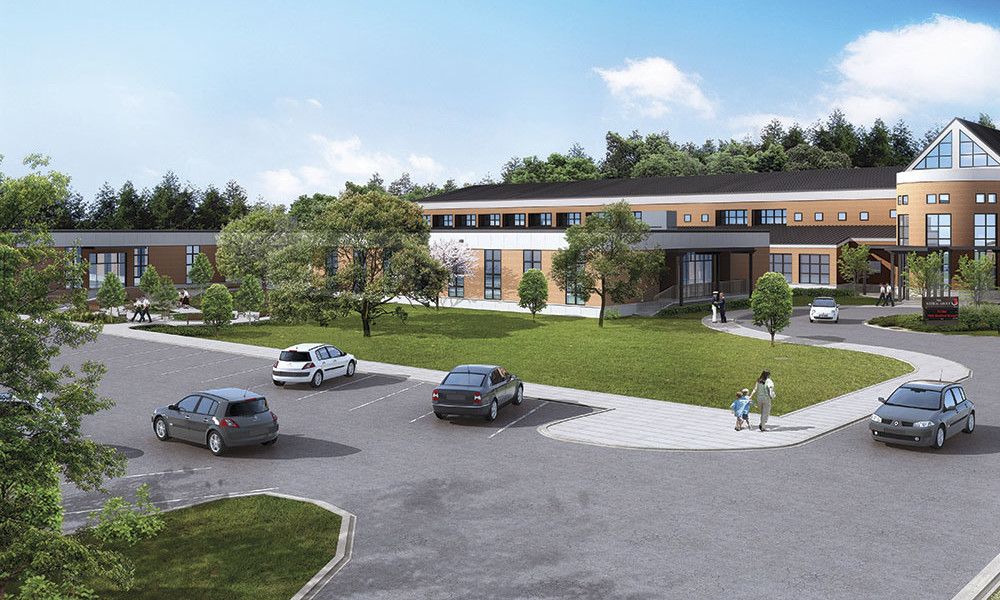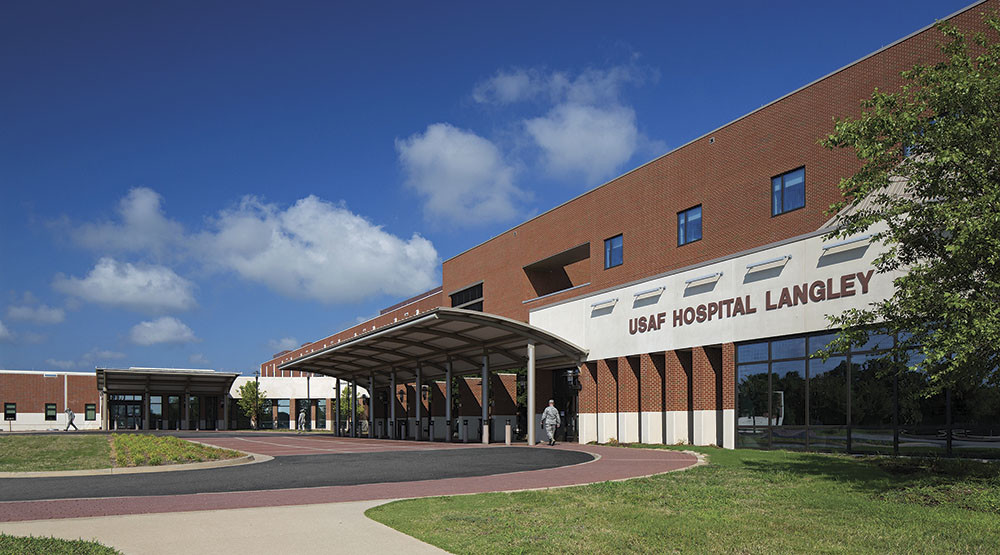 The 160,000-square-foot renovation of the medical center at Langley Air Force Base modernized treatment spaces and mechanical systems in the building. It also included a complete replacement and upgrading of the exterior using blast-proof concrete panels faced with red brick.
◀
▶
Subscribe Now
Keep up with the latest news with our magazine and e-newsletter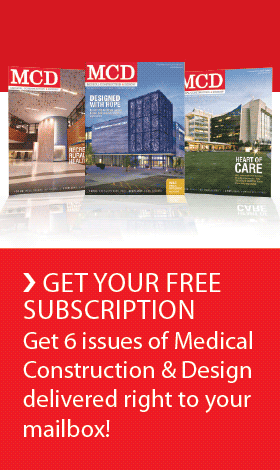 Subscribe to our E‑Newsletter
By John Stone
Seymour Johnson Air Force Base, home to the 4th Fighter Wing and nearly 100 supersonic fighter jets, enjoys some of the military's most advanced technology and equipment. The base's medical clinic, which serves a community of nearly 13,000 people, is vintage 1950s.
After nearly a year of design and project planning, the outdated clinic is undergoing a $60-million makeover to modernize it and make it ready to provide the base's military personnel and their families with top-of-the-line medical care.
The new 107,000-square-foot medical clinic — about 10,000 square feet larger than the existing clinic — will have two floors and serve 18 different clinical disciplines, including family health, physical therapy, pediatrics, pharmacy, mental health, optometry and a clinical lab. Flight surgeons and other flight readiness specialties will have dedicated spaces as well.
The work at Seymour Johnson, located just outside Goldsboro, North Carolina, is just one of dozens of similar projects — the work is being done under the auspices of the U.S. Army Corps of Engineers — to renovate and modernize the aging and obsolete healthcare facilities on military bases around the country. Heery International is providing Design-Build services at several bases, including Peterson AFB in Colorado Springs, Colorado, Robins AFB in Macon, Georgia and Travis AFB in Fairfield, California.
Serving a purpose
The U.S. military relies on a two-tiered system of medical clinics and hospitals to meet the healthcare needs of its servicemen and women and their families. Almost every post has a multipurpose medical clinic to handle routine primary care on an outpatient basis. Elsewhere, at a smaller number of bases, the military has specialty hospitals, such as the Army Burn Center in San Antonio, Texas, to handle inpatient care.
While some branches offer distinct clinics for servicemen and women and a separate set of clinics for their families, the Air Force has one network for personnel and their families. In the Air Force, then, these clinics need to not only meet the healthcare needs of the airmen, but they also need to provide family centric care, including the range of primary care medicine that any family might need, from summer camp checkups to treatment for injuries and illnesses.
As the four service branches work to modernize their clinics, the goals are two-fold. The first is to ensure that American servicemen and women and their families have access to the same level of care they could get at a civilian medical center. The second is to ensure that forces are in top physical shape to serve their country when called upon.
The buildings are expected to have efficient, flexible and smartly designed interiors that incorporate the latest thinking into evidence-based medicine. They are expected to be sustainable as well, with a stated goal of being at least LEED Silver, relying on high-efficiency systems and green features such as vegetated roofs, as is the case at Seymour Johnson, or rainwater capture and reuse.
The second goal is to better meet the mission of the military, which is ultimately to protect and defend the nation. As a rule, that means including specific military spaces to address the unique needs of the military in keeping its personnel physically fit and mentally ready for battle. At most Air Force bases, for instance, there are spaces set aside for testing pilots and flight crews to ensure they are fit enough to withstand the forces imposed by flying faster than the speed of sound.
An additional challenge for the architects, planners and engineers working on these projects is the need to ensure the safety of the patients and staff using these facilities. Antiterrorism and Force Protection requirements must be included within the design of these facilities to protect against explosions and other forms of attack. The 160,000-square-foot renovation of the medical center at Langley Air Force Base, for instance, included a thorough modernization of the treatment spaces and mechanical systems in the building. It also included a complete replacement and upgrading of the exterior using blast-proof concrete panels faced with red brick. The Unified Facility Criteria, which applies to all military departments within the Department of Defense, dictates that protection against "progressive collapse" must be built into any structure over three stories.
Funding, managing projects
Even though facility management on these bases have done well using Sustainment, Restoration and Modernization funds to keep these facilities in operation, some of these medical clinics have outlived their useful lives and are good candidates for replacement. New construction, using MILCON funding, enables replacement facilities and major renovations to take place.
As a consequence, managing these renovation projects requires complex phasing plans that allow the buildings to remain occupied and operational while the work is underway.
The 71,000-square-foot renovation of the clinic at Robins Air Force Base — a major project that connected adjacent buildings across a light-filled medical mall, but also required replacing mechanical and roofing systems — required a significant phasing plan with transitional facilities to keep the clinic in business throughout the four-year project.
The Corps of Engineers adds one other requirement to ensure a totally coordinated and operational finished facility — the Design-Builders for these projects must outfit and support transition services for the move and startup of these facilities as well. By working closely with the building's operational and medical staff during the design and planning stages, the architects and special consultants are able to create spaces tailored to the major medical equipment including imaging systems, pharmacy, laboratory and specialized treatment furniture typically found in a healthcare setting.
As the military continues to update and upgrade its base medical clinics, success will lie in the ability of the selected Design-Builders to bring multi-disciplinary services — from creative approaches to complex renovations, detail-oriented project management skills and team-oriented leadership to ensure each clinic is outfitted with the appropriate equipment. In the end, however, the result is facilities equal to the mission of providing America's military personnel with the healthcare they need and deserve.
Author: John Stone
John Stone, AIA, is a vice president in Heery International's Healthcare Design practice.
Posted May 26, 2015
More Articles: