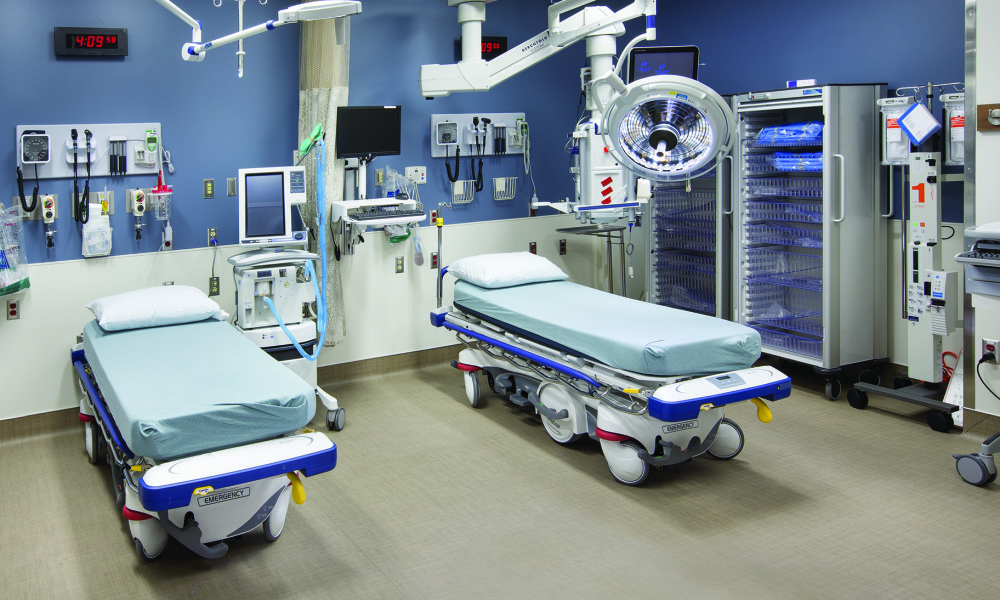 Patient treatment area in Mount Carmel Health System's freestanding emergency department.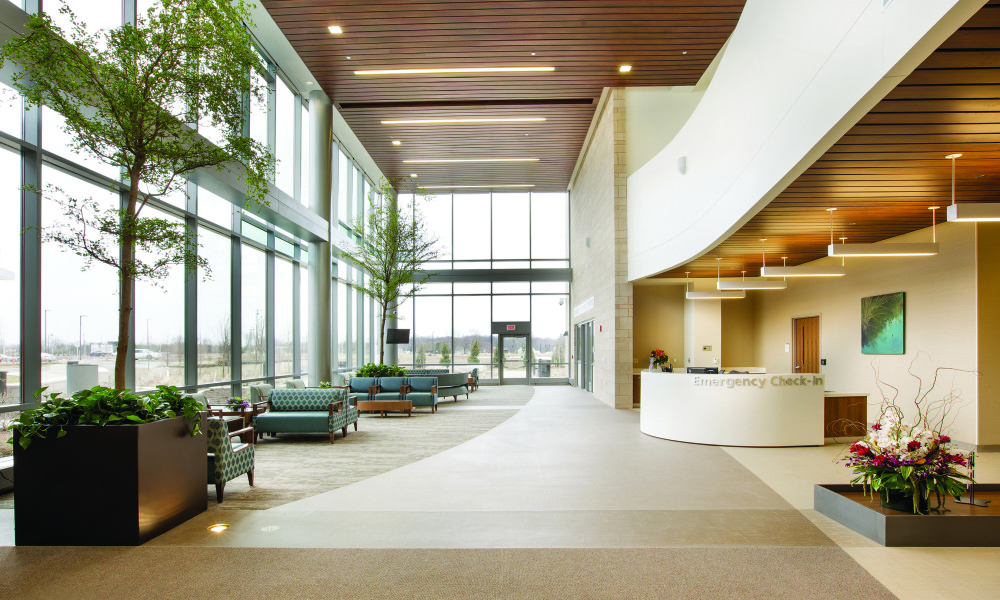 The hospitality-inspired design of the emergency lobby and check-in spaces in Mount Carmel Health System's freestanding emergency department in Grove City, Ohio makes use of vegetation, warm materials and access to natural light. This creates a more relaxing environment for patients, family and staff.

The emergency entrance canopy at Mount Carmel Health System's freestanding emergency department in Grove City, Ohio emphasizes a calm arrival experience through the use of natural materials and a hospitality-like arrival plaza.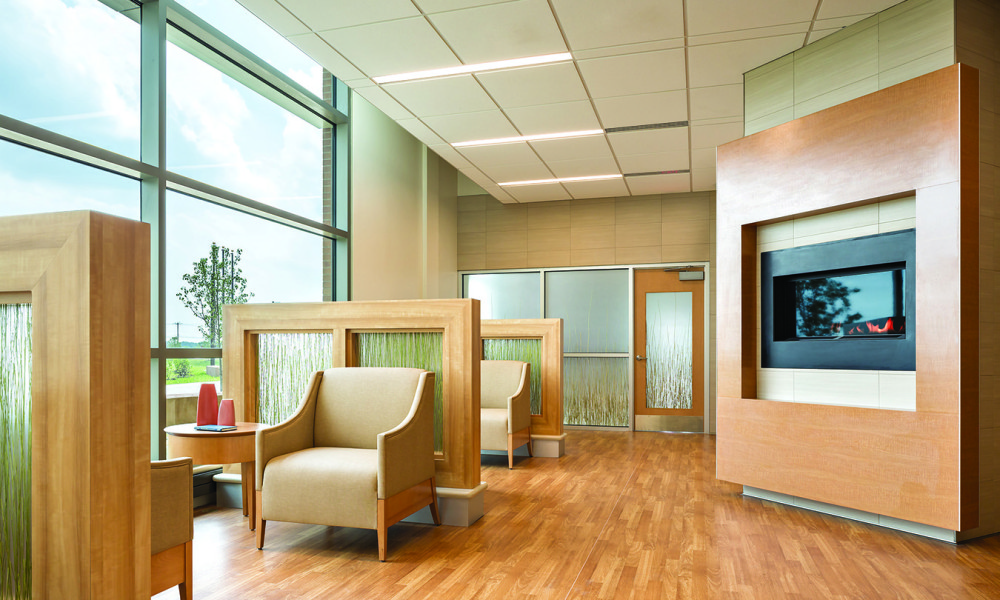 This waiting area in Christiana Care Health System's freestanding ED evokes residential warmth by incorporating a fireplace and natural materials, with access to natural light.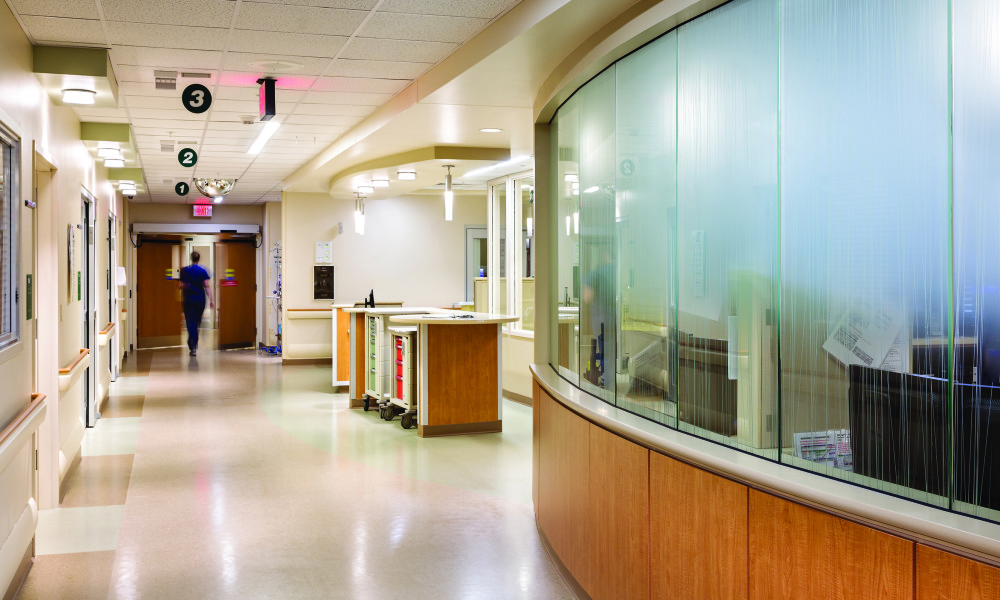 The patient treatment corridor in Christiana Care Health System's freestanding ED makes use of natural materials and sophisticated lighting solutions to create a more calming environment.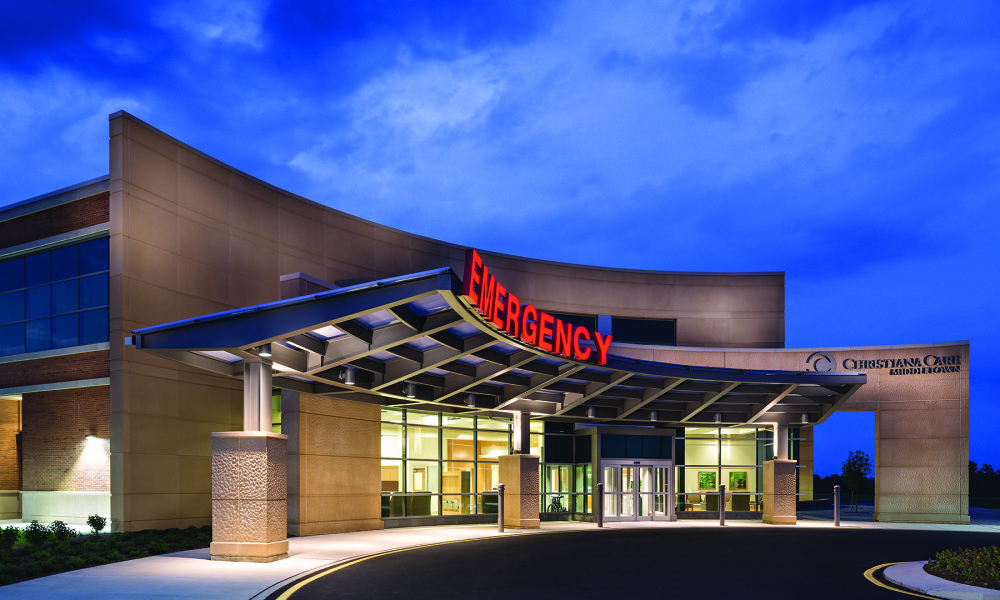 An illuminated night view of Christiana Care Health System's freestanding emergency department in Middletown, Delaware displays a cantilevered-glass emergency entrance canopy at the patient arrival and drop-off area.
◀
▶
Subscribe Now
Keep up with the latest news with our magazine and e-newsletter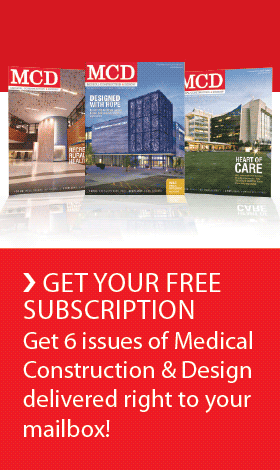 Subscribe to our E‑Newsletter
By Patrick Schultz & David R. Vincent
In some states, the number of freestanding emergency departments is increasing rapidly, as shifting care patterns necessitate diversification away from acute care and as hospitals seek to increase greater access to care in their communities. As hospitals develop continuum of care strategies, FSEDs represent a growing alternative to traditional hospital-based EDs, providing a comprehensive patient care ED solution in more convenient, easy-to-access locations and consumer-oriented environments.
There are three basic types of emergency departments/freestanding emergency departments:
1. Hospital-based emergency department, the traditional model
2. Hospital-affiliated freestanding ED, the ambulatory extension model for established hospitals
3. Non-hospital affiliated FSED, or independent freestanding emergency centers. These facilities must have patient transfer and admitting arrangements in place with an existing hospital.
As annual visits to the traditional hospital-based EDs continue to increase with usually longer waiting times as a result, patients are left seeking other more accessible and convenient ED options. FSEDs provide patients with an alternative to greater access to care for non-life threatening conditions with generally less waiting times. These faster turnaround times can be a key driver to increased patient satisfaction for FSEDs and their affiliated hospitals or health systems.
Urgent care centers versus FSEDs
Hospitals recognize urgent care centers as a convenient, quick solution to a low-acuity health issue. Compared to FSEDs, urgent care centers are usually lower in cost, reflecting the lower staffing levels, and lower levels of technology and equipment required to operate UCCs. In this respect, urgent care centers can operate more similarly to a primary care practice than to a traditional hospital ED or FSED.
Urgent care centers are less likely to transfer patients for nearby hospital admission, not be open 24 hours and not be accredited the same as ED/FSEDs. Because FSEDs operate 24/7, require a license as a department of the hospital or, if independent, have transfer and admitting arrangements with a nearby hospital for high-acuity patients; FSEDs are increasingly preferred by patients over urgent care centers.
Patient acuity, volume and access
FSEDs are usually located to serve as an anchor to an ambulatory facility within a high-growth market opportunity. Successful development of FSEDs will depend on analyzing the targeted primary or secondary service area patient population, availability and future market volume forecast to determine if the new FSED will bridge future growth in outpatient ambulatory care, inpatient services, beds or both.
Patient acuity mix and distribution will likely differ from a traditional hospital-based ED due to the lower-acuity patients that may come through the FSED. A traditional ED generally serves patients with higher severity conditions due to being a part of the hospital and availability of on-call specialists. FSEDs can realize new volumes from patients who would not go to an ED otherwise because of geographic accessibility and convenience. As a result, FSEDs may experience volume not previously anticipated. Building the first FSED can be advantageous, but as FSEDs may breed more competitors over time, market capture projections should include a sensitivity analysis.
Reduced wait times can enhance higher levels of patient satisfaction, and help promote higher volume and market share. FSEDs should be branded differently, with an emphasis on customer service and, similar to the retail industry, consumerism. A customer preference-of-choice approach will result in convenience and accessibility for both patients and families, which are key characteristics of successful FSEDs.
Patient care delivery model
Some hospital-based EDs are very efficient and streamlined with their patient intake process; the freestanding emergency department can potentially offer a more efficient operating environment than a traditional hospital-based ED. FSEDs with more streamlined management structure, and operating 24/7, require a different layout — less waiting room times, minimize the size of waiting areas and bypassing typical triage and registration and go straight to the "direct bedding" of patients.
Built to traditional hospital-based ED standards, the FSED is derived from the successful ED workflow and patient care model in a cost-effective and high-quality branded facility with a simple rectangular footprint. The core building services are typically located at outside corners to maximize efficiency and flexibility. Separate, clearly marked canopies and entrances are provided for an FSED main entry, ambulances and potentially MOB, or other outpatient ambulatory services.
The prototypical FSED may include advanced imaging capabilities, clinical labs and may include 24-hour short-stay or observation beds. Helping to reduce construction costs, FSEDs built to a "B" occupancy can be designed to a universal grid, allowing the structure to be more "change-ready" or change adaptable to future renovations or changes in use. Likewise, FSEDs may also be built to I-2 institutional occupancies, if future inpatient growth is planned. FSEDs should be clearly identifiable to the community, and designed to promote or enhance a system's branded facilities of consistently high quality.
Mount Carmel Health System, Grove City, Ohio FSED
To meet the needs of one of Central Ohio's fastest growing communities, Mount Carmel Health System built a new 38,200-square-foot freestanding ED and a 70,000-square-foot medical office building for physician offices and outpatient services. The Mount Carmel FSED and MOB are located on a 40-acre site that holds the potential for expansion; the FSED and MOB would serve as an anchor for possible growth should the need arise.
Designed to accommodate 30,000 annual visits, the FSED follows a rapid intake model, with two triage rooms, 15 universal rapid intake and acute care exam rooms, CT, ultrasound, general X-ray and MRI — similar to the technology of a traditional hospital emergency room. Diagnostic imaging and lab services are also available for both emergency and outpatient needs.
The MOB features a concourse-type circulation with open waiting areas for each practice and an integrated connector to the adjacent freestanding ED. Clear, direct circulation achieves Mount Carmel's goal of a convenient and smooth patient experience and allows all departments to be fully integrated and easily accessible.
Christiana Care Health System, Middletown, Delaware FSED
Christiana Care Health System's freestanding ED is located on a 108-acre parcel of land for future expansion into a full hospital and medical campus in Middletown, Delaware. The 60,000-square-foot facility contains six triage and super-track rooms, 12 universal exam/treatment rooms, one major resuscitation room, CT, ultrasound, general X-ray and full lab. The second floor of the building features a community center with the remainder comprised of medical offices.
Since its opening, the Middletown FSED has experienced greater patient volumes than originally anticipated and now approaches 25,000 annual visits. On occasion, patients may enter the FSED requiring a greater level of care. In those instances, patients can either be transferred or admitted to Christiana Care's Christiana Hospital in Newark, Delaware, or to other appropriate healthcare facilities where, according to Linda Laskowski-Jones, vice president of emergency and trauma services, Christiana Care Health System, "approximately 10 percent of our patients are admitted each month."
While FSEDs are not the answer to all problems facing traditional hospital EDs, they are an attractive option for increasing patient access to emergency services care in the community.
FSEDs' more streamlined processes can help to promote faster, more efficient patient volume throughput and higher satisfaction. Combined with the realizing of downstream admissions and being anchors to future growth, FSEDs are a viable alternative to hospitals in an increasingly competitive environment.
Author: Patrick Schultz & David R. Vincent
Patrick Schultz, AIA, EDAC, LEED AP, is vice president and healthcare practice leader for HKS' Mid-Atlantic region and an MCD board member. He can be reached at pschultz@hksinc.com. David R. Vincent, AIA, ACHA, LEED AP, is principal and director of HKS' Team ED. He can be reached at dvincent@hksinc.com.
Posted April 8, 2015
More Articles: