Subscribe Now
Keep up with the latest news with our magazine and e-newsletter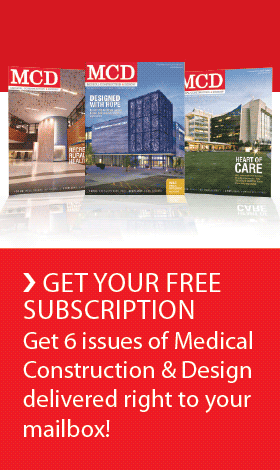 Subscribe to our E‑Newsletter
INDIANAPOLIS, Ind. — At every healthcare industry conference, and in every hospital and health system conference room, probably one of the hottest topics is what changes are required to succeed in the new healthcare reform environment. What new strategies must providers implement to differentiate them from the competition, reach more consumers, improve care delivery and grow their businesses?
This important question was explored at a recent healthcare symposium hosted by Duke Realty that included industry thought leaders, hospital and health system executives and Duke Realty's team of healthcare real estate experts. The guest speakers included Stuart Clark, senior director of The Advisory Board; Joel Allison, CEO of Baylor Scott & White Health and Warren Skea, a principal at PwC.
The speakers' insights are featured in a comprehensive new white paper written by Deeni Taylor, Duke Realty executive vice president – healthcare. According to the white paper, hospital and health system executives might want to consider some of the following new trends and strategies:
Develop more consumer-focused strategies
Since the passage of the Patient Protection and Affordable Care Act, consumers have been playing a bigger role in making their own healthcare decisions. Consequently, they have a long list of demands for providers, topped by affordability, on-demand access and tailored service, according to Stuart Clark of The Advisory Board. Many traditional primary care physician offices, however, aren't meeting these needs while innovators such as Minute Clinic, Walgreens, Walmart and Target are establishing convenient retail clinics to satisfy those needs. He noted that traditional providers need to take the time to really understand consumers' needs and develop a plan to profit from them.
Preserve market share through affordability
Clark also said providers need to analyze the level of price sensitivity in their markets and offer less expensive healthcare alternatives to price-sensitive consumers, as well as actively educate them and physicians about these options. For example, a Colorado-based provider is promoting off-peak appointment times at a discount of up to 30 percent. A provider based in Washington, D.C. and Maryland serves patients with acute, non-life threatening conditions at a lower-cost site than its other facilities. It also offers price-sensitive consumers urgent care at a discounted but still profitable rate. Strategies such as these are helping providers to reach more patients and forge greater customer loyalty.
Increase volumes with on-demand access
More and more products and services, such as movies from Netflix, are being offered on demand so consumers now expect the same with healthcare, according to Clark. He noted that many health systems are considering developing on-demand retail clinics. Before doing so, however, they need to understand the market dynamics, where to locate the clinics and how to convert initial visits into long-term relationships and downstream revenue. They also need to understand the barriers to developing retail clinics, which include lack of patient awareness and physician resistance. A Kentucky-based system, for example, researched all of these factors and has been enjoying success with its convenient urgent care centers. The UCCs also are located near its emergency departments for easy referrals to those facilities. These strategies are increasing patient visits through mutual referrals, decreasing wait times and improving patient satisfaction.
Appeal to discerning consumers with tailored service
Some consumers aren't concerned about price and are willing to pay for a more customized, elevated level of service, according to Clark. An example is a Florida-based health system that offers concierge services, which include customized wellness programs that address each patient's risks and proactively identify and meet patient health goals. The program, which also guarantees 60-minute, on-time appointments, has had very successful renewal rates.
Determine how to successfully deliver value
Allison of Baylor Scott & White Health said futurists predict that by 2020 hospital consolidations will result in only 50 large, regional systems throughout the United States. He said the systems that survive will be well capitalized and have high-functioning, physician-led teams that deliver evidence-based, patient-centered healthcare. In addition, they will be able to treat a higher volume of patients than in the past at lower predictable costs per episode, demonstrating consistent, measurable high quality. Most importantly, successful systems will know how to deliver value under healthcare reform by eliminating unnecessary services, better managing chronic diseases and improving coordination of care, which will help reduce costs and be better for patients as well. What does this mean for patients now and in the future? Allison noted that patients will have more choices, they'll be better informed and they'll enjoy greater convenience and ease of use.
Implement new capital strategies
Warren Skea of the consulting firm PwC said a number of factors are placing tremendous pressure on hospitals' and health systems' capital. This includes declining reimbursements, wasteful healthcare spending and new healthcare entrants that consumers want such as retail clinics, smartphone applications and telehealth services that are threatening traditional healthcare revenues. He said to succeed in this environment, health systems should analyze not only traditional financial criteria but also strategic decision points that shape the organization's direction, such as market positioning and whether to be aggressive, neutral or defensive in implementing new strategies. An example was a large payer that pursued an aggressive strategy to capitalize on its existing relationship with four large, multi-specialty physician group practices. The payer consolidated the groups into a single organization, which created a sustainable business model for the long term and significantly increased its presence in its primary market.
To obtain a copy of Taylor's white paper, contact Cynthia Tucker Cynthia.Tucker@dukerealty.com or call 317-808-6900.
Tags: Affordable Care Act, Architecture, Facilities Management
Posted February 13, 2015
More Articles: