Subscribe Now
Keep up with the latest news with our magazine and e-newsletter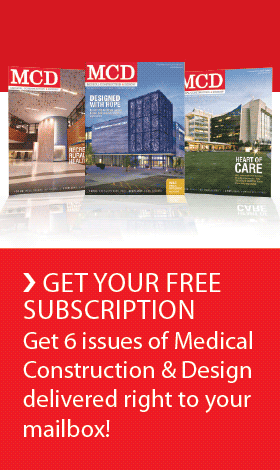 Subscribe to our E‑Newsletter
ARLINGTON, Va. — Gilbane Federal announced the company has been awarded four major medical facilities projects for a total of $120 million. These four projects are design-build construction task orders at multiple locations around the United States. Highlights of these projects are featured below.
Gilbane Federal has been awarded a task order by the Albuquerque District Corps of Engineers to construct a new medical clinic to replace the existing clinic at Holloman Air Force Base, valued at approximately $52 million. The new clinic is 98,899 gross square feet plus a 2,227-gross-square-foot ambulance shelter. This facility will be a modern, world-class healthcare facility that complements the natural New Mexico landscape and surrounding buildings. This task order provides design-build and initial outfitting services to the Air Force Medical Service via the Little Rock COE Design-Build Initial Outfitting Multiple Award Task Order Contract.
For the Naval Hospital Oak Harbor, Gilbane Federal has been awarded a $36.6-million task order by the U.S. Army Engineering and Support Center, Huntsville, (COE) under a Medical Repair and Renewal MATOC. The project requires design and renovation of 55,000-gross-square-foot single-story existing Women's Health Clinic, Nursery, Birthing Center (Labor and Delivery Unit), Physical Therapy Clinic, Aviation Medicine Clinic, Medical Home Port Clinic, Immunizations Clinic, Pediatrics Clinic, Ortho/General Surgery Clinic, Operating Rooms, Central Sterile Area and associated common areas, mechanical, electrical and communication rooms at the Whidbey Island facility in Northwest Washington.
The Gilbane subsidiary was also awarded an $18.3-million task order under the Air Force DBIO MATOC by the Little Rock District, to renovate the outpatient clinic at F.E. Warren Air Force Base, Wyoming. This task order includes the renovation design, construction and outfitting of the F.E. Warren Clinic. The former one-story inpatient base hospital has been transitioned to an outpatient clinic. Gilbane will modernize the facility and rightsize select areas to accommodate new technologies, evolving medical practices, staffing changes and mission changes. This project will correct space constraints, disjointed operations and an antiquated layout that have resulted in poor functionality in many locations.
Finally, the company was selected to perform a $12.8-million task order by the Ft. Worth District, COE, to construct Hyperbaric Services as an addition to the existing San Antonio Military Medical Center. With the consolidation of military inpatient medical services in San Antonio, Texas, to SAMMC, the Air Force is relocating its hyperbaric chamber and ancillary services to SAMMC. This task order provides design-build and initial outfitting services to the Air Force Medical Service via the Little Rock District, COE, DBIO MATOC. The project consists of 12,700 square feet of addition and 500 square feet of renovation consisting of a multi-person hyperbaric chamber and all necessary ancillary spaces.
Posted February 2, 2015
More Articles: