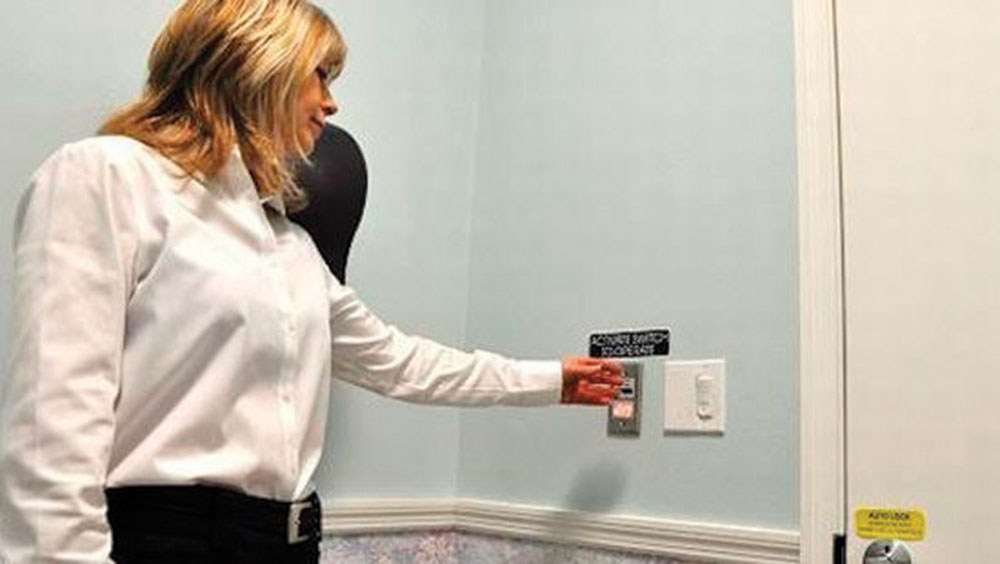 To minimize contact with highly contaminated hardware such as doorways to soiled equipment rooms, healthcare facilities need to budget for motion-controlled hands-free door openers at key locations.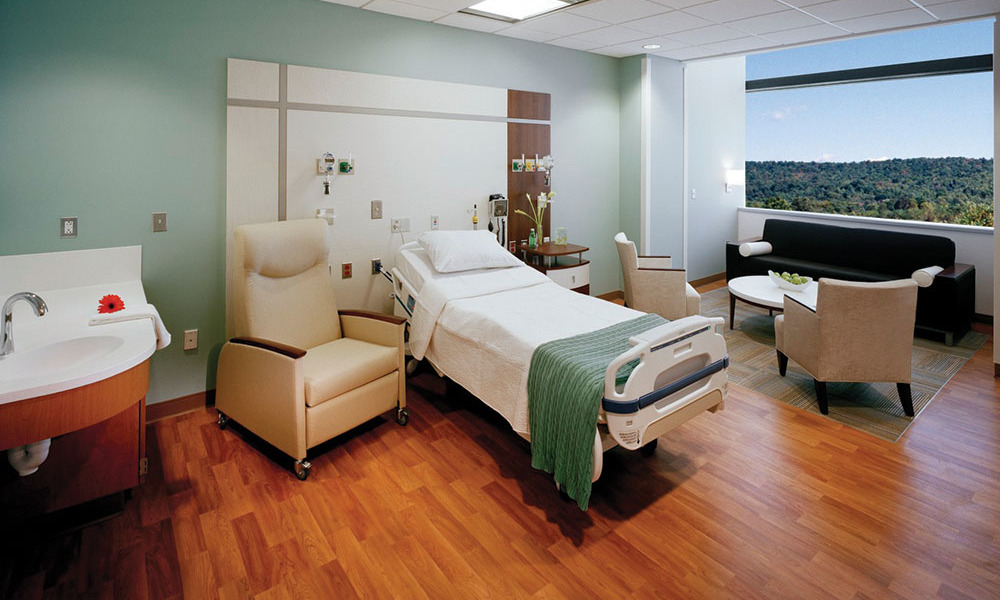 Strategic placement of the hand-washing sink in Jersey Shore University Medical Center enables nurses to visualize the sink upon entering the room, while maintaining sight lines on patients during hand-hygiene practice. Woodruff Brown Photography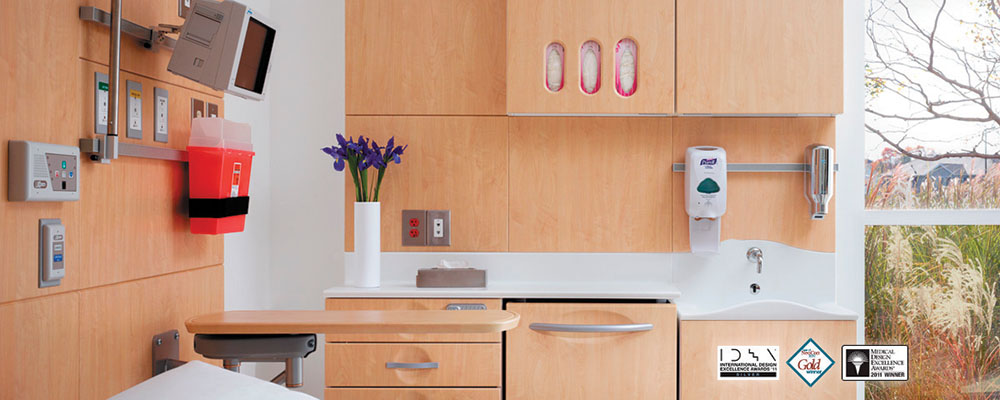 This elevation efficiently addresses several challenges designers must answer within a small footprint such as: no-splash sinks and uncluttered work surfaces for sterile prep, as well as simplified access to PPE equipment and safe access to biohazard waste disposal.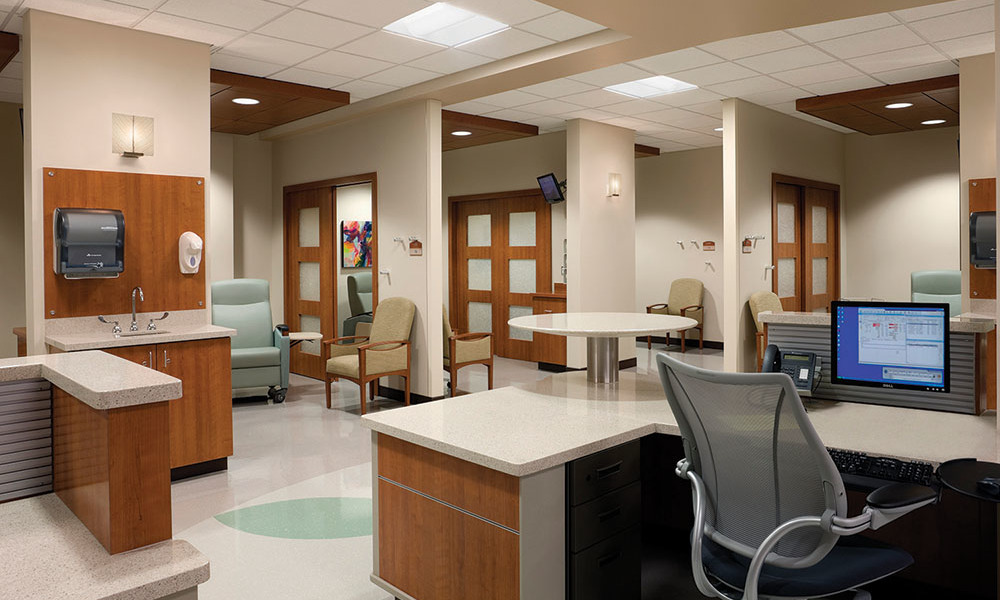 Sink locations for both clinicians and family members in key circulation points at Comanche County Memorial Hospital, Leah M. Fitch Cancer Center in Lawton, Oklahoma can impact clinical efficiency and patient safety. Aker Imaging
◀
▶
Subscribe Now
Keep up with the latest news with our magazine and e-newsletter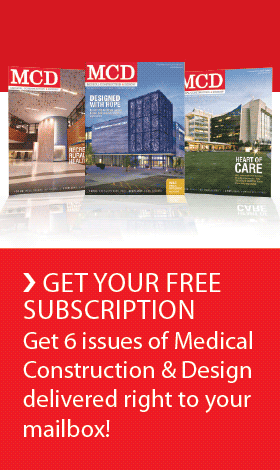 Subscribe to our E‑Newsletter
By Laurie Waggener
Infection and its prevention have been headline news for months as the deadly Ebola virus arrived in the United States ultimately killing two of its victims and infecting several caregivers. While grave public concern had pundits dispensing questionable medical advice and politicians making curious decisions, the medical community from the Center for Disease Control and Prevention to clinical staff across the country to medical planners and healthcare designers were carefully reviewing infection control policies, protocols and their implications.
Even as national anxiety about Ebola abates, people within the healthcare community are taking advantage of this renewed awareness of the importance of prevention measures to educate each other, as well as the broader public on infection control. In medical settings of all varieties, infection transmission prevention is a constant, serious concern. Planners and designers are on the frontlines in the effort, working with clinicians and facilities staff on ways to improve prevention from pre-design programming through specification.
At the pre-design stage, the medical planning team is tasked with developing a program to accommodate the scope of the hospital's infection control goals. Whether it is as basic as providing sufficient numbers of well-located sinks or as complex as accommodating a biocontainment unit, infection prevention has space implications.
Proper hand hygiene — first defense
Good hand hygiene is one of most basic yet effective means of reducing the spread of infection. In "The Important Role of Sink Location in Handwashing Compliance and Microbial Sink Contamination," a 2014 study in the American Journal of Infection Control, the authors investigated how sink location and visibility influences hand-washing and microbial contamination detected on clinical sinks in three pediatric intensive care units. They concluded the visibility of sinks directly impacts hand-washing frequency and duration and also has an impact on levels of bacterial contamination on and around the sink area.
In planning for biocontainment units there are not only spatial requirements but also the requirements for effectively compartmentalizing the unit from other areas in the facility. Upfront planning entails locating demising partitions, in addition to segregating the unit ventilation from shared ventilation exchanges.
The recent Ebola outbreak has presented another set of facility concerns with the need for separate spaces for donning and doffing protective gear as detailed in the revised CDC guidelines, "Guidance on Personal Protective Equipment To Be Used by Healthcare Workers During Management of Patients with Ebola Virus Disease in U.S. Hospitals, Including Procedures for Putting On (Donning) and Removing (Doffing)."
Anterooms provide a practical solution but their number is most often limited to a certain percentage of patient rooms and if there is an anticipated need for more anterooms that has a major impact on square footage.
Another prevention consideration involves the disposal of contaminated waste. Determining "follow the process flow" pathways for safely storing and exiting waste is a primary programming issue for planners working with environmental services.
Having immediate access to all the personal protective equipment before staff members enter the patient room is critical. Personal protective equipment takes up space; the design challenge is to make it easily accessible. Moreover, there is a strong correlation between efficiency and patient safety. For recent projects at Ocean Medical Center and Houston Methodist Hospital, surveys of "super users" regarding supplies they need most helped guide the design. This degree of coordination takes time but it can be part of an iterative process: listening to feedback, reporting the findings and then getting back to the users with the findings in order to further guide the design.
One of the issues in accessibility is the need to accommodate staff — human beings of various sizes. Reach heights are key. In designing for efficiency, commonly used equipment is located in a middle height area. The least used equipment could be stored high or low. There's a reason why the middle shelves in a grocery store have the highest premium; they are the most valuable real estate because of being the most accessible.
Factoring in design solutions
The next level of refinement measures design solutions against the latest infection-prevention literature, and then pushes beyond the published findings with new interventions. For example, improving hand hygiene behavior with the number and location (including sight lines) of sinks is one aspect. Another is specifying plumbing fittings and other high-touch surfaces that are easily cleaned. The surfaces get contaminated on such a frequent basis that they will remain contaminated most of the time unless it is easy to arrange additional cleanings with operations. Could daily surface cleaning be increased to twice a day, or twice a shift?
Nurses know they need to wash their hands to protect the patients, but they inadvertently touch the sink or other surfaces, and those surfaces are full of germs. Antimicrobial surfaces such as antimicrobial metals are a move in the right direction but they have not been tied to a successful reduction in infections acquired in the hospital. To date, antimicrobial metals require a minimum two-hour contact time with an organism before disinfection can fully occur on the surface — because they don't kill on contact, there is inevitably some biofilm that remains. Visitors who have touched a door knob and then touched their eye may think the surfaces are clean, but in fact have become contaminated.
The recent study, "The role of facility design in preventing the transmission of healthcare-associated infections: Background and conceptual framework," published in Healthcare Environments and Research Design indicates a serious need to design for "no touch" and for the specification of materials that are easily cleaned per facility protocols.
Moving forward from this research, manufacturers are designing for easy access to sanitation wipes, similar to the hotel accommodations for Kleenex boxes near sinks. Key work surfaces, such as areas adjacent to sinks, in med-prep areas, anywhere where clinicians need a sterile surface, they can find hospital-grade surface wipes. The design challenge is how to package and place them to optimize use.
Infection prevention protocols and best practices are not just the responsibility of clinical staff, maintenance staff has a huge role to play in keeping spaces and equipment sanitized. Specifying easily cleaned equipment, flooring and hardware which meets chemical compatibility with facility cleaning agents makes maintenance easier, as does minimizing or avoiding the use of upholstered furniture in patient areas.
Nonetheless, there are issues associated with sanitizing surfaces. While there are numerous studies documenting the importance of mechanical action and thoroughness in cleaning, there are no standardized measures or established cleaning protocols regarding the specific quantity of rubbing cycles required for proper surface disinfection. Early coordination with maintenance and operations can inform material specification for sanitation and infection transmission prevention.
While the recent Ebola scare put the general public on alert, the healthcare community is continually pursuing more effective ways to control infections. For medical planners and healthcare architects taking a holistic view of the facility planning process from initial programming to specification and post occupancy, research studies provide the design team and its clinical and operational collaborators with the multiple opportunities to improve prevention. Organizations including the CDC, ASTM International and the Facility Guideline Institute regularly provide updated information on protocols, best practices and standards. The challenge is daunting but dedicated, multidiscipline teams are responding with rigor and ingenuity.
Author: Laurie Waggener
Laurie Waggener, RRT, IIDA, AAHID, EDAC, is WHR's research and evidence-based design director. She is a participating member of the Health Guidelines Revision Committee for the Facility Guidelines Institute.
Posted February 10, 2015
More Articles: