Subscribe Now
Keep up with the latest news with our magazine and e-newsletter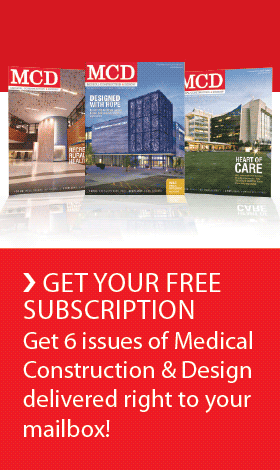 Subscribe to our E‑Newsletter
TORRANCE, Calif.  — Construction is complete on Torrance Memorial's new $480-million Melanie and Richard Lundquist Tower. McCarthy Building Companies, Inc. served as general contractor of the hospital facility.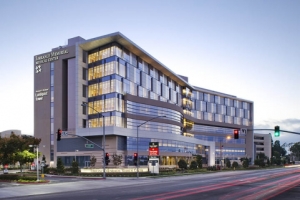 Located on an existing medical center site in Torrance, California, the Lundquist Tower replaces Torrance Memorial's original facility built in 1971, which no longer meets state seismic regulations for an acute care facility. The new tower utilizes a buckling restraint braced-frame structure, and meets California's strict seismic requirements for both the structure, as well as its contents.
The 390,000-square-foot patient tower features the latest medical technologies, 256 private rooms and 18 surgical and interventional treatment rooms, including the South Bay's first hybrid operating room. The basement in the seven-level patient tower houses a central utility plant and a tunnel connection leading to the existing hospital facility.
Designed by HMC Architects, the replacement hospital serves as the new front door of the medical center, and the centerpiece of the campus. A water feature greets patients at the tower's entrance and leads to a bright and expansive lobby. An indoor-outdoor cafeteria, gift shop, admittance services and a spiritual room are easily accessible on the first floor.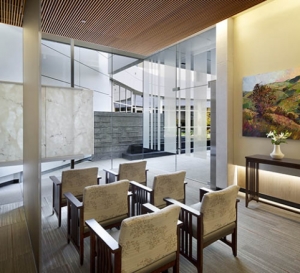 In addition to providing state-of-the-art medical technology, the tower's patient-centered design addresses the comfort of visiting family members by incorporating family friendly lounges and overnight spaces. Expansive windows are located throughout the patient rooms, waiting rooms and pre- and post-operation areas to take advantage of natural daylight and views, and outdoor gardens between the new and existing facility provide a serene and healing space for patients, visitors and staff.
The tower's exterior skin is a combination of metal panel, precast concrete, plaster and curtainwall. The variety of materials for the tower's façade not only responds to the correct solar orientation to reduce energy consumption, but it also gives the tower a contemporary and elegant aesthetic.
Incorporating sustainable features equivalent to the same standards required of a Leadership in Energy & Environmental Design Silver-certified structure, some of the tower's eco-sensitive design features include individual temperature controls to reduce energy, a white roof to minimize heat gain, low-level perimeter building lighting to reduce light pollution, recycled content and environmentally friendly finishes, as well as the use of water-efficient landscaping and a healing garden to reduce the heat island effect from excessive use of hardscape. McCarthy implemented sustainable construction methods throughout the project, including recycling approximately 80 percent of construction waste, maintaining proper indoor air quality and utilizing local labor.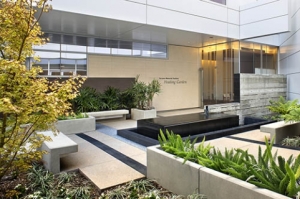 "Built on an operational hospital campus in an urban site with limited access, construction was multi-phased to alleviate disruption to the operational facility," said McCarthy Project Director Erik Chessmore. "McCarthy also created a detailed communication and logistics plan and closely coordinated with the hospital and subcontractors throughout the project."
In order to provide the design team with constructability input efficiencies, along with a progressive schedule and budgeting information, McCarthy used a combination of delivery systems to construct the new facility. Design-assist was incorporated to deliver the mechanical, electrical and plumbing systems, structural steel and framing, while design-build was used for the exterior skin, elevators and fire protection system.
"The design-assist and design-build delivery methods aligned subcontractors and designers early in the design stage to identify project risks and develop solutions for issues that would normally surface in the field on a traditional design-bid-build project," said Chessmore. "This early collaborative team approach combined with the use of virtual design and construction technology and common team goals resulted in building efficiencies contributing to the project's overall success."
Construction technology used on the Torrance Memorial project included BIM 3-D project modeling aiding in clash detection and coordination of the extensive overhead and in-wall MEP systems, as well as seismic bracing and exterior skin systems. The model was further leveraged to review upcoming work with the California Office of Statewide Health Planning and Development inspectors, to coordinate logistics with facility management and to communicate the most cost-efficient methods of implementing design changes with the owner and designers.
McCarthy also developed a custom electronic plan room that hosted the BIM 3-D model, contract documents, RFI responses, submittal information, in-wall coordination elevation and closeout documents all hyperlinked to the building plans. This documentation was turned over to the hospital to assist with management of the building post construction.
The use of construction technology also aided in quality construction and ensured work was installed correctly the first time. For example, survey equipment loaded with coordinated design data was used to quickly, easily and accurately check work as it was being installed. This safeguarded compliance with construction tolerances and the coordinated model, and eliminated rework due to human error.
"McCarthy's self-performance of the structural concrete work further increased budget and schedule certainty by allowing for greater control through the first half of the project," Chessmore explained. "Aggressive schedule management, entailing daily schedule improvement reviews by our lead superintendent with project team support, was also a crucial strategy. This process ensured schedule advancement opportunities were constantly identified and captured, and ultimately the project was completed significantly ahead of schedule."
Other project team members include Pfeiler & Associates, civil engineer; KPFF Consulting Engineers, structural engineer and TMAD Taylor & Gaines, MEP engineer. Major subcontractors involved in the design-assist process include apparelli/KHS&S, drywall; Control Air, HVAC; Morrow Meadows, electrical and low voltage; Murray Company, mechanical piping and plumbing and Herrick, structural steel.
Tags: Construction, Design-build, LEED Silver
Posted January 12, 2015
More Articles: