Subscribe Now
Keep up with the latest news with our magazine and e-newsletter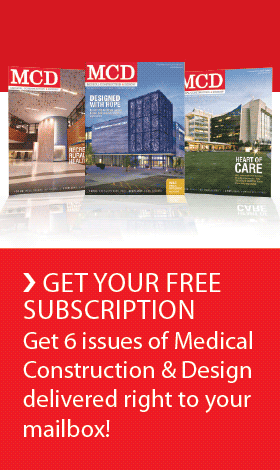 Subscribe to our E‑Newsletter
PHOENIX, Ariz. — Kitchell has been engaged to improve shell space it built three years ago at Phoenix Children's Hospital as part of the $356-million tower project. The $10-million build-out comprises design and construction of a 45,000-square-foot, 48-bed medical/surgical unit in existing shell space on the ninth floor of the main tower at 1919 East Thomas Road. HKS, the architect for the tower, also designed the new unit. Increased capacity addresses the pediatric population boom currently underway in Arizona.
Kitchell's past experience with the campus, knowledge of the scope of work and relationships with hospital staff members are assets to the construction project. For example, using the BIM Kitchell initially created for the tower will expedite the submittal phase and facilitate Lean construction processes. The team subscribes to an Integrated Project Delivery philosophy, working together seamlessly with the hospital and HKS.
When building a healthcare facility, a powerful tool in the process is creating life-size mock-ups. Those working in the building can actually experience their physical work environment, moving in and around it as they would in "real life," and then providing valuable input to the builder in the moment. During the summer, Kitchell built mock-ups of the east half of the central core on the ninth floor of Phoenix Children's (Kitchell built the shell space in 2011 as part of the new 11-story addition). These spaces included three patient rooms, a nursing station, a nurse manager's office, staff lockers, lactation rooms, touch-down stations, showers, soil hold and soil clean rooms, a meds room, pharmacy work area, staff toilets and housekeeping.
The spaces were not only reviewed by end users—users–nurses, doctors, facilities personnel and administrators–but a team of them literally "played" in the space, physically moving feather-weight desks, walls, cabinets, etc. to try out myriad configurations. Modifications were collaboratively made to a dozen rooms "on the fly" and were immediately incorporated into the design. Engaging staff with the process was a tremendous success and instilled excitement about their future work environment.
Project completion is scheduled for December 2015.
Photography by Blake Marvin/HKS.
Posted January 21, 2015
More Articles: