Subscribe Now
Keep up with the latest news with our magazine and e-newsletter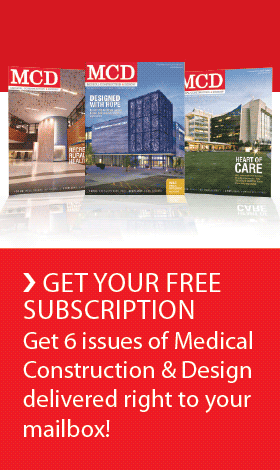 Subscribe to our E‑Newsletter
STANFORD, Calif. — Signaling a major milestone in the progress of its $1.1-billion hospital expansion, Lucile Packard Children's Hospital Stanford held its "topping off" ceremony on Jan. 14 to mark the completion of the structural phase of its 521,000—square-foot expansion.
The original hospital, with 293,000 square feet, opened in 1991, and is one of the youngest, most successful children's hospitals in the United States. Now, work begins on the interior of the new main building, which will open for patients in early 2017. The expansion nearly doubles the size of the existing facility, and allows for up to 361 beds onsite, including private-patient rooms, family friendly amenities, advanced technologies, expanded clinics and an environmentally sensitive design.
"More than 30 years ago, Lucile Salter Packard had a vision to create a world-renowned hospital with the sole focus on caring for children and their families," said Christopher G. Dawes, president and CEO of Lucile Packard Children's Hospital Stanford and Stanford Children's Health. "We're proud to take that vision forward with a hospital that will bring our award-winning and family focused care to the more than 1-million children who live in the region and for the thousands of families who come to us from all over the world."
The "topping off" ceremony is part of a longstanding tradition in construction, one that occurs when the highest piece of steel is placed on the new building's frame. More than 1,200 construction workers, donors, hospital staff, executives and medical staff were among those who signed the beam before it was hoisted by a crane to its position at the top of the building.
"The Lucile Packard Children's Hospital Stanford expansion is a reflection of the forward- thinking transformation that our Stanford Medicine faculty physicians strive to bring to health care every day," said Lloyd Minor, MD, dean of the Stanford School of Medicine. "The innovative and sustainable design enhances our ability to streamline the process of bringing new therapies and innovative treatment strategies to the children and expectant mothers who need it most."
Posted January 23, 2015
More Articles: