Subscribe Now
Keep up with the latest news with our magazine and e-newsletter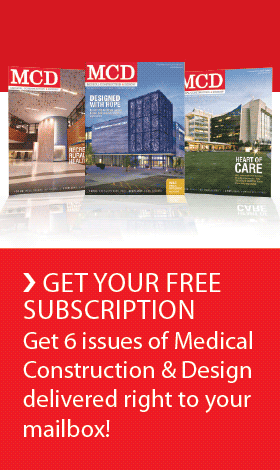 Subscribe to our E‑Newsletter
RICHMOND, Va. — Virginia Commonwealth University Health System recently broke ground on the new Virginia Treatment Center for Children pediatric psychiatric facility that will provide increased access to clinical care for children from across the state.
The new state-of-the-art pediatric behavioral health center will replace the current 50-year-old facility located on VCU Medical Center's downtown campus, and will feature technology and architectural designs tailored to creating a therapeutic environment. Patient areas were designed to meet the age-specific, special needs of children and adolescents and to support the needs of families.
Slated to be completed by fall 2017, this 32-bed facility will be almost 120,000 square feet and will house inpatient units, outpatient behavioral health office, a Children's Mental Health Resource Center and the Commonwealth Institute for Child and Family Studies, the research arm of VTCC. The facility will be constructed on the Brook Road Campus of Children's Hospital of Richmond at VCU.
VTCC provides services for children and adolescents with mental health issues ranging from depression and ADD/ADHD to anxiety, autism spectrum disorder and behavioral problems at home and school. Last year, VTCC had approximately 950 inpatient admissions for children between the ages of 3 and 17, and more than 7,600 outpatient visits.
The Virginia General Assembly commissioned a study to explore the need for the facility in 2012, and authorized funding of $56 million in 2013. The project received approval for a Certificate of Public Need earlier this year.
Statistics show that approximately 85,000 to 105,000 children and adolescents in the commonwealth are in need of mental health treatment. At times, children who require inpatient care — those with the most severe problems — cannot be admitted due to a shortage of beds across the state. The new facility will provide additional beds for inpatient care, as well as expanded outpatient capacity.
"Through the work of many advocates, including parents of children served at VTCC, the General Assembly recognized the significant need for more access to children's mental health services," said Joel Silverman, chair of the Department of Psychiatry in the VCU School of Medicine. "VTCC has been responding to these needs for more than 50 years and serves the commonwealth not just through excellent clinical programs, but also through advancing research and training a full range of professionals."
Children served by VTCC come from across Virginia, with almost half coming from outside the Greater Richmond area. With telemedicine programs, VTCC physicians can reach pediatricians as far as Southwest Virginia.
VTCC offers crisis stabilization, evaluation and short-term treatment on an inpatient basis. Outpatient services include evaluation, medication management and therapy for the children with mental health issues and their families. The new facility will allow VTCC to develop new programs and services to better meet the needs of Virginia's families.
Cannon Design is the architect on the project, with program management from Jones Lang LaSalle and construction by Balfour Beatty Construction.
For more information on the facility and for answers to frequently asked questions, visit chrichmond.org/newVTCC.
Posted December 11, 2014
More Articles: