Subscribe Now
Keep up with the latest news with our magazine and e-newsletter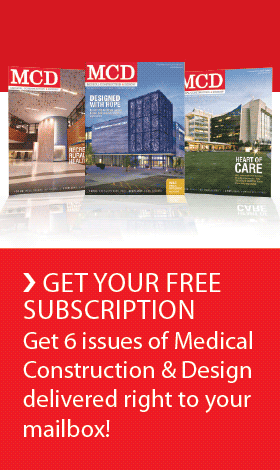 Subscribe to our E‑Newsletter
FULLERTON, Calif. — The design-build team of Petra Integrated Construction Strategies, McCarthy Building Companies, Inc. and Taylor Design recently completed construction of the St. Jude Medical Center Northwest Tower in Fullerton, California. The new $228-million (construction cost) healthcare facility, which opened in November 2014, was completed five months early and more than 10 percent under the original construction budget.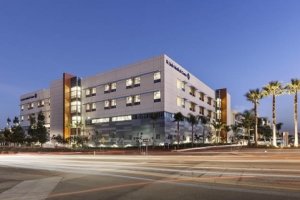 Located on the northern side of the St. Jude Medical Center campus at Bastanchury Road and Harbor Boulevard, the new tower replaces an existing tower and meets California's strict seismic requirements for both the structure, as well as its contents.
An integral part of the multi-phased master plan at the medical center, the project included construction of a 200,000-square-foot, 4-story acute care building and a 14,000-square-foot central utility plant. A bridge was also constructed at the new tower's fourth floor connecting it to the existing hospital.  Prior to construction of the tower, McCarthy performed seven months of major utility work and demolished an existing medical records building and parking garage. New surface parking and street improvements were also conducted. Along with architect International Parking Design, McCarthy added 215 parking spaces to an existing 455-car parking structure the firm built in 2004.
"The Northwest Tower displays design function, as well as incorporates evidence-based strategies for patient services to reduce stress, length of stay and enhance communication between caregivers and patients. These strategies not only provide an optimal care environment for healing, but also support St. Jude Medical Center's commitment to patient dignity, the human spirit, and creating healthy communities," explains Neal Rinella, Taylor Design's principal-in-charge.
"Two primary uses with different requirements are components of the Northwest Tower addition. These include technologically cutting-edge surgical suites, as well as spaces for patient care, healing and recovery," Rinella further commented.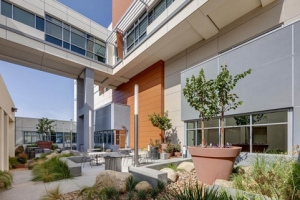 Supporting the latest in medical care, the 120-bed tower features computers for medical use in every patient room, 14 operating rooms with "smart" surgical suites, the newest innovations in minimally invasive and robotic surgeries and advanced information systems allowing immediate clinical collaboration. Further cutting-edge technology includes a neurosurgery suite with an intra-operative MRI integrated with BrainLab's newest technology; a cardiovascular hybrid room with robotic C-arm; a cardiovascular suite; dedicated orthopedic rooms and integrated general surgery suites.
The lower-level exterior is clad in horizontally stacked metal panels with two finishes, pierced by small punched windows. The window grouping at the third floor features a 'DNA band,' with varying glass widths and multiple colors wrapping the building. This band brings generous light into the building, critical for a patient's sense of well-being.
Moving upward, large patient room windows establish the basic design rhythm. Terra Cotta sun-controlling window shades provide interior shade and animate the elevation with the sun's movement. An exterior courtyard healing garden at the fourth floor provides calming views from patient rooms and offers a respite for patients, visitors and staff. This large garden is visible through a floor-to-ceiling glass curtain wall at each end of the space.
In keeping with the social sustainability goals of the project, the new tower incorporates many environmentally sustainable features, such as an energy-efficient building envelope, which incorporates high-performance window glazing, sunshading and well-insulated walls and roof. Mechanical systems also improve energy efficiency by utilizing a 100 percent outside air system with heat recovery that yields superior indoor air quality and infection control.
"To meet the challenges of this state-of-the-art hospital, we have utilized the latest advancements in design and construction technology and have effectively harnessed the talents of an experienced and collaborative team through integrated design-build delivery," said McCarthy Project Director Holly Cindell.
"The progressive design-build form of delivery implemented on the St. Jude Tower included IPD 'lite' terms and conditions with unique contractual incentives for the design team, contractors and subcontractors while still providing the certainty of a Guaranteed Maximum Price," explains Cindell. "To receive these incentives, the project team needed to meet the owner's goals for safety, budget, design, facility satisfaction, quality and schedule."
A major challenge the team overcame was the original proposed location of the project. "Due to operational disruptions and the cost of phased construction, the project required a fresh approach," said Cindell. "This was achieved with a new site location and revised scope that met all program needs, provided the opportunity for expanded services and advanced technology and met the established budget and original schedule."
The St. Jude Medical Center Northwest Tower project also benefited from the latest virtual construction and design technology. For example, BIM 3-D, 4-Dand 5-Dwere successfully used to tie the model to constructability, cost and schedule.
Furthermore, Bluebeam Software solutions were used early in the project's design and coordination phases to create an electronic plan room complete with all the basic design and construction documents. As the team adopted more advanced features within the software, the plan room evolved into a fully hyperlinked central hub of valuable project information including submittals, RFIs, coordinated models, schedules, forms, interactive virtual mock-ups, live quality control punchlists, exterior and in-wall coordination, interior build-out and interference wall plans, mock-up lessons learned and documentation and location-specific links to photos. The electronic plan room was also available in the cloud where it was shared with subcontractors and designers and synchronized to the various networks, field kiosks and iPads giving the entire project team immediate access to complete, up-to-date and reliable information.
Utilizing this innovative delivery approach and forward-thinking technology, the project team effectively decreased the total project cost by 10 percent and completed the project under the original budget in spite of $12 million in added scope. Furthermore, this was all accomplished while meeting strict hospital, local and state requirements and bettering the project schedule by five months, even with a nine-month externally induced project delay associated with the entitlements.
"Our team has worked together on other projects, but this has been the most collaborative design and construction effort that Petra ICS/St. Joseph Health System has achieved over the duration of our existence," said Jim Bostic, vice president of operations for Petra ICS. "It is a model project for best practices in the use of virtual design and construction and the implementation of the design to construction process."
Image courtesy of RMA Photography.
Photo Courtesy of McCarthy Building Companies.
Posted December 5, 2014
More Articles: