Subscribe Now
Keep up with the latest news with our magazine and e-newsletter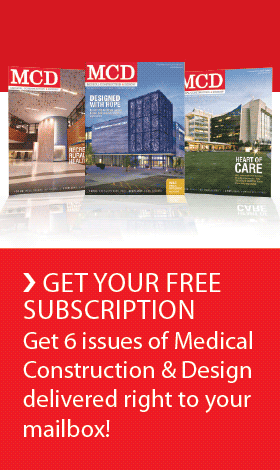 Subscribe to our E‑Newsletter
By Sheila J. Bosch
Top Trends Driving Design of Facilities Catering to Women
Women want more. With increased demands on their time and a barrage of information at their fingertips, women expect personalized, top-notch clinical care with seamless coordination at a reasonable cost, and in a convenient location. Since women make the majority of household decisions regarding healthcare, women's services across the continuum of care are an investment worth making. In order to be competitive, health systems must ensure they appropriately respond to the health needs of women in midlife and in their older years. In the provider world, this has paved the way for women's centers of excellence.
When asked for thoughts on trends and the future of women's healthcare delivery, Marcia Albanese, R.N., MPH, HN-BC, director of women and children's services for Morton Plant Mease Health Care commented, "Engaging the female patient across the continuum of her life will be a priority for Morton Plant Hospital and the BayCare Health system. As the "boomer" women age, they will demand healthcare that will improve their quality of life while offering a menu of options and amenities.  Pelvic health and wellness will become an important (quality of life) sub-service line and "women-only" inpatient units will be in demand. Construction projects need to have flexible usage built in to accommodate changing patient populations. At Morton Plant, we are outfitting our C-section operating rooms to also be available for gynecologic cases so that we can flex with the needs of our female patients and their surgeons. Women will continue to drive healthcare decisions for their families and I see them being more involved in healthcare advocacy efforts in the future."
Other top trends driving design of healthcare facilities catered to the needs of women include:
Chronic & preventive care
Today's women's centers of excellence span a wide range of services and amenities. Breast cancer screening services are a rising priority, as the number of women in the high-risk age range for breast cancer is expected to increase by 50 percent over the next 15 years. Primary care is becoming more personalized, with an increased emphasis on education and health activities designed to engage women as more active participants in their healthcare. To improve chronic care, providers are becoming more accessible via computer, smart phones (with countless health apps) and home monitoring for nearly everything from obesity to depression. To drive customer loyalty, many health providers employ patient navigators to schedule appointments and follow-up care and help patients establish health goals. Preventive care is being provided in easy-to-find, clearly accessible locations to improve convenience.
Underserved women's cardiac market
Many institutions are seeking to tap into the underserved women's cardiac market through the creation of dedicated women's heart programs. Based on a study published in JAMA1, the overall lifetime risk to women for developing a cardiovascular disease such as stroke, congestive heart failure or coronary artery disease is greater than 55 percent. Heart disease is the No. 1 killer of women, and a general lack of awareness surrounding women's heart health has caused many women to delay treatment simply because they do not recognize the symptoms of heart disease. Healthcare providers able to reach this untapped and important market will likely be in a better position to contribute to improved population health and potentially lower healthcare costs for women.
Alternative care: obstetrics
Today's birth settings must be carefully designed with the patient experience in mind. Research evidence demonstrates that the physical environment can affect health-related outcomes, such as length of stay and the development of complications, and there has been a growing concern over the technological focus of many hospital-based birth settings. Therefore, women are increasingly seeking unconventional birth settings focused on a more natural, human experience. Alternative birth settings within hospitals such as home-like, ambient and Snoezelen rooms, are associated with fewer medical interventions during labor and greater patient satisfaction, with no increased risk to the mother or infant. 2
No matter the stage of life or type of service a woman is seeking, convenience, along with privacy, a facility's level of specialization and the overall nature of care provided are the most important elements of a well-planned women's care center. Women's centers of excellence must offer more than a collection of services. They require strategic siting, careful planning and good design to provide the superior patient experience women have come to expect. The design of women's healthcare facilities can go a long way toward improving staff efficiency, patients' perceptions of the care received and health outcomes.
1 Wilkins et al. (2012). Lifetime risk and years lived free of total cardiovascular disease. Retrieved on October 28, 2014 from http://jama.jamanetwork.com/article.aspx?articleid=1389613.
2 Hodnett, E.D., S. Downe, D. Walsh and J. Weston. 2010 Alternative Versus Conventional Institutional Settings for Birth. Cochrane Database of Systematic Reviews (9): CD000012.
Author: Sheila J. Bosch
Sheila J. Bosch, Ph.D., EDAC, LEED AP, serves GS&P as director of research and leads the firm's efforts to infuse empirical evidence into the design of healthcare facilities to improve the patient and family experience and reduce operating costs. She is an accomplished author and speaker in the field of Evidence-Based Design.
Tags: Architecture, Trends
Posted November 12, 2014
More Articles: