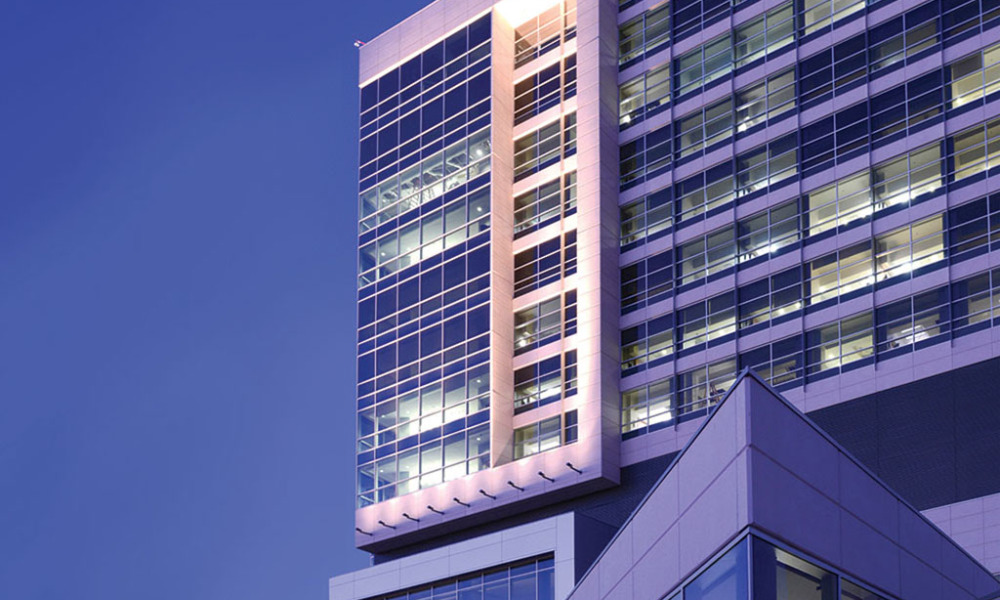 Patient rooms at William P. Clements Jr. University Hospital feature large windows, bedside remotes to control lighting, temperature and window shades, as well as videoconferencing capability.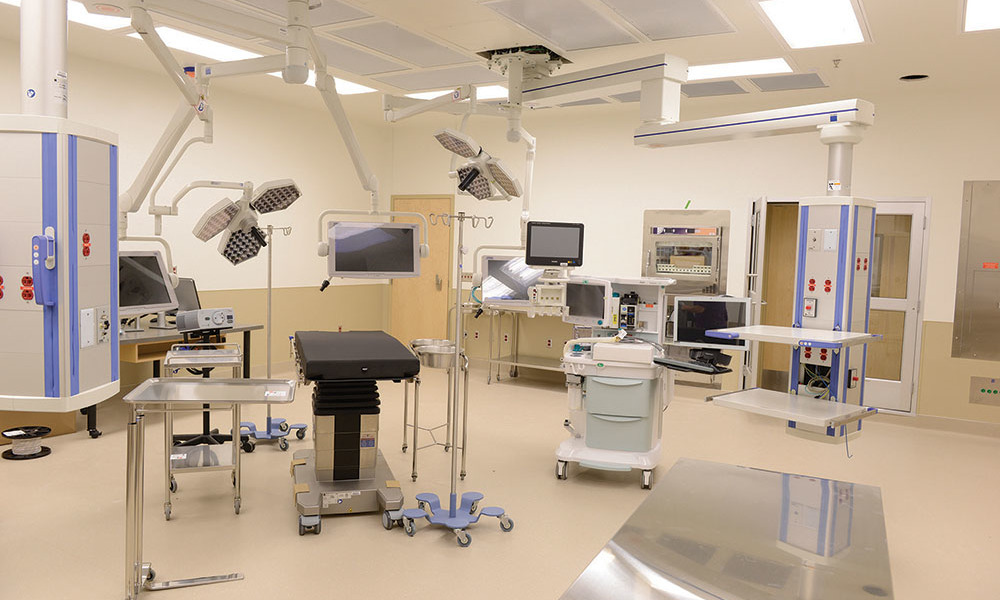 The hospital has 24 large operating rooms, providing care teams plenty of work space.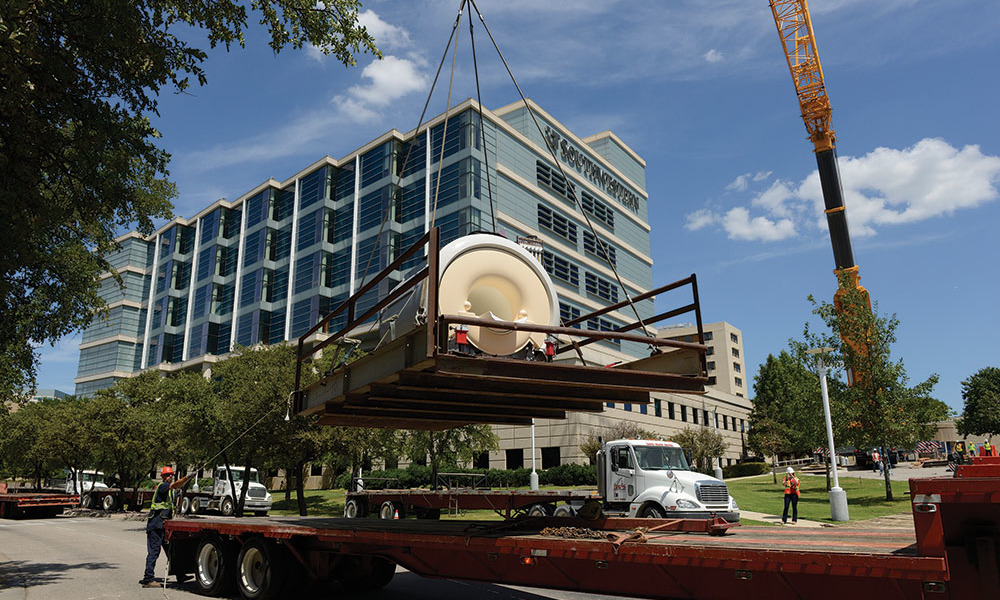 Moving an MRI machine from St. Paul University Hospital to the new William P. Clements Jr. University Hospital. Photo: David Gresham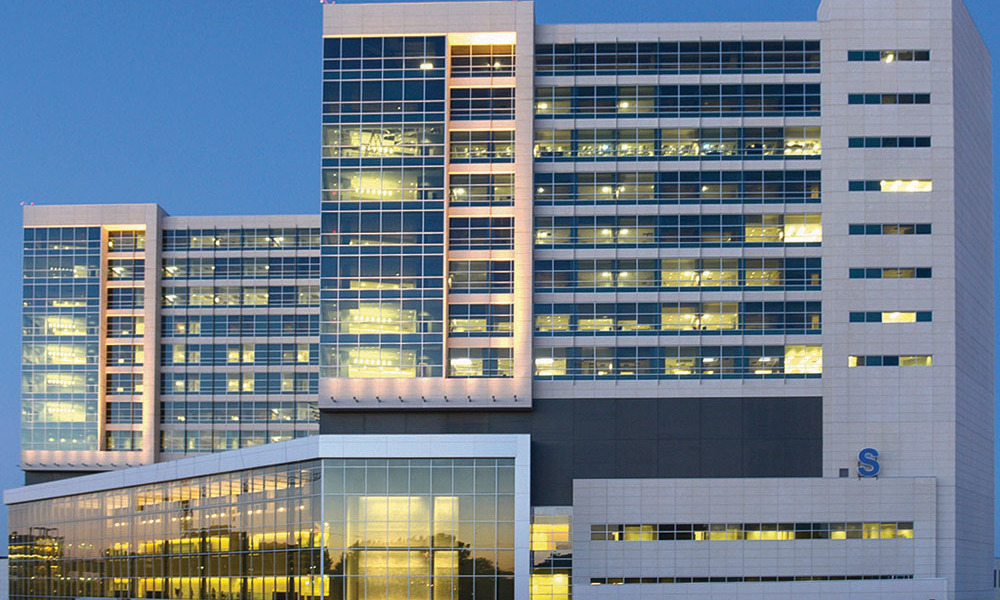 Set against the skyline in Dallas, Texas, construction of the William P. Clements Jr. University Hospital building has been completed.
◀
▶
Subscribe Now
Keep up with the latest news with our magazine and e-newsletter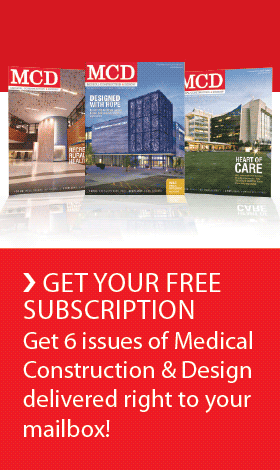 Subscribe to our E‑Newsletter
Located in Dallas, Texas, The University of Texas Southwestern Medical Center (UT Southwestern) is one of the leading medical education and biomedical research institutions in the United States. With more than 2 million outpatient visits and nearly 91,000 hospitalized patients annually, UT Southwestern has continued to expand its medical facilities to accommodate demand. As part of its expansion effort, a new $800-million facility  — The UT Southwestern William P. Clements Jr. University Hospital  — was recently completed.
The new hospital was designed with a focus on the most effective and innovative ways to enhance the patient's medical care, experience and safety through the integration of UT Southwestern's three-part mission of top quality medical care, research and medical education.
Comprised of 12 floors and 460 single-patient rooms, the 1.3-million-square-foot medical facility also includes:
24 surgical suites
72 adult ICU rooms
30 neonatal ICU rooms
40 emergency department rooms
16 labor and delivery rooms
18 procedure rooms
2 MRIs
Multiple IR room and cath lab rooms
A cafeteria, dining room and expansive atrium
In addition to being fast tracked, the new William P. Clements Jr. University Hospital was a prime project for Lean construction practices, including pull planning, use of BIM, multi-trade prefabrication and modular construction of patient bathrooms.
Value of pull planning
A pull plan is typically prepared by the team responsible for doing the work. The engineers, architects, owners and designers are responsible for a design phase — specialty contractors and general contractor for the construction phase.
Pull planning began mid-stream, posing a challenge that was overcome through collaboration among subcontractors. Instead of technical, weekly coordination meetings, the team discussed the milestones needed to reach goals.
Also, subcontractors were tasked to do what was most efficient, and collaboratively determined how to get the job done. By sharing the details and insights into their work on a daily basis, the entire team could identify potential obstacles and come up with appropriate solutions.
The communication and cooperation among the trades enabled the team to tackle any challenges and address scheduling issues in advance. With more than 1,000 people working onsite, the collaboration among the trades was critical to staying on track.
Utilizing modular construction to fast-track construction
Prefabrication was encouraged to expedite hospital construction and reduce costs. Since Hunt Construction Group was operating under a guaranteed maximum bid scope as the construction manager, Hunt was also committed to achieving savings on the project.
Three major examples of multi-trade prefab on the hospital include:
Patient room prefabricated bathrooms, referred to as pods
Utility tunnel piping racks for mechanical, electrical and fire sprinkler trades
Patient room headwalls
Patient room bathrooms
Three hundred and seventy pre-built hospital bathroom pods were manufactured offsite, transported to the site and hoisted by crane for installation in the building. Each patient room bathroom fulfilled all regulatory and medical requirements, including requirements for patient safety, cleanliness and ease of use. The pods had lavatory and shower trim installed, and all finishes completed in the bathroom.
One of the major challenges of this prefab construction was the pod manufacturer used a different system for water piping that was not included in the original project specifications. The domestic water in the pods was plumbed with cross-linked polyethylene piping, or PEX.
Early alignment between piping and other systems of the prefabricated item was crucial to overcoming challenges.
Utility tunnel piping racks: a speedy solution
An early, significant hurdle on the project was a 600-foot utility tunnel that connected the new bed tower to the central utility plant. Through that tunnel, all chilled water piping, heating water piping, fire sprinkler main and electrical conduits had to be routed from the CUP to the hospital. Connecting the piping and routing it underground required both innovative design and full collaboration.
To expedite installation, the utility piping racks were prefabricated in 40-foot lengths. Design changes were made to accommodate the prefabricated racks. Instead of having to construct the tunnel in its entirety, then lower the individual components (large-diameter piping, conduit, insulation, manpower, etc.) through small openings, the work was accomplished prior to the concrete lid being put in place on the tunnel so it did not fall under a restrictive safety classification.
The concrete tunnel flooring and the thick concrete walls were put in place but the top (lid) was left open until the utility pipe racks could be hoisted in place from above. To accommodate the formwork for the concrete lid, six more inches of height were added to the tunnel with a poured-in-place concrete lid with plywood formwork that could be wrecked out after the pour.
The result was a faster, safer and more cost-effective installation than any other conventional "stick-built" method could have provided.
Patient room headwalls
For the UT Southwestern project, the wiring and piping was prefabricated to save money and time. This also enabled outlets to be built to the same dimensions every time. The tight tolerances were important for the millwork cladding, which was pre-cut offsite to fit over the outlets.
Once the detailed design and plans for the patient room headwalls were completed, TD used a CAD-Mech package for the detailed fabrication requirements, downloaded to the plasma cutting table in the company's plant. Then the sheet metal panels were laser cut as templates for each headwall. Each opening for all the electrical outlets and the medical gas connections were also cut in the sheet metal plate. The plate was mounted to the wall stud frame and all electrical and mechanical devices were attached to the plate in the walls, tested and then installed in the patient rooms. This process ensured significant time and labor savings.
Guiding principles of Lean
Lean principles were utilized throughout this project. According to Steve Canter, P.E., of TDIndustries, the healthcare industry has a higher standard to meet in terms of both regulatory and medical requirements and the industry is willing to explore ways to speed up construction processes and contain costs. Of the most significant projects valued at more than $10 million, Canter estimates that 90 percent are utilizing Lean practices.
"It is the PDCA of our industry  — plan, do, check and adjust," said Canter. "The tools of Lean construction have been around since W. Edwards Deming first introduced this business method for continuous improvement, which revolutionized the manufacturing industry. Now, we are embracing it in healthcare construction and at every opportunity with our other commercial projects to ensure owner/developer satisfaction and bottom-line results."
Project Team: William P. Clements Jr. University Hospital
Owner: University of Texas Southwestern Medical Center
Architect: RTKL Associates, Inc.
Construction Manager: Hunt Construction Group
MEP Engineer: Smith, Seckman, Reid
Mechanical: TDIndustries
Interior Design: RTKL Associates, Inc.
Civil Engineer: JQ Infrastructure, LLC
Landscape Architect: PWP Landscape Architecture
Posted November 25, 2014
More Articles: