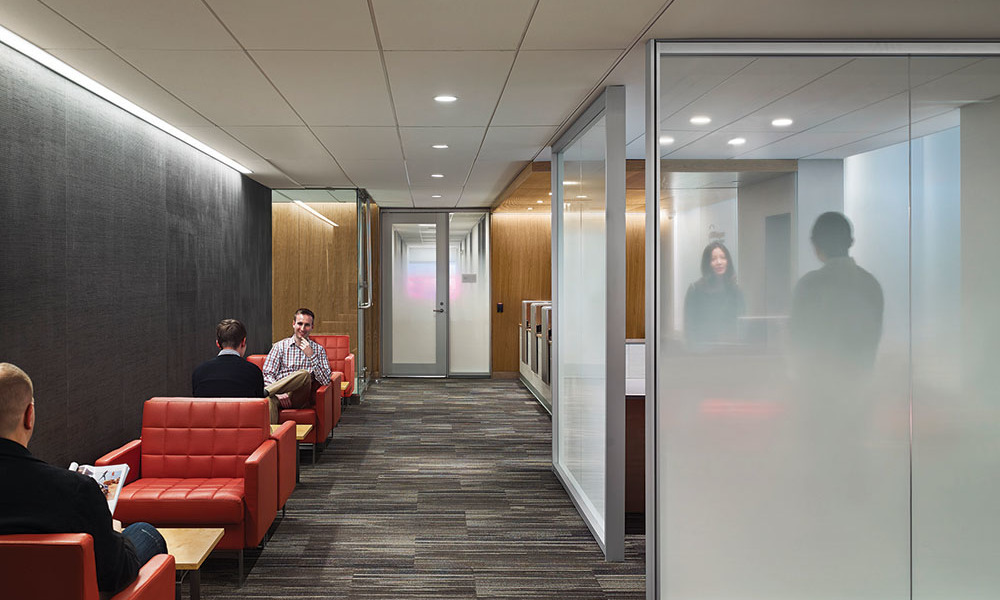 Fritted glazing at physician offices allows borrowed light to filter into clinical areas and nurses' stations.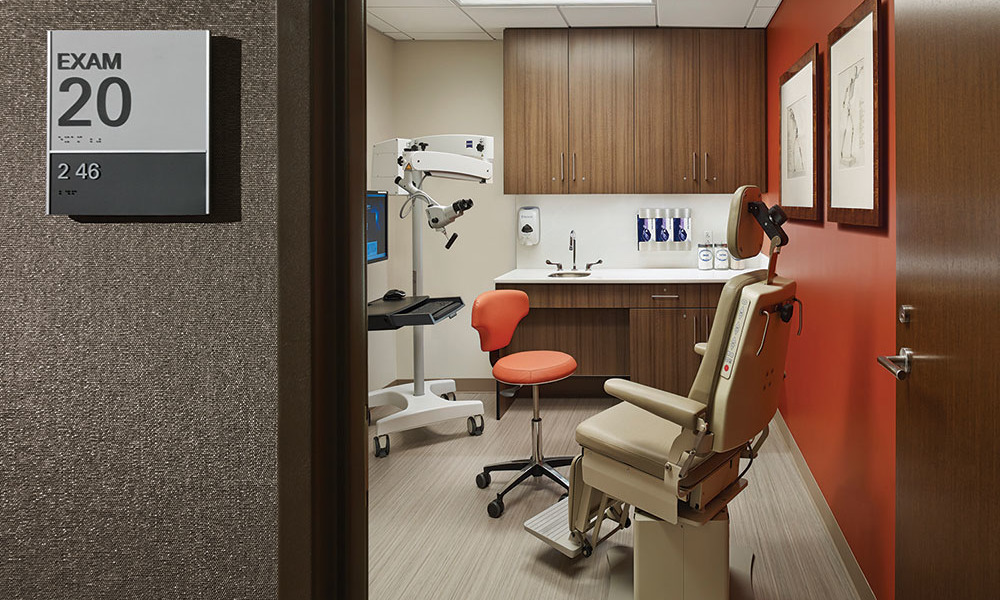 Richly colored finishes accent clinical spaces.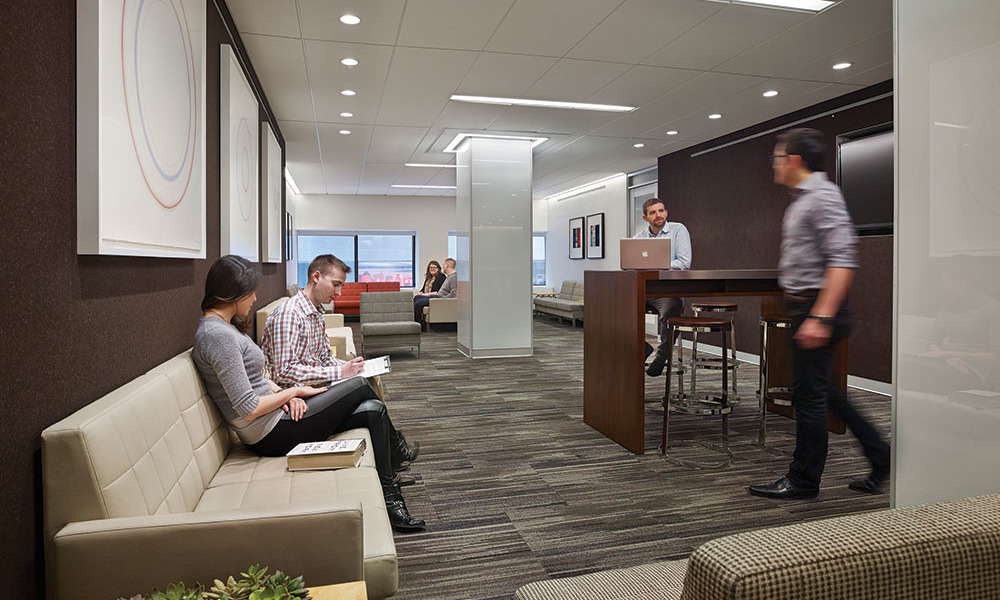 Acoustic wool wall coverings and glass-clad columns are featured in the lounge areas.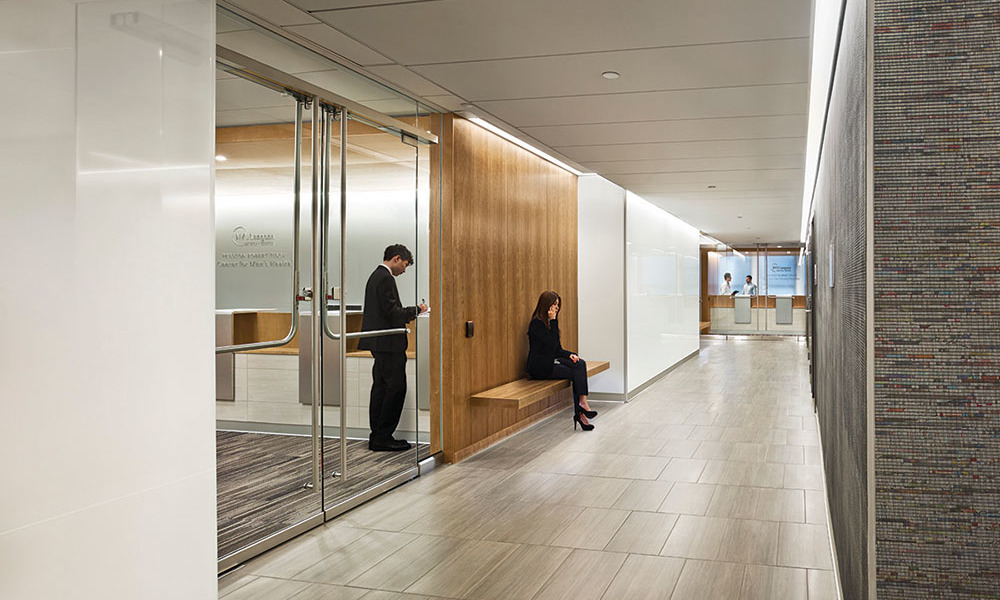 Arrival corridors offer welcoming, seated areas.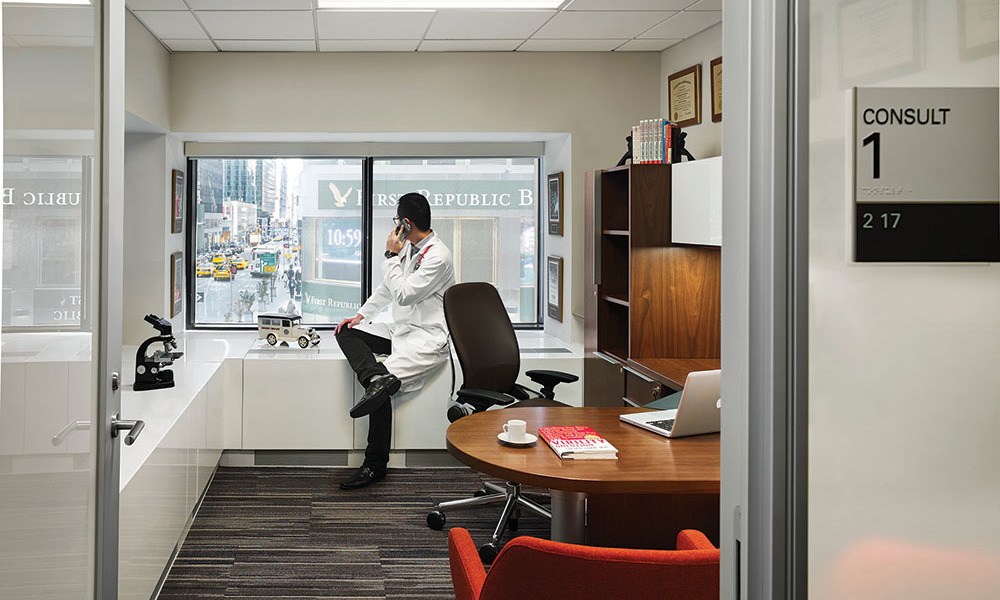 Every area in the men's clinic projects requisite orderliness, confidence and professionalism.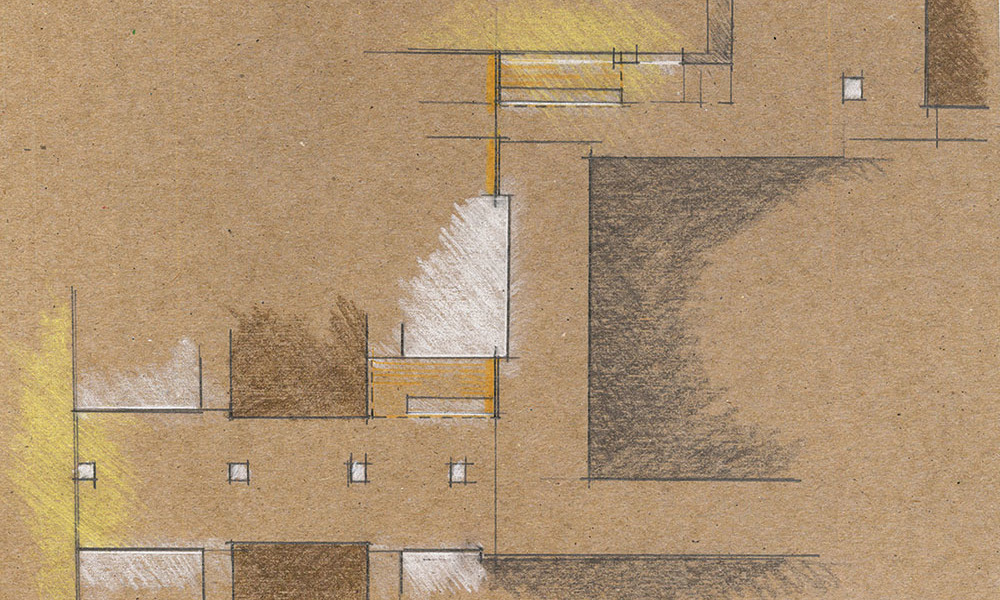 Concept drawing showing illuminated wayfinding elements and opaque core areas.
◀
▶
Subscribe Now
Keep up with the latest news with our magazine and e-newsletter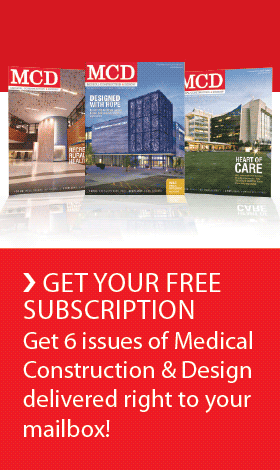 Subscribe to our E‑Newsletter
By Ted Shaw
There's an old joke about a man who goes to the doctor complaining that he sees spots. The receptionist asks, "Have you ever seen a doctor?" And the patient replies, "No. Just the spots."
Like much humor, this one-liner actually mirrors a truth: men are much less likely than women to see a physician and look for ways to enhance their wellness. According to the U.S. Agency for Healthcare Research and Quality, men are 25 percent less likely than women to have visited a healthcare provider in the past year. They're also close to 40 percent more likely to have skipped recommended cholesterol screenings. On top of that, U.S. men are 1.5 times more likely than women to die from heart disease, cancer and respiratory diseases, according to data from the Centers for Disease Control and Prevention. Men also have a disadvantage on mortality, living on average five years fewer than women.
The reasons behind these statistics are varied and no single cause is to blame. What doesn't help is for years women have been favored as the recipients of high-quality medical facilities and services that cater directly to their needs, including one-stop outpatient facilities that offer comprehensive services and treat a variety of illnesses.
It's only recently that care providers have taken notice of this untapped market and started offering men their fair share of healthcare options in outpatient settings designed specifically for what men want and like. These male-centric facilities — of which there are only a handful around the country and are often located in urban settings — are on the leading edge of a national healthcare trend. And they're a far cry from the typical doctor's office.
Urban outpatient oasis for men
Designed by Perkins+Will specifically for a sophisticated urban male patient market, the New York University Langone Medical Center's Preston Robert Tisch Center for Men's Health spans a full block in length inside adapted floors of a commercial office building. The center, which opened in early 2014, caters to the contemporary, time-strapped professionals who appreciate the convenience of a facility that meets diverse needs. A "one-stop outpatient medical center," TCMH offers cardiology, dermatology, psychiatry, endocrinology, gastroenterology, neurology, internal medicine, pulmonology, orthopedics and more by leading practitioners.
The primary design drivers for the facility included creating a superior branding opportunity that supports NYU Langone Medical Center's commitment to providing best-in-class facilities and services for specialized practices. To do so, the medical center offers a nurturing, patient-centered architectural design that simultaneously enhances the staff working environment and patient experience. NYULMC recognizes that higher aspirations for staff benefit dramatically from good design in the form of generous city views, daylighting, an amenity-laden, comfortable staff lounge and more. The rewards include happier employees, better staff recruiting and staff retention and, in doing so, indirectly a higher quality of patient service.
More club, less clinic
Fully aware of the novelty of a men's clinic in an urban market accustomed to novelty in many service fields, NYU Langone launched TCMH with cheeky advertising slogans offering patients a glimpse of what to expect from this 21st-century facility. "It's the gentlemen's club your wife approves of," said one. Another offered, "The glass ceiling has been broken; now there's a health center just for men." The messages spoke volumes to the target audience and also offered insight into the approach to this unusual clinic: club-like? Yes, like a club in its gender-specific locker rooms but also in feel and look, perhaps even approaching the likeness of a fitness center or spa experience for men. On top of that, this would also be a place where men — notoriously shy when it comes to visiting the doctor — wouldn't have any added awkwardness caused by being in a coed environment.
The antithesis of clinical in its design and appearance, TCMH is more healthcare meets hospitality, something that "wears like a fine bespoke suit," said one patient. Every detail — aesthetic, utility, durability and constructability — is woven into a seamless experience fit for the contemporary man. This concept began with one male-centric characteristic — "strong yet vulnerable" — meaning the feel would be rugged yet comfortable and humane. This deals with the common apprehension to proactively manage or seek out medical attention in the early stages of symptoms for fear that it may appear weak or more seriously the denial of declining health or aging. Making an engaging yet comfortable facility relays messages of empowerment and understanding.
Sophisticated and highly considered materials and finishes were specified in the interiors. The finishes included wallcoverings of wool and recycled newsprint, as well as acoustically treated wood ceiling and wall panels. For public area flooring and reception desk facings, a large-format porcelain tile is embellished with stone imprints. These unique touches are all incorporated to flow effortlessly throughout, enhancing a patient's movement from point of entry through patient lounges and into clinical areas.
Efficient, yet calming
Every area in the men's clinic also projects the requisite orderliness, confidence and professionalism of a world-class, ambulatory-care environment. With a relatively small floorplate of 13,000 square feet, the project houses 17 exam rooms, 11 consultation rooms and a rehabilitation gym. Spaces are dedicated to echocardiograms and stress testing, pulmonary functions, ultrasound and ample administrative support. The TCMH is organized into two zones: Article 28 (treatment) and Non-Article 28 (clinic) zones, connected by a main corridor. Three clinical pods cluster around support cores flanking two distinct patient lounge reception areas. Broad corridors end in exterior views of Manhattan and infuse the interiors with natural light, exuding a more spacious, open feeling while at the same time allowing for seamless clinical workflow, collaboration and communication between the sectors and zones.
A finely woven suit
The Preston Robert Tisch Center for Men's Health is not unlike a well-crafted men's suit. This analogy fits the project team's aspirations to a tee. The goals were to weave together all the critical aspects of a leading-edge health facility, as well as the aesthetic and experiential goals. From public arrival and reception areas to patient lounge and clinical areas, Perkins+Will worked with NYULMC project leadership to ensure a balanced material palette utilizing warm highlights and cooler fields to enhance wayfinding and visual messaging. The materiality of spaces moves from darker, more solid at core to lighter and transparent at perimeter areas.
Crafted details abound framing and protecting finishes while ensuring lasting performance. Acoustic wall finishes enhance privacy, creating a soothing environment. Graduated fritted glazing at physicians' offices provide privacy, while allowing borrowed light and exterior views to filter into clinical areas and nurses' stations. The 8-foot-tall, full-height dark wood doors announce and receive patients at entryways to exam and procedure rooms. Clinical corridor walls are clad in durable and spectral Xorel; each side of the corridor receives a different value (off-white or brown) to aid wayfinding and add interest and spatial definition to clinical areas (clinical core/support areas are designated by darker-value wall covering).
Wall corner detailing was transformed by the use of brushed aluminum trims at all locations, protecting adjacent wall finishes while leaving a clean, durable reveal at corners. Right-handed examination rooms are paired to create recessed alcoves for hand-washing sinks and storage cabinets. Each feature small, noteworthy design details, including paper towel dispensers recessed into upper cabinets, for a sleek and uncluttered ambience. Glazed entries between patient lounges and clinical spaces create a welcoming atmosphere, and a truly transparent aspect to healthcare delivery, versus the typical "behind-the-curtain" labyrinth of internal clinical areas.
With this project, the NYULMC brand is distilled and then amplified, communicating well to both the patient and the staff, recognizing the diverse needs of all.
Project Team: Preston Robert Tisch Center for Men's Health
Architect/Interior Designer/Furnishings: Perkins+Will
General Contractor: B.R.Fries & Associates, LLC
MEP Engineer: JFK&M Consulting Group
Lighting Design: SBLD Studio
Structural Engineer: Stratford Engineering, LLC
Author: Ted Shaw
Ted Shaw is a senior associate in the New York office of Perkins+Will. He can be reached at ted.shaw@perkinswill.com. Photos by Halkin | Mason Photography
Posted November 25, 2014
More Articles: