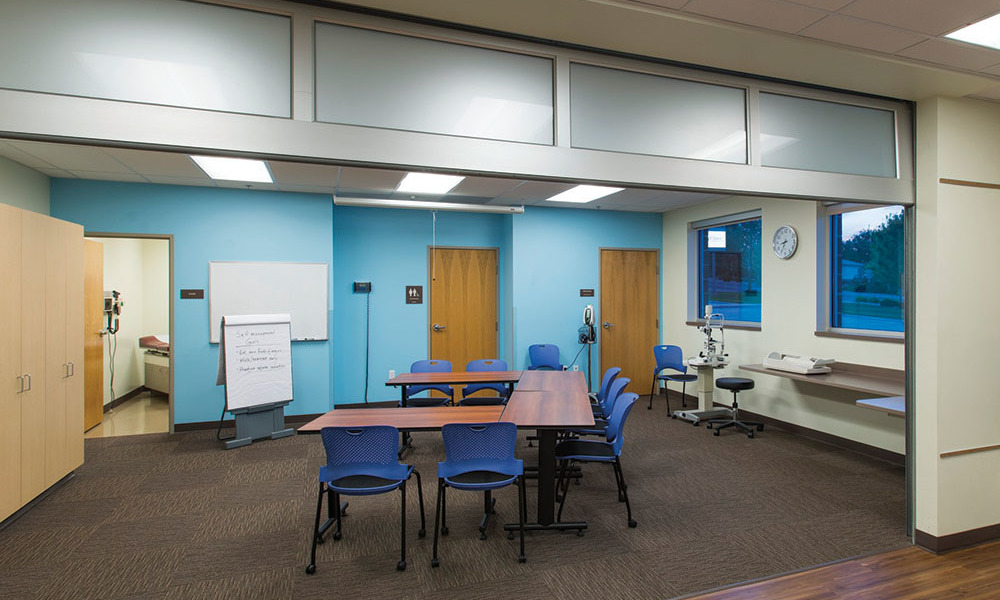 Clinics are evolving toward medical home- and team-based clinical models. These new formats co-locate providers utilizing a "one-room" model. Patients remain in one exam room and the providers move to that room via a center team core.
Subscribe Now
Keep up with the latest news with our magazine and e-newsletter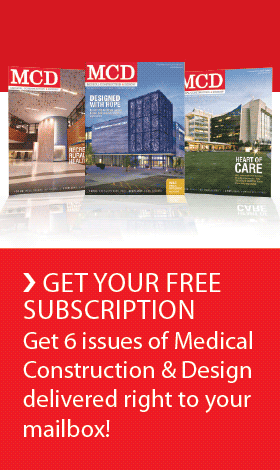 Subscribe to our E‑Newsletter
By Lora Schwartz & Curtis Skolnick
It's no secret that outpatient visits are increasing. According to the American Hospital Association, hospital-based outpatient visits more than doubled from 1991–2011, while inpatient beds and patient stays have declined slightly over the period.
This trend is driven by payer changes, advances in medical technology and less-invasive procedures, which reduce the need for hospitalization and advances in care management. Couple these changes with an industrywide focus on population health, triple-aim goals and value-based reimbursement and there is an ever-present need to focus on the care models and the environments of care in outpatient settings.
Healthcare system providers are embracing change and moving away from fee-for-service driven "hub-and-spoke" models and are developing easy-to-navigate systems of care built around the needs of the communities they serve. The construction and design industries have made revolutionary changes over the past few decades in responding to the needs of hospital campuses and the inpatient environment. While hospital care is certainly here to stay, it is time to focus that same energy and creativity on non-core hospital assets and outpatient settings. By incorporating delivery models that "push" care into the community via the primary care medical home, physician offices or ambulatory care centers, "pure" outpatient activity should be delivered outside of the hospital environment in lower cost, easy-to-access locations.
Planning for uncertainty
Any health system planning major investments needs to accommodate the heightened uncertainty surrounding every aspect of the business of providing health services. The ability to generate alternative planning scenarios, and revisit key assumptions as additional information becomes available, is critical.
An investment portfolio that front loads high short-term, return-on-investment projects into the early phases of a long-term capital plan, but elevates reliance on volume growth and fee-for-service payment  increases, may actually intensify operating, financial and strategic risk. It is critical to conduct a range of sensitivity analyses to test how well alternative portfolios of projects and sequencing of projects perform when key utilization and payment assumptions are modified. For example, a health system in the East has made a decision to replace an aging campus. However, given uncertainty in the payer environment and plans to increase partnership opportunities, several alternatives have been discussed. As triggering events occur, such as reimbursement system changes, execution of specific physician alignment strategies and potential partnering with other providers, the system is better equipped to select the ideal option.
Location, location, location
An outpatient facility is a tactical element to a defined strategy that determines competitiveness and the ability to better manage the health of a population.
Taking cues from the retail industry, many healthcare systems are looking for guidance on how to effectively locate, grow and optimize outpatient clinical networks. Market and location analytics help health systems develop and execute strategic location decisions. This process includes patient profiling using demographic, utilization and industry data to understand where patients are most likely to seek care for a particular service. Highly visible locations along major intersections or high-trafficked retail centers will help reinforce brand identity and generate patient visits via drive-by and foot traffic.
For providers with existing outpatient care settings, understanding utilization trends will help assess whether to relocate or expand any given location to respond to the move to outpatient care. For one Southern healthcare system, an existing ambulatory network already existed with several distributed primary care locations. It was determined through analysis that the system would benefit by relocating two existing remote locations, adding a primary care location in an underserved market, and maintaining operations in the other three locations.
Focus on wellness
With the increased focus on wellness and chronic care versus episodic and sick care, the drivers for space and shape of facilities are fluid. Primary care clinics are evolving toward patient-centered medical home- and team-based clinical models. These new formats co-locate physicians and other healthcare providers into a collaborative clinical setting utilizing a "one-room" model where patients remain in one exam room and the providers move to that room via a center team core.
By adopting Walt Disney's "onstage/offstage" approaches to circulation where the hustle and bustle of staff and material movement is visually and acoustically separated from consumers, clinics are transformed into quieter and calmer environments for patients. Work environments for staff become more efficient by reducing travel distances to patients and supplies and by providing collaborative work areas that foster team-based care and coordination. In addition to "one-room" concepts and "core" team centers, outpatient center designs are incorporating non-exam room spaces to accommodate consultative appointments, family appointments, larger group meetings and preventive and nutritional educational classes. "Talking" rooms are co-located and scheduled the same as exam rooms, but offer a more relaxed and softer setting for patients that do not require a physical exam during their visit. Group rooms and educational spaces located closer to reception help reduce travel distances and disruption to the clinic.
Patients and providers are realizing the benefits of new models of team-based care where visits go beyond the physical exam to include nutritional health, behavioral health and family health. These models require the design community to rethink clinic flow, encourage universal exam rooms that can support physical health and consultative care and take into account the overall patient experience.
Expand virtually
Most often overlooked in the programming of outpatient care settings is the "back-office" infrastructure required to help navigate and manage care. Health systems are aligning with physicians, the community and payers to form joint ventures and partnerships, to improve access to a coordinated spectrum of healthcare. Elements and resources such as data centers and care navigators, responsible for connecting and tracking patient progression through the continuum of services, are essential to coordinating care across the system.
As more of the patient experience expands virtually to offer consumers online appointment scheduling, the ability to email healthcare "teams," online portals to access test results and electronic payment, providers will have increased options for managing where and when care is delivered.
Be comprehensive
A continuing challenge for healthcare providers is avoiding fragmented care. The guiding principles for all outpatient centers include one-stop shop experience, ease of access, quick-in-and-out, patient-friendly environments and system brand identity.
For one provider, a core area of specialty for its market was the delivery of oncology care. Oncology services were split across two separate campuses. Patients were inconvenienced by having to travel between locations and staff had difficulty coordinating care. The provider chose to defragment the care by constructing a comprehensive center to improve coordination across the full spectrum of services, provide a more efficient operational model and enhance overall patient outcomes and experience.
The industry needs visionary thinkers and innovative design teams to lead providers in creating tomorrow's healthcare networks. These networks will be more convenient, highly experiential and accommodate new care models. Planners, designers and providers should encourage the exploration of partnerships to identify ways for patients to be more proactive in managing their health in an ambulatory environment. Solutions must reach beyond the exam room and typical clinical walls to demystify the myriad ambulatory care services and direct providers and patients toward those services that will most enhance overall health.
Author: Lora Schwartz & Curtis Skolnick
Lora Schwartz is a principal at CBRE Healthcare. She can be reached at lora.schwartz@cbre.com. Curtis Skolnick is managing director at CBRE Healthcare. He can be reached at Curtis.skolnick@cbre.com.
Posted November 25, 2014
More Articles: