Subscribe Now
Keep up with the latest news with our magazine and e-newsletter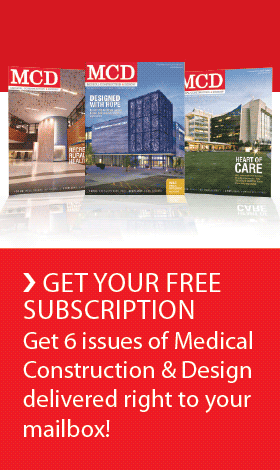 Subscribe to our E‑Newsletter
PHILADELPHIA, Pa. — EwingCole completed fit-out of existing shell space on the eighth and ninth floors of the Cooper University Health System Roberts Pavilion in Camden, New Jersey. The $30-million project encompassed nearly 50,000 square feet, with 60-private patient rooms to support the cardiology and surgery departments.
"The design of these floors embodies the principles of patient-centered care," explains EwingCole Principal John Capelli, AIA. "We wanted to provide an enhanced experience for the patients, families and caregivers, while improving service, quality and safety."
Roberts Pavilion is an award-winning, 10-story, 312,000-square-foot patient tower designed by EwingCole and built in 2008. The project was designed with floors available for expansion based on future growth. A seven percent admissions growth over the last five years necessitated the fit-out of floors eight and nine. Sixty patient beds in 30 private rooms on each floor accommodate intermediate care/medical-surgical patients.
The project is a Planetree Certified Environment, exemplifying cultural integration of patient-centered design methods, including respect for privacy, quietness and enabling patients to participate as care partners.
According to EwingCole Healthcare Planner Mary Frazier, AIA, floors eight and nine 9 accommodate changes in healthcare delivery since Roberts Pavilion was built. EwingCole architects, interior designers and engineers collaborated on new design solutions.
"The design addresses varying degrees of patient acuity," describes Frazier. "We recognized the need for increased patient observation, but balanced it with sensitivity to patient privacy."
Improved Observation. Each pair of patient rooms shares a windowed nurse's kiosk with glass that changes from clear to opaque. A nurse can sit in the kiosk to observe patients as needed, with proximity to address medical issues as they arise. The design avoids the sense that patients are exposed or on display to a large nurses' station or to common areas.
Enhanced Caregiver Collaboration. In lieu of multiple nurses' stations, a single, decentralized area offers healthcare staff a place to collaborate when they are not observing from a kiosk, inviting dialogue and cooperative care strategies.
Increased Patient Privacy. Dual-access supply cabinets enable healthcare personnel to load bedding and medical supplies from the corridor for access within the patient room. The cabinets avoid the need to disturb the patient with deliveries.
The interior design eliminates direct references to a medical environment and minimizes the presence of equipment and devices. Television screens in each patient room contain entertainment options, menus, nurses' information, and secure, digital patient data. Equipment—from blood pressure cuffs to monitors—is concealed in cabinetry beside patient beds rather than on the headwall, preventing the need for nurses to reach across or above patients for access. The organized arrangement frees additional space for family members and visitors to gather in the patient rooms.
Interior finishes take inspiration from the New Jersey landscape, with multiple levels of visual interest to provide a sustained sense of discovery for patients. Common areas feature oversize graphics celebrating specific South Jersey areas, including Camden, beaches, farm fieldsand the Pine Barrens. Abstracted natural patterns appear in patient rooms on ceiling tiles, wall coverings, privacy curtains and furniture. Bamboo-finish flooring, soft colors, multiple levels of room lighting and large windows combine to provide an aesthetic comparable to a high-end hotel environment.
EwingCole provided architecture, interior design and structural and MEP engineering for the Roberts Pavilion fit-out.
Photos courtesy of Halkin | Mason Photography.
Posted October 13, 2014
More Articles: