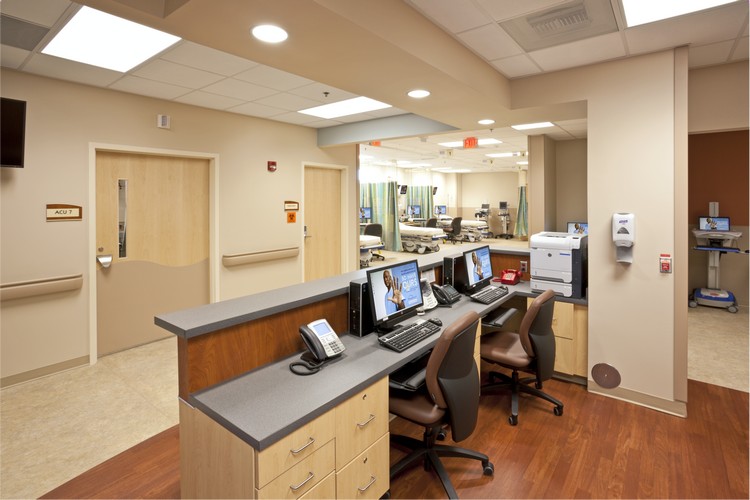 Nurses' station in the Clemmons Emergency and Ambulatory Surgery Center in Clemmons, North Carolina, for Novant Health. Photo courtesy of KSQ/Peterson Architects.
Subscribe Now
Keep up with the latest news with our magazine and e-newsletter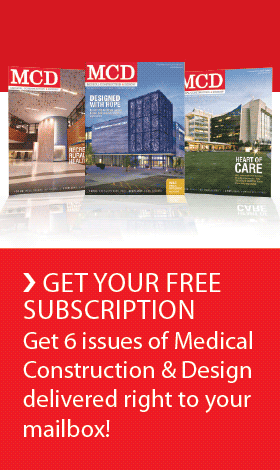 Subscribe to our E‑Newsletter
By Jason Hinkel, David Meech and Diane Brackett Rivers
Making the most of a multi-tenant strategy
Healthcare delivery is changing. And the facilities in which care is delivered will change as well. Consolidation of providers, the need to improve outcomes and patient satisfaction and a focus on outcome-based medicine will all impact the outpatient facility of the future. The right facility design will be instrumental in healthcare economics and the quality of service.  
The Economic Benefit
Reduction in lease cost of space
There are a growing number of outpatient facilities that demonstrate the shift from a multi-tenant building to one geared toward a single integrated user. Features seen in this type of consolidated practice building, or CPB, not seen in the traditional multi-tenant building include:
Shared or consolidated waiting space
Single check-in area for the entire facility
Consolidated records, billing and back-office functions
The CPB can be a purpose-built building, or in many instances can be a re-purposed retail building that has become functionally obsolete. Coupled with the shift to electronic medical records, the CPB can improve coordination among providers, which may lead to an improved patient experience and outcome. The CPB model can also drive significant overhead savings. To illustrate the magnitude of savings, we examined a building with a multi-tenant approach. Using the same basic footprint, a single-occupant CPB layout was created in order to determine the magnitude of potential savings.
The primary impact to overhead savings would be through reduced square footage needs, with a secondary impact through a reduction in support staff.
Using a traditional estimate of 1,500 square feet per provider, the reduction in physical space needs is approximately 15,000 square feet.
Overhead Reduction Through Efficient Staffing
Staffing effectiveness can be a widely ranging variable, and taking a very conservative approach is prudent. For example, if you have a multi-tenant building with a total of seven separate concerns (outpatient practices and ancillary services) – each has a main entry door and waiting area. Each would require at least one check-in person. There would be five on-site office managers (the ancillary services portion is managed from off-site). Add to this seven billing managers, and at least 10 other support or administrative staff members for a total of 29 support staff members, not including nurses. In an integrated CPB approach, if one assumes that in this size of facility the number of non-nursing support staff can be reduced by 10, then the resulting savings can be conservatively stated as shown in Table 3.
Non-Economic Benefits
In addition to significant economic gains, a number of other benefits may be realized. Many of these will impact overall patient satisfaction, coordination of care and other drivers of future reimbursement.
Improvement in coordination of care
In a traditional multi-tenant building, the opportunities for collaboration or cross referral are limited. Often, a patient may be required to be sent to another building or floor for continued care. The processing of the patient into the system is compromised and can start all over again due to information technology incompatibility.
In the integrated model, the sharing of information facilitates better throughput, faster service and a better patient experience. The impact of quality outcomes is felt and is improved as patients are seen by their provider and can walk "down the hall" for additional care.
Flexibility of facility
The CPB model has several benefits over the multi-tenant model in terms of flexibility and adaptation to changes. Layouts are designed so treatment rooms can be used for multiple specialties as the market demands. A standard physician practice module can be created based on patient-visit volumes and developed to facilitate future adjustments in space assignments. This enables the facility to respond to change and not affect the entire plan.
In a traditional model, when patient volumes change in a specific specialty, it means a practice doesn't need all the space they have or decides to move out because there is nowhere to expand. The traditional model is more susceptible to land locking tenants with no flexibility.
Using the CPB model, support spaces are not duplicated and can be shared by any practice. The support functions are oriented to the clinical space in a way that allows the space to flex and the support functions to stay in place.
Facility branding statement
With the consolidation of healthcare providers, the CPB approach provides a tremendous branding opportunity for health systems and multiple practices that have joined together and remain independent. Considering the above factors, the CPB facility may help providers create a brand synonymous with comprehensive care at a lower cost. The brand can be used to establish a foothold in a community and enhance the patient's experience. Ease of access, presentation of the patient quickly upon entering the facility and clear wayfinding to centralized registration and patient intake functions will all enhance the brand.
Going Forward
There is no question that delivery and cost of healthcare is undergoing significant changes. The financial incentive will be to keep the population healthy rather than waiting to treat unhealthy patients. The CPB approach that moves care to a better coordinated, lower cost environment is a logical step in the future of outpatient care.
Author: Jason Hinkel, David Meech and Diane Brackett Rivers
David Meech, AIA, is an associate with KSQ/Peterson and has more than 30 years of experience in healthcare facility design. He is based in the firm's Charlotte, North Carolina, office. Jason Hinkel is regional director of development for Caddis Partners with 25 years of experience in healthcare development and operations. He works in the firm's Atlanta, Georgia office. Diane Brackett Rivers is co-managing partner of Brackett Flagship Properties with 30 years of experience in real estate development, property management and building operations. She is based in North Carolina.
Tags: Architecture, Efficiency
Posted October 15, 2014
More Articles: