Subscribe Now
Keep up with the latest news with our magazine and e-newsletter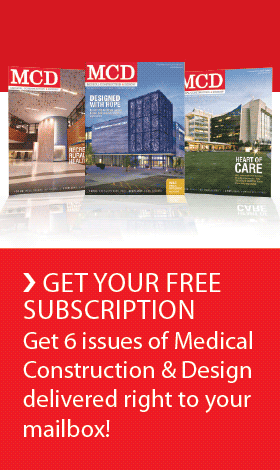 Subscribe to our E‑Newsletter
The idea of generative space was developed just over a decade ago and is emerging as a best practice design approach. Possibly its greatest area of influence is in healthcare facility design. Not only are the functional requirements of a space considered, the approach elevates the experience of the people who occupy the space. For a space to be generative, it must foster human dignity, comfort, creativity and collaboration – and actually improve over time.
Places where people work, or live, or congregate for public purposes can all be designed to be generative spaces.
In conjunction with the Healthcare Facilities Symposium & Expo, being held at Navy Pier, Sept. 29-Oct. 2, The CARITAS Project (a not for profit dedicated to transform healthcare delivery by incorporating generative space principles in facilities design) will be coordinating special tours at three downtown locations from 4-5:30 p.m. on Thursday, Oct. 2.
Each tour has been developed to give people a taste of generative space design principles and, ideally, become engaged in nurturing the growth of generative designs in their workplaces, healthcare institutions, homes and communities.
Tour 1: Gensler's Chicago Loop Office. This tour will showcase projects produced by the firm's health and wellness design practice team and provide a great example of what it's like to work in an environment designed to be a generative space.
Tour 2: Health Walking Tour in Millennium Park. One of Chicago's most popular destinations reflects core generative space principles. This tour will feature experiences and discussions on how the park satisfies both private and public interests.
Tour 3: A Generative Space Tour of the Humanscale's Mart Showroom. This tour will focus on products that were developed specifically for healthcare applications to
improve the lives of patients, practitioners and caregivers.
There will be no charge for the tours, although the size of each tour will be limited.
For additional information and to register, visit http://www.eventbrite.com/e/generative-space-week-tours-tickets-13058066027. For information on the Healthcare Facilities Symposium & Expo, visit http://www.hcarefacilities.com/ and for information on The CARITAS Project, visit http://www.thecaritasproject.info.
Posted September 26, 2014
More Articles: