Subscribe Now
Keep up with the latest news with our magazine and e-newsletter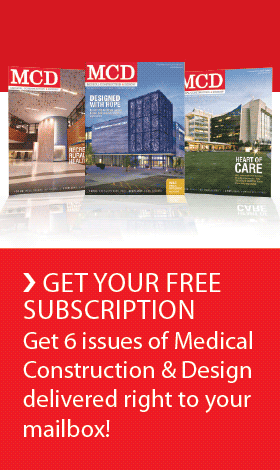 Subscribe to our E‑Newsletter
COVINGTON, La. — St. Tammany Parish Hospital marked a milepost in its multiphase emergency department and 3 North expansion with the opening of a new ambulance entrance and its new ED and trauma rooms.
Completion of the first phase of the nearly $21-million construction project occurred during a steady rise in patient-satisfaction ratings for the emergency department, which saw a 7 percent increase in patients during the first seven months of 2014.
Patient satisfaction — already in the top 10 percent for emergency rooms, according to a national benchmark — has continued to improve since the expansion began in late 2013.
"We're seeing more emergency patients as we also improve patient care and patient satisfaction," said Chief Nursing Officer Kerry Milton, R.N., MHA.
The growing number of patients underscores the project's necessity, which will expand the emergency department by 8,600 square feet, add 10 emergency beds and create specialized, high-need treatment areas for pediatric, geriatric and mental health patients.
In addition, 21 new private rooms will open in the STPH surgical/medical tower – also known as 3 North – when that separate but simultaneous element of the expansion is complete in 2015.
That means patients and visitors will continue to see construction on a regular basis through the rest of this year and much of 2015 as STPH expands to better respond to a growing demand for healthcare, including emergency services.
The most visible change will be the late 2014 opening of a temporary emergency department walk-in and patient drop-off area on the east side of the hospital, said Randy Willett, STPH project manager.
Public parking for the ED will shift to the lot across 11th Avenue when the temporary walk-in entrance opens before the end of 2014, Willett said.
The next major phase of the project — expansion of the ED itself — will begin as soon as the temporary walk-in entrance is complete. That phase is expected to take roughly one year, Willett said.
Through it all, the emergency department will continue to operate at full capacity.
STPH's largest construction project in more than a decade coincides with additional efforts to improve care in key areas, including the care of stroke and cardiac patients. For instance, STPH will apply to The Joint Commission for accreditation as a Primary Stroke Center, Milton said.
The hospital also will pursue re-accreditation this fall as a Chest Pain Center by the Society of Cardiovascular Patient Care.
Posted September 30, 2014
More Articles: